'The Bachelor' 2020 Spoilers: Who Is Madison Prewett? Meet Peter's Season 24 Finalist
"The Bachelor" 2020 season is only one episode in, but it's clear there are already a few front-runners in hope of securing lead Peter Weber's heart. Before ABC airs episode 2 of the Season 24 installment, get to know Peter's first solo date recipient, Madison Prewett.
[Warning: Spoilers Ahead]
Her Introduction
While she wasn't introduced as quickly as fellow finalist Hannah Ann Sluss, Madison was included among the first group of women introduced on this season of "The Bachelor." During the premiere, she revealed she is a 23-year-old foster parent recruiter from Auburn, Alabama.
Her Dreams
In her "Bachelor" bio, Madison states that she is looking for her "forever." Her future man, she said, needs to be someone who "will prioritize faith and family before everything else" and wants children. "Her dream is to travel the world and spread love through missionary work," reads the site.
She's Athletic
Madison is serious when it comes to sports. She won four state championships in basketball in high school and was coached by her father who she is "super close" to. Her bio states she also secured an MVP state title once due to her "unstoppable jump shot."
READ: Who Does Peter Pick On 'The Bachelor'? What To Know About His 2020 Winner And Finale
Her Arrival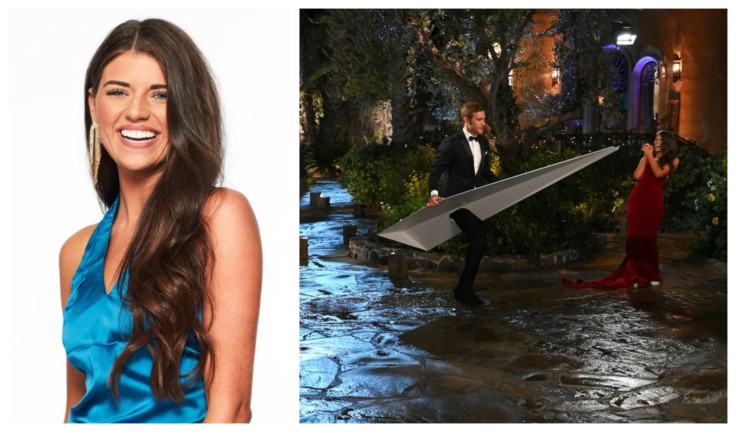 Unlike some of her other competitors, Madison did not arrive at the Bachelor Mansion by limo. The Alabama native flew into her introduction with Peter by sporting a giant paper airplane over her gown.
"I successfully landed my plane so hopefully all that's left to do is land your heart," Madison said.
"I feel like the luckiest guy in the world right now," Peter responded. "I mean this really is the craziest flight of my life."
Later in the episode, the two go to know one another better by having a paper airplane throwing contest.
Rose Ceremony
Madison was clearly quick to make an impression on Peter. During the first rose ceremony, Madison was the second contestant to receive a rose, just one spot behind Victoria Paul.
Solo Date
Following their successful first meeting, Peter surprised Madison by giving her the first solo date of the season. After giving her a date card that read: "I want to show you what forever looks like," they ended up attending Peter's parent's vow renewal ceremony. Madison went on to catch the bouquet from Peter's mom.
"It's a sign. It's a good sign," Madison told the cameras.
"Felt Like Home"
During the night portion of their solo date, Madison said she was surprised how quickly she and Peter connected and she felt as if she had known him her entire life. "It felt like home," she said.
She added, "I wasn't expecting to have feelings so soon. It's scary because this is going to be really hard having to share you."
Peter responded by stating that they were off to a great start and that he would "protect" her feelings.
Moving Forward…
Madison has already been revealed to be in Peter's final two. While it remains unknown who he ultimately chooses -- her or Hannah Ann -- it is clear she isn't going anywhere anytime soon. Though, if she is Peter's finalist they might not be engaged due to Madison's father reportedly not giving Peter his permission to propose to his daughter during her hometown date.
Find out what happens during Peter's finale HERE and catch new episodes of "The Bachelor" on Mondays at 8 p.m. EST on ABC.
© Copyright IBTimes 2023. All rights reserved.