Baltimore Police Shooting Of Dedric Colvin, 14, Could Lead Maryland To Ban 'Imitation Guns'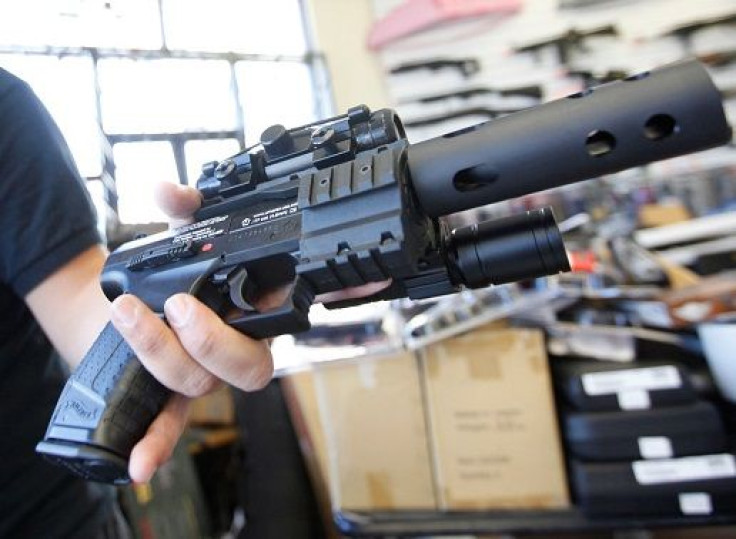 A day after Baltimore police shot (but did not kill) a boy who was carrying a BB gun manufactured to look like a Beretta pistol, the author of a recently withdrawn Maryland state bill to ban "imitation guns" said he intends to reintroduce it in the next legislative session later this year.
Maryland state Sen. C. Anthony Muse introduced a bill earlier this year that was withdrawn last month because it didn't have enough votes. The bill was opposed by the National Rifle Association, the powerful gun lobby.
"What has happened, we hope, will be enough pressure to outweigh the pressure from the NRA," Muse told International Business Times. "Having these replicas on our streets is a very scary situation to put a police officer in who has a split second to make a decision."
The shooting underscores an often overlooked aspect of the national debates on gun control and police conduct: that police officers routinely mistake air guns for real guns. This error led to the death of 12-year-old Tamir Rice in Cleveland in 2014. At least dozens were killed under similar circumstances last year, one analysis shows.
On Wednesday, Dedric Colvin, 14, was shot in a shoulder and a leg after being pursued by officers who saw him carrying what turned out to be $25 BB gun manufactured by Arkansas-based Daisy Outdoor Products, the 134-year-old maker of air guns and slingshots. The gun is designed to resemble a Beretta 92, a popular semiautomatic pistol. Colvin is recovering from his injuries.
The shooting took place on the first anniversary of the riots in Baltimore following the death of Freddie Gray, who died from injuries suffered while in police custody. Gray's death left a stain on a police department beleaguered with accusations of heavy-handed enforcement actions against young black men.
Muse said Colvin's shooting could have sparked unrest if he had been killed.
"There would have been those in the community that would simply see the gunning down of a kid with a 'toy gun,'" he said. "This could have caused some to react without looking at specifics of the situation."
While there's no national database of how many people wielding air guns are killed each year by police officers, an analysis by the Guardian newspaper found that at least 28 people were killed after police officers mistook the air guns they were carrying for the real thing.
In November 2014, Tamir Rice, 12, was shot and killed by a Cleveland police officer who mistook an Airsoft pellet gun for a real firearm. In 2013, Andy Lopez, 13, was killed by a sheriff's deputy in Santa Rosa, California, when the officer mistook an Airsoft rifle for an AK-47. In December, a Jacksonville, Florida, teen wielding an air gun was shot in the leg by an officer and survived the encounter.
Joe Murfin, spokesman for Daisy Outdoor Products, said his company's BB and pellet guns are widely used to train youth in proper gun handling and for shooting sports using low-cost ammo. But they're not toys, he said, and they may cause serious injury or death.
"The first words of warning on an airgun package are 'NOT A TOY,'" he said by email. "Airguns are used by hundreds of thousands of responsible adults to teach proper gun handling, marksmanship skills and safety to young and first-time shooters."
"Their form and function is similar to that of a firearm for this reason," he added, explaining why air guns resemble actual firearms.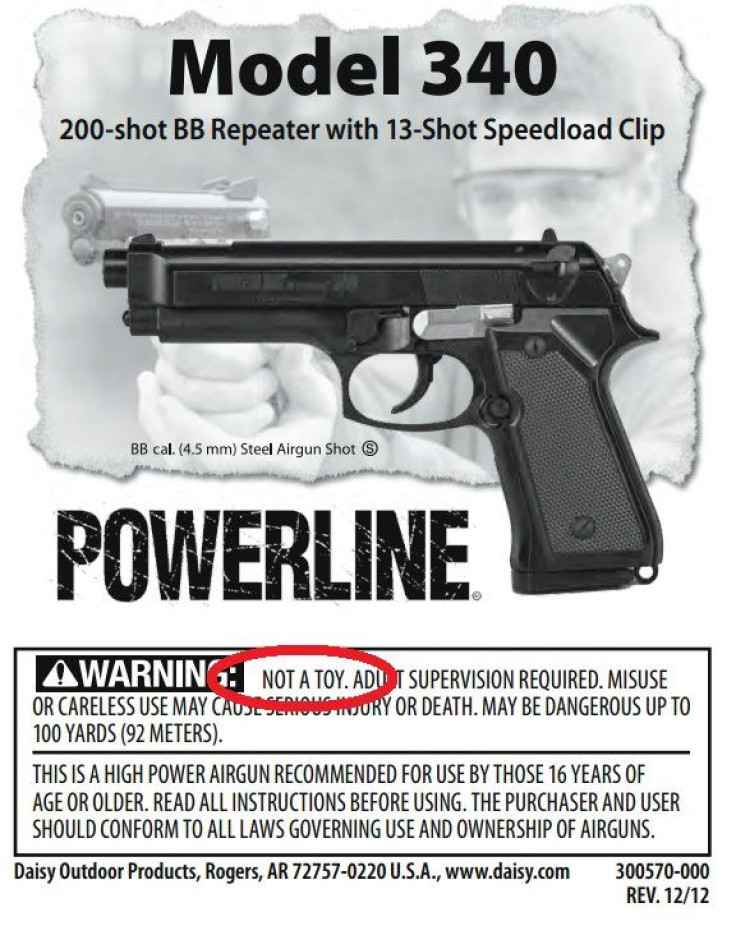 Baltimore Police Commissioner Kevin Davis told the Baltimore Sun late Wednesday that the Daisy Powerline Model 340 (which strongly resembles a Beretta 92) that Colvin was carrying was indistinguishable from a real firearm.
"I looked at it myself today, I stood right over top of it, I put my own eyes on it," Davis said. "It's an absolute, identical replica semiautomatic pistol. Those police officers had no way of knowing that it was not, in fact, an actual firearm. It looks like a firearm."
Delegate Jill Carter, who sponsored Muse's bill in Maryland's lower house earlier this year, said she agrees there needs to be a way to distinguish air guns from actual guns, but that she questions the police department's excuse for shooting a 14-year-old boy.
"I understand that's Commissioner Davis's position," she told International Business Times. "But there are many factors as to how this shooting could have gone a different way to de-escalate a potentially harmful situation. The reality is this was not a real gun and he [Colvin] wasn't threatening anyone as far as we know."
Federal law requires toy guns to have orange muzzles to distinguish them from actual firearms, but there are no similar guidelines for BB and pellet guns, because they aren't classified as toys.
Some cities, such as New York and San Francisco, have bans similar to the ones proposed by Muse. In 2011, California passed a statewide law banning the sale or ownership of air guns to anyone under the age of 18. Last year, the state bolstered the rules and now requires air guns to have bright markings to distinguish them from real guns.
FOR FREE to continue reading
✔️ Unlock the full content of International Business Times UK for free
offer available for a limited time only
✔️ Easily manage your Newsletters subscriptions and save your favourite articles
✔️ No payment method required
Already have an account?
Log in
© Copyright IBTimes 2023. All rights reserved.