Banksy's NYC Residency In Pictures: Graffiti Artist Takes Over City Streets For Month-Long Exhibition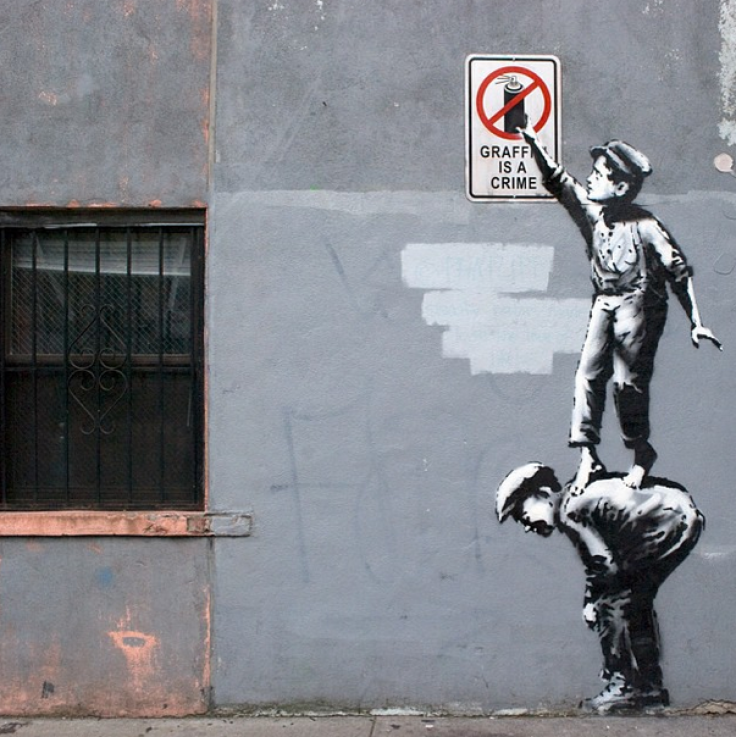 October brought more than a crisp, night chill to the streets of New York City. The month marked celebrated graffiti artist Banksy's return to the Big Apple.
Speaking with The Village Voice, Banksy revealed that his month-long residency will see him attempt to produce a piece of street art each day during October. Titled "Better Out Than In," the new project has seen the anonymous artist create one-of-a-kind murals across the city. Banksy's first work appeared near Chinatown on Oct. 1, and depicted two young boys in caps, with one reaching up to a can of spray paint on a sign that reads "Graffiti is a crime." Since that first installation, Banksy's art has included a Band-Aid covered heart on a Brooklyn wall as well as a dog peeing on a fire hydrant on West 24th Street in New York. New York City residents continue to eagerly guess where his next work will pop up. And this urgency in finding the latest pieces is more than necessary since many of his paintings have already been defaced.
"The plan is to live here, react to things, see the sights -- and paint on them," Banksy said to the Village Voice. "Some of it will be pretty elaborate, and some will just be a scrawl on a toilet wall." You can follow a day by day recap of his works on his website as well as take an audio tour of each mural by calling an 800 number (1-800-656-4271) that was also posted on his site.
You can scroll through the slideshow above to view the unique ways Banksy has livened up the New York City streets with his latest project.
© Copyright IBTimes 2023. All rights reserved.