Barack Obama Arrives In Argentina To Mend Economic And Political Ties, But 'Dirty War' Past Lingers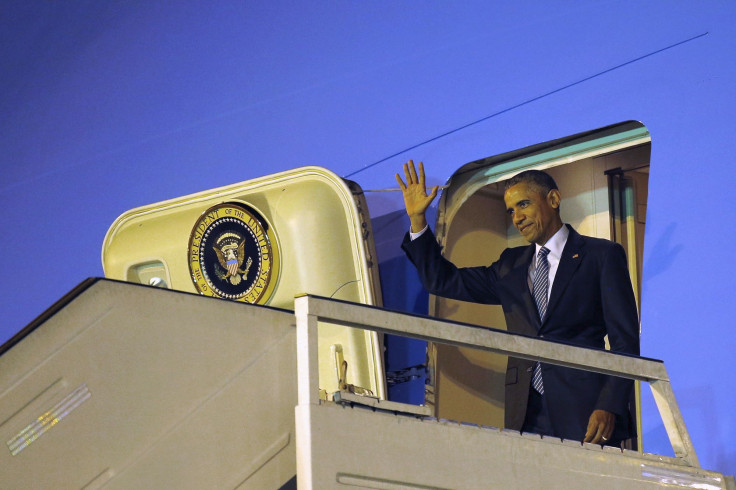 Following the culmination of a historic trip to Cuba, U.S. President Barack Obama arrived in Argentina early Wednesday for a two-day trip during which he would seek to strengthen economic and political ties with a nation that has historically been a part of South America's left-wing bloc.
The visit, which is Obama's first trip to the country since he became president, comes just months after Argentina's newly elected President Mauricio Macri took office, vowing to reverse several policies of his leftist predecessors. Since he came to power in December, Macri, an avowed conservative, has lifted currency controls to allow a free exchange of the Argentine peso for U.S. dollars.
"In Buenos Aires, the President and First Family will meet with the new Argentine President to discuss President Macri's reform agenda and recognize his contributions to the defense of human rights in the region," the White House said in a statement released last month. "The President will deepen efforts to increase cooperation between our governments in a range of areas, including trade and investment, renewable energy and climate change, and citizen security."
This is the first visit to Argentina by a U.S. president since 2005.
For more than 12 years prior to Macri's victory, "Kirchnerism" — marked by strict currency controls, trade protectionism, heavy taxes on agricultural exports and widespread allegations of systemic corruption — had been the dominant political discourse in Argentina, with former president Cristina Fernández de Kirchner succeeding her late husband, Néstor Kirchner, to the top job.
Campaigning amid double-digit inflation, which some estimates peg at nearly 25 percent, and a stagnant economy, Macri's Cambiemos (Let's Change) coalition had vowed to restore the rules of a market economy and lift all capital controls, despite opposition from critics, who derided the policy as "savage capitalism."
Macri and his supporters, on the other hand, say that the economic reforms are needed to get a grip on double-digit inflation, a widening fiscal deficit and a shortage of hard currency.
"It's good that Obama is visiting. Closing ourselves off in a Chavez-like system was not the way to go," Claudio Mazzakalli, a 32-year-old locksmith, told Reuters, referring to Venezuela's former socialist president, Hugo Chávez.
Early on Wednesday, Obama is scheduled to meet Macri at the presidential palace, where the two heads of state are likely to discuss trade, energy, technology, education and the environment.
Later, Obama will also lay a wreath at the Buenos Aires Metropolitan Cathedral, where Pope Francis has celebrated Mass in the past.
However, Obama's visit is being met with backlash from some Argentines. Thousands of people are reportedly planning to protest the American president's appearance on March 24, the 40th anniversary of the infamous 1976 right-wing coup that installed military junta.
The U.S. had initially supported the brutal dictatorship, whose rule saw up to 30,000 dissenters killed. Last week, the U.S. government announced that it would declassify military and intelligence records linked to Argentina's "dirty war."
"The truth is that our experience with the U.S. has historically not been good for Argentina," Fernanda Vallejos, economic adviser at the Argentina Congress, reportedly said. "The U.S. has intervened throughout history in an unfavorable way economically and politically in Argentina. Hopefully, this does not happen again."
© Copyright IBTimes 2023. All rights reserved.