'Bates Motel' Season 3 Spoilers: Iconic 'Psycho' Tribute In Premiere; What Happened In Episode 1? [RECAP]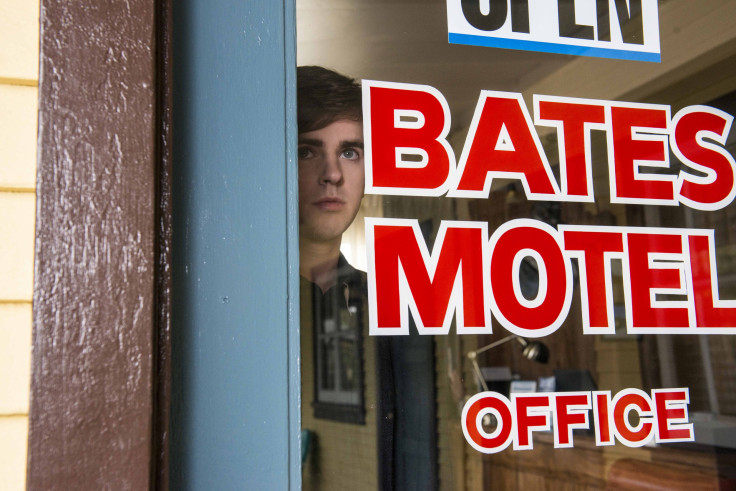 Alfred Hitchock's shower scene in "Psycho" is well known … and "Bates Motel" came close to re-creating the chilling moment in its Season 3 premiere. The A&E prequel returned Monday night, introducing a new set of problems for the Bates family, and teasing how a sweet young man can turn into a psychotic killer.
Episode 1 kicked off with an uncomfortable scene -- Norman (Freddie Highmore) and his mother, Norma (Vera Farmiga), spooning in bed. Now 18, Norman spent the entire summer hiding at the Bates Motel with his mother. But unfortunately he had to face reality and go to school. Needless to say, he didn't want to go. However, after Norma received news that her mother passed away, she had no time to coddle her son. When she pulls up to the high school, she's forced to physically drag Norman from the car (awkward!).
Norma should have listened to Norman though. The teen had a meltdown in lunch, hallucinating his dead teacher, Miss Watson (Keegan Connor Tracy) … cut throat and all. He ran out of the school, further alienating himself from making any friends in White Pine Bay.
Elsewhere, Dylan (Max Thieriot) was having his own loner issues. After the crazy drug war in Season 2, the DEA swooped in and burned all the plants in town. While Dylan liked the marijuana industry, he wanted to do it legal and by himself. Obviously that was easier said than done. Dylan's old partner sent a kid named Gunner (Keenan Tracey) his way, who begged him to let him help out. But that was the least of his problems. Sheriff Romero (Nestor Carbonell) wanted Dylan to take over the local industry, and wasn't happy when he turned the job offer down. He warned Dylan that he wouldn't be able to protect him from any problems, however Dylan wasn't anticipating anything coming up from a legal operation. Past experiences in town should have told him otherwise.
Dylan's past also came back to haunt him. His daddy/ uncle Caleb (Kenny Johnson) showed up in town to offer him money. He had recently inherited it after the death of his mother, but Dylan didn't want the money – he just wanted his dad to leave. Caleb turned around, however he didn't get far. The next morning Dylan found him on the side of the road after his creepy daddy/ uncle van broke down. Dylan gave him a lift into town and made it clear that he wasn't looking to develop a relationship, however Caleb wasn't going anywhere. Caleb revealed that his mom had been crazy and that his Dad had been violent. He and Norma had no place safe … "except with each other." Caleb seemed to imply that the sex with his sister was consensual, but Dylan didn't want to get into it.
Meanwhile, the Bates Motel finally got a customer, a woman named Annika Johnson (Tracy Spiridakos). Norman immediately took a liking to her -- more than likely due to her low cut shirt -- and Norma took notice of his interest. She made sure that Annika knew that Norman was a student, and tried to distract Norman with an offer. As if her son didn't have enough problems, she promoted him to motel manager and told him he could get home schooled. Of course, Norman's promotion was a little selfish on Norma's part. With the business struggling, Norma wanted to attend classes at the local college to learn about self-marketing. By making Norman a manager, she would have more time on her hands.
Norman's first order of business as motel manager? Spy on Annika. The teen was behind the motel to pick up garbage when he heard the shower start in Annika's room. He snuck over to the window and peered in, watching Annika undress and hop in the shower. The scene acted as a tribute to Hitchcock's 1960 "Psycho," where Norman (Anthony Perkins) looks through the peephole of Marion (Janet Leigh) undressing in her room. Fortunately for Annika, the scene didn't play out like the movie. Norma caught Norman and practically dragged him up to the house.
Meanwhile, Norman got a buddy in home schooling ...and more. After Emma (Olivia Cooke) discovered that her lung capacity diminished, she decided that she didn't want to waste any more time with school.
"If these are my best years I want to spend them with you," she said, immediately getting shy about the bold declaration. However Norman agreed.
"I think we should date," he told her. Emma thought it was just because she was dying, but Norman reassured her that it was simply "just time."
Their tender moment wasn't long-lived though. The young and awkward couple never really dated before and didn't know how to start. But Norman definitely started off on the wrong foot. When Annika came into the motel office looking for direction help, the teen jumped at the chance to drive into town with her. He promised Emma that he'd be back in about an hour and walk from town.
Annika and Norman previously bonded when Norman fixed a burned out light in her room. He opened up about his family life, and Annika explained that she "worked" at expensive parties for wealthy men. The job interested Norman, and questioned her about it on the way into town. She said she simply did it to make a living and that it was "just sex."
"Sometimes it even feels good," she told him.
They didn't discuss the topic further because Norman told her to make the next turn. However, something was off. The Season 3 premiere of "Bates Motel" concluded with Emma leaving the motel and Norman pulling in a couple moments later. He exited Annika's car … but Annika wasn't with him.
Did Annika let him take the car back to the motel? Or did Norman have another deadly blackout? Fans will have to stay tuned.
© Copyright IBTimes 2023. All rights reserved.