BB King Dead: 6 Fast Facts About The Blues Legend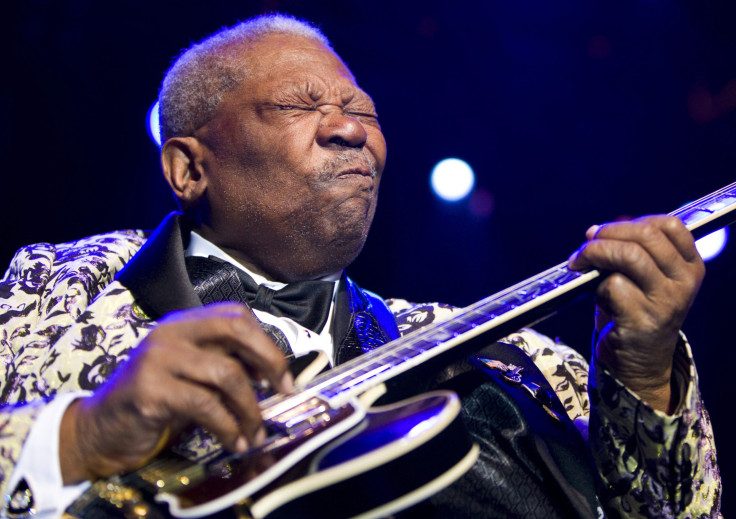 Blues guitarist, legendary songwriter and iconic singer B.B. King died late Thursday. The elder statesman of blues had kept the music of his generation alive decades after many of his contemporaries had gone, still performing regularly until last year. Tributes poured in from famed musicians and fans alike on social media sites as news spread that the Rock and Roll Hall of Famer had passed away at 89.
Born in Mississippi in 1925, Riley B. King had a knack for music early on. After releasing his first single in 1949, he worked his way to the top of the business with hit songs like "Sweet Little Angel," "Please Love Me," "Whole Lotta Love" and of course, "The Thrill Is Gone."
Despite keeping an active schedule well into his 80s, the guitarist was forced to slow down in 2014 after a series of health complications. On May 1, 2015, King was moved to hospice care and he died on May 14 in Las Vegas.
Let's look back at some facts from the legendary blues guitarist's career:
1. A Stage Name Is Born
Before he rocked the charts with his hits, he played the hits of others. King was a disc jockey in 1948, when he went by the name Beale Street Blues Boy. "Blues Boy" was eventually shortened to B.B.
2. His First Guitar
Although accounts differ as to just how he got his favorite instrument, one story goes that he bought his first guitar with only $15, a princely sum for a 12-year-old King in those days.
3. B.B. King Worked With Sam Phillips Early In His Career
Music fans will recognize the producer behind the legendary Sun Records. The company produced many of rock and roll's first headliners, including Elvis Presley, Johnny Cash and Jerry Lee Lewis.
4. His Guitar Lucille
A brawl broke out and caused a fire at one of the clubs where King had just performed. He ran into the club to rescue his guitar and learned that the two men, who both died in the fire, had been fighting over a woman named Lucille. King named his guitar Lucille in memory of the event.
5. King Crossed Over With The Help Of The Rolling Stones
The blues guitarist opened for the band during their 1969 tour. He won a Grammy the following year for one of the singles he was promoting on the road, "The Thrill Is Gone," which became a signature.
6. He Would Fly To Perform Some Of His Shows
Until his manager stepped in and requested King take a co-pilot, B.B. King was a licensed aviator who sometimes flew to gigs. The age when the blues legend put down his wings? King was 70.
© Copyright IBTimes 2023. All rights reserved.