Becky G Responds To Gay 'Power Rangers' Controversy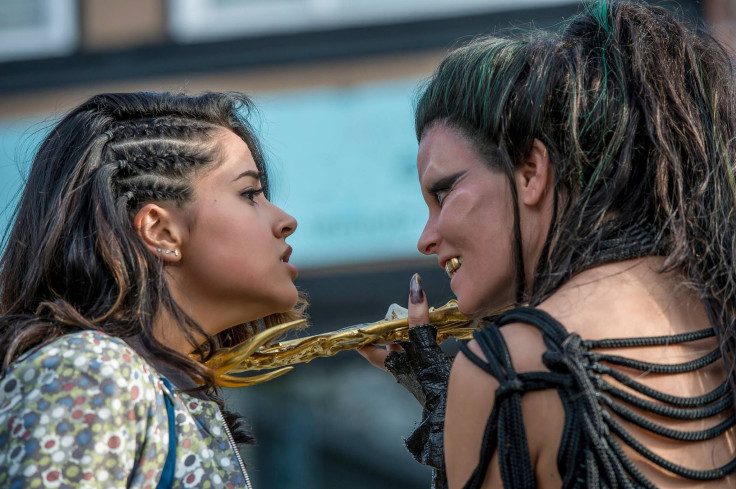 When the new "Power Rangers" film opens on Friday, the movie will include the first openly gay Ranger. Played by singer and actress Becky G, the Yellow Ranger assumes she is having "boyfriend problems" only to realize it may be "girlfriend troubles."
While it's obvious the inclusion of a gay character in the film would have its opponents, Becky G didn't understand why it was such a big deal. Speaking with TMZ, the actress revealed that she couldn't believe it took to so long for there to be a gay Power Ranger.
When asked how she felt about being the first gay Ranger, Becky G said, "I think it's something really beautiful. To me it makes me sad that it's such a big deal because I feel like it could have been done such a long time ago."
Although the Yellow Ranger's struggles with her sexuality may be a small moment in the film, director Dean Israelite called it "pivotal" for the entire movie. "For [the Yellow Ranger], really she's questioning a lot about who she is. She hasn't fully figured it out yet," he told The Hollywod Reporter.
The director added, "I think what's great about that scene and what that scene propels for the rest of the movie is, "That's ok.' The movie is saying, 'That's ok,' and all of the kids have to own who they are and find their tribe."
The 1990s series "Mighty Morphin Power Rangers" may not have had any openly gay characters but following his departure from the show, original Blue Ranger actor, David Yost, revealed he was gay. The actor left the series after facing harassment for his sexual orientation.
Yost has since gone on to praise the new film, saying, "They really stepped up to the plate. I think so many people in the LGBTQI community are going to be excited to see that representation."
"Power Rangers" opens on March 24.
© Copyright IBTimes 2023. All rights reserved.
FOLLOW MORE IBT NEWS ON THE BELOW CHANNELS