Belize's Great Blue Hole Threatened By Offshore Oil Drilling? Top Dive Site Targeted By Oil Exploration Plan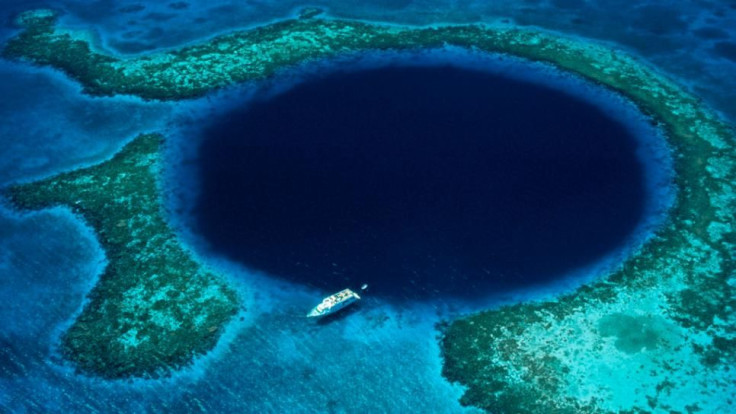 Belize's Great Blue Hole, one of the top dive sites in the world, could be threatened by offshore drilling after the Caribbean nation's Ministry of Energy proposed offshore oil exploration in 99 percent of Belize's waters and drilling if oil is found. The plan would include protected marine areas and world heritage sites, which could devastate Belize's famous coral reef.
Lawmakers in the Belizean government have pushed for the oil extraction plan citing the potential economic benefits. In 2013, the Belize Supreme Court ruled in favor of a lawsuit brought by U.S.-based conservation group Oceana to half offshore oil exploration, Costa Rican newspaper the Tico Times reported. But the ruling was suspended and two companies, including Princess Petroleum, still have exploration rights. The conservation group has already spoken out against the draft policy, saying offshore oil would compromise Belize's most important industry – tourism.
Tourism makes up 40 percent of Belize's GDP, and over 60 percent of tourists take part in marine activities during their stay in Belize, nestled on the eastern coast of Central America with Caribbean Sea shorelines. Critics claim an oil spill off the coast of Belize could devastate the country's fragile reef system and, in effect, inhibit tourism. Many Belizeans also depend on jobs in the country's fishing industry, which would be threatened if Belize's crystal clear water runs black with oil, activists said.
"The Belize Barrier Reef system provides hundreds of millions of dollars in direct and guaranteed economic benefits via tourism, fishing and storm surge protection," Janelle Chanona, spokeswoman for Oceana, said in a statement. "Those hundreds of millions of dollars cannot be dismissed in favor of the mere 'potential' of anything else – especially something as dangerous and dirty as offshore oil."
The Belize Barrier Reef system is recognized by UNESCO as a world heritage site and "one of the most pristine reef ecosystems in the Western Hemisphere." It's home to a number of threatened marine species including the manatee, green turtle and the American crocodile. The system is made up of mangrove forests, tiny islands and the stunning Great Blue Hole, which is set in a ring of corals.
The Blue Hole is the world's largest in the ocean, measuring 1,000 feet across and appositely 450 feet deep. Divers from around the world plunge into the Blue Hole's abyss to explore geological wonders and marine life.
© Copyright IBTimes 2023. All rights reserved.