Bella Thorne OnlyFans Controversy Resurfaces After Platform Bans Sexually Explicit Content
KEY POINTS
Some Twitter users blamed Bella Thorne after OnlyFans announced that it is banning sexually explicit content
Some accused her of exploiting sex work, while others defended the actress
Thorne previously faced backlash for charging her OnlyFans subscribers $200 for nude content but failing to deliver
Following OnlyFans' announcement that it is banning sexually explicit content from its platform, some critics have claimed that Bella Thorne was partly to blame for the changes in the company's policy.
Earlier this week, OnlyFans said it will no longer allow creators to post any content with "sexually explicit conduct" starting this fall, citing the need to "comply with the requests of our banking partners and payout providers," Variety reported. While it will still allow photos and videos containing nudity, the platform known for its adult content could soon be geared more toward celebrities, public figures and others who want to charge a fee for access to exclusive material.
Some Twitter users were quick to associate the changes to Thorne, who famously broke records and made $1 million within 24 hours of joining OnlyFans in August 2020.
"Hey where's Bella Thorne in all this OnlyFans drama? I thought she wanted to be the big celebrity to help remove the stigma behind sex work? OH that's right she only cares when she's making the $$ and doesn't have to worry about actual [sex workers'] lives and income," one person tweeted.
The same Twitter user added, "If she really cared about [sex workers] and wanted to help destigmatize their careers like she said, I feel like this would be an important topic to finally speak on, but nooooooooo."
"This is Bella Thorne's fault. OnlyFans was a safe space for sex workers, then she came along to make a fake documentary and exploit sex work for her own benefit. F--k Bella Thorne," a second user claimed.
"Well, it's Bella Thorne's fault apparently. [After] what she did, I guess banks are still being affected by this so a lot of them said they won't work with OnlyFans if there's porn on it," another suggested.
However, others defended Thorne as well as other celebrities who joined the website in the past year, saying that the payment processors and banks were the ones to blame for the changes that would affect the thousands of sex workers on OnlyFans.
"Honestly, it annoys me people are mad at Bella Thorne right now when the banks and OnlyFans suck so much more in this. Yeah, what she did sucked but the banks being horrible in return. [It] isn't really her fault. It's like people blaming her for angering the gods," one person wrote.
"The change isn't being made for celebs though. It's not their fault. OnlyFans is a private company and is preparing for it to go public or be sold. Blame these guys for f--king over the people who made them rich, not Bella Thorne for using it," another added.
"I don't think Bella Thorne is to blame for the Only Fans implosion," Perez Hilton tweeted.
Last year, Thorne, who made more than $2 million in her first week on OnlyFans, faced backlash after charging her then-over 50,000 subscribers $200 for nude content, which ultimately turned out to be sexy photos of her wearing lingerie. Unhappy subscribers complained, forcing OnlyFans to pay out thousands of refunds, The Guardian reported.
Following the incident, OnlyFans made changes to the platform, including capping tips at $100 and allowing creators to only charge up to $50 for exclusive content when there were previously no max amounts on both fees. The website also changed its policy on weekly payments, so creators got paid monthly instead.
While OnlyFans told the BBC pricing changes had "been in the pipeline for a while," sex workers slammed Thorne at the time, with one person on Twitter saying that the actress seemingly "endangered the livelihood of hundreds of thousands of creators."
The former Disney star quickly apologized, insisting she only intended only to normalize sex work and "bring attention to the site."
Thorne previously told Paper magazine that she was making a documentary about her experience on OnlyFans with Sean Baker, writer and director of the critically acclaimed films "The Florida Project" and "Tangerine."
However, Baker denied any involvement in the alleged project, claiming that he had only discussed a "possible collaboration" with Thorne in the "far future" and had advised her to consult with sex workers first.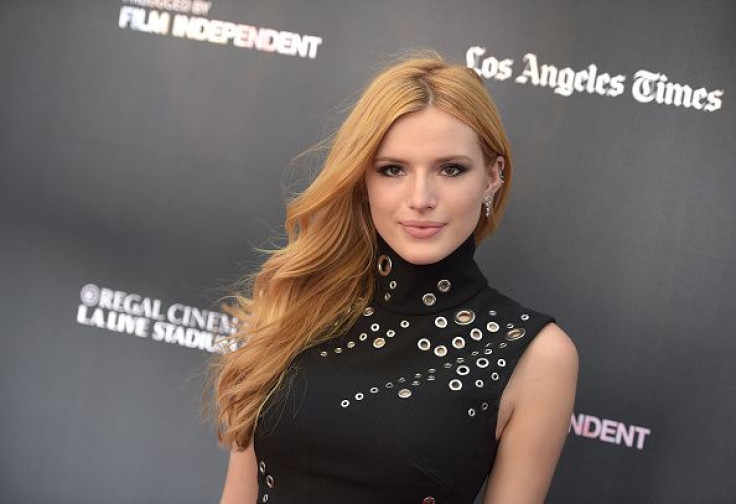 © Copyright IBTimes 2023. All rights reserved.