Ben Carson West Point Controversy: Did Politico Story Make The Media A Conservative Target?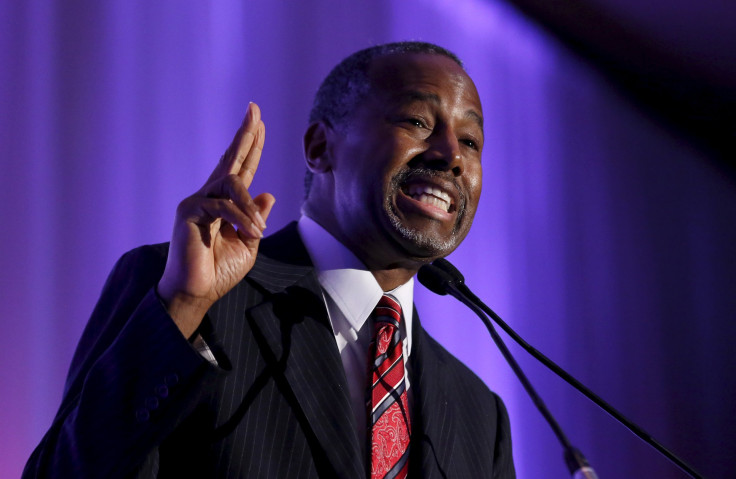 A Politico article alleging Republican U.S. presidential candidate Ben Carson fabricated elements of his claims about West Point set off a furious backlash, but not in the way one might have anticipated. The Carson campaign almost immediately called the story a lie. Originally headlined "Exclusive: Ben Carson admits fabricating West Point scholarship," the piece quickly became the target of conservatives.
Although Politico said it stood by its article, it removed some of the fabrication language after the pushback by the Carson camp, CNN Money reported. Carson doesn't appear to be in as much hot water as one might have expected, leaving open the question of whether the media at large will be hurt further, becoming more of a target for conservatives.
After the story went wide Friday, the conservative magazine National Review posted a lengthy piece over how the media has attempted to "destroy" Carson, referring to the Politico story. "Hovering over the feeding frenzy is the absurd media spectacle of mainstream reporters claiming they're merely 'doing their job' by diving into 50-year-old details of Ben Carson's childhood," the piece read.
The Politico article said Carson admitted he fabricated his story about a full scholarship to West Point, saying a West Point representative had no record of Carson applying. Carson's campaign said the candidate as a young man met former West Point officials who told him he could get an appointment to the academy with their help, but he eventually chose not to pursue attending the school.
Conservative radio-show host Rush Limbaugh said the media caters to liberal tastes, and its members are prone to target conservatives more than liberals. "Has the media ever gone through [U.S. President Barack] Obama's books and tracked down his assertions?" Limbaugh asked, according to a transcript of his show.
"But the fact remains the media hit Ben Carson today, and the Ben Carson campaign sort of gave 'em what they wanted by admitting that there was a fabrication here. The problem is this story. ... Remember first impressions. This story tries to make the reader believe that Ben Carson never went to West Point when he wrote that he did, and he never attended West Point," Limbaugh went on to say.
Carson himself has also attacked the media. He said Friday the media doesn't equally scrutinize candidates running for office, referring to a CNN report that said interviews with childhood friends and classmates didn't corroborate claims he has made about alleged violent incidents in his youth, such as an attempted stabbing and fights.
"The vetting that you all did with President Obama doesn't even come close, doesn't even come close to what you guys are trying to do in my case," USA Today quoted Carson as saying. "And you're just going to keep going back, 'He said this 12 years ago' -- it is just garbage. Give me a break."
© Copyright IBTimes 2023. All rights reserved.