Ben Carson West Point Controversy: Campaign Says Politico Report 'A Bunch Of Lies'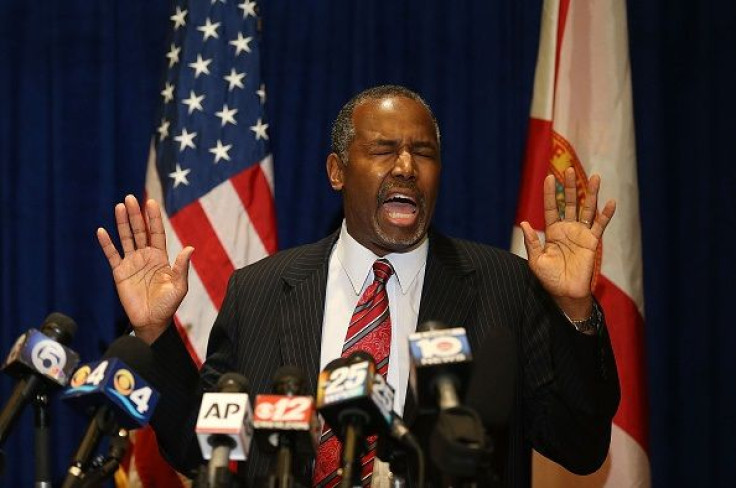 UPDATE: 7:25 p.m. EST: In a heated exchange with reporters at a news conference in Palm Beach Gardens, Florida, Ben Carson addressed a Politico report of a scholarship from the U.S. Military Academy.
"Don't lie. I never said that I received a full scholarship. Nowhere did I say that," Carson shot back at reporters who suggested he fabricated a story about a scholarship to the academy at West Point, New York.
Carson instead criticized Poltico's reporting. "Politico told a boldfaced lie," Carson said. "They have been called out by the Washington Post and the New York Times."
UPDATE: 6:48 p.m. EST: Politico has rewritten the headline, opening paragraph and a few other portions of an article that claimed Republican presidential candidate Ben Carson lied about a scholarship to the U.S. Military Academy at West Point, New York. The major difference between the original story and the revision is that the update omits references that suggest Carson's campaign staff acknowledged the scholarship claim was "fabricated."
The article's original first paragraph said: "Ben Carson's campaign on Friday admitted, in a response to an inquiry from POLITICO, that a central point in his inspirational personal story was fabricated: his application and acceptance into the U.S. Military Academy at West Point."
The updated first paragraph says: "Republican presidential candidate Ben Carson on Friday conceded that he never applied nor was granted admission to West Point and attempted to recast his previous claims of a full scholarship to the military academy — despite numerous public and written statements to the contrary over the last few decades."
Original story:
Republican presidential candidate Dr. Ben Carson is pushing back after reports Friday that he admitted to lying about his application and acceptance into the United States Military Academy at West Point. While the original report, which came from Politico, said Carson acknowledged the holes in his story, the candidate's campaign has since called the report an "outright lie."
The neurosurgeon-turned-candidate has long claimed he received a scholarship to West Point after he was recognized as the top ROTC student in Detroit during high school. But according to the Politico report, records from the academy in New York state show Carson never applied. When Politico asked Carson's campaign about the story, his campaign manager Barry Bennett said the candidate was introduced to people from West Point who could have helped him get an appointment to the school, but Carson ultimately did not apply.
However, Doug Watts, a spokesman for Carson's campaign, struck a different note in a statement to The Daily Caller News Foundation later Friday. Watts criticized Politico and asserted Carson "never said he was admitted or even applied."
"The Politico story is an outright lie. Dr. Carson, as the leading ROTC student in Detroit, was told by his commanders that he could get an appointment to the Academy. He never said he was admitted or even applied," Watts said in the statement.
"The campaign never 'admitted to anything,'" he added. "This is what we have come to expect from Politico."
Ben Carson Presidential Candidate Profile | InsideGov
Carson, who has been trading off with rival presidential candidate Donald Trump for the lead of the Republican field in recent polling, sat in second place Friday with 22.3 percent support compared with Trump's 28 percent, according to the HuffPost Pollster.
Despite the claim by Carson's campaign Friday, Carson himself has frequently implied over the years that he did in fact have an offer to attend the academy. The story is included in his book "Gifted Hands" and in his most recent book, "You Have a Brain." In "You Have a Brain," Carson says: "I still had the scholarship offer from West Point as a result of my ROTC achievements."
In an interview with the New York Times Friday, Carson gave his own explanation for the confusion, which echoed what his campaign manager told Politico earlier in the day.
"I don't remember all the specific details. Because I had done so extraordinarily well, you know, I was told that someone like me – they could get a scholarship to West Point. But I made it clear I was going to pursue a career in medicine," Carson said, according to the New York Times. "It was, you know, an informal 'with a record like yours, we could easily get you a scholarship to West Point.'"
Friday was not the first time he has addressed questions about the veracity of his story. In a Facebook post from August, Carson responded to a question from someone named Bill, who "wanted to know if it was true that I was offered a slot at West Point after high school." At that time, however, his answer still implied a specific offer from the academy. Carson wrote:
Bill, that is true. I was the highest student ROTC member in Detroit and was thrilled to get an offer from West Point. But I knew medicine is what I wanted to do. So I applied to only one school. (it was all the money I had). I applied to Yale, and thank God they accepted me. I often wonder what might have happened had they said no.
These reports come after media outlets have questioned other Carson claims over the past few weeks. Earlier this week, CNN reported that Carson's stories about having a violent childhood and attempting to stab a classmate may not be true. These claims have been central to the candidate's mythology of personal redemption, which has gained him favor among evangelical Christian voters. But like his campaign's response to the Politico report, Carson lashed out at CNN, calling its story "a bunch of lies."
© Copyright IBTimes 2023. All rights reserved.