Bernie Sanders Receives Outside Money Support Despite Hitting Clinton Over Super PACs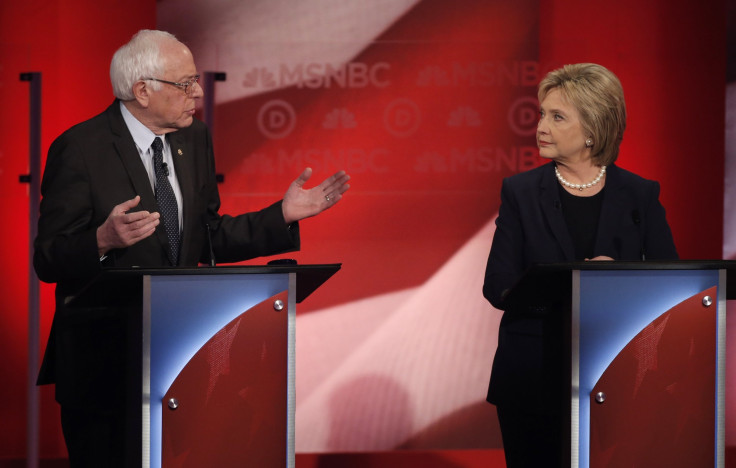 Sen. Bernie Sanders frequently attacked Hillary Clinton during Thursday night's MSNBC debate for taking money from Wall Street and using a super PAC, but he has avoided talking about the outside money helping his campaign.
"I am very proud to be the only candidate up here who does not have a super PAC," Sanders said Thursday night, as he has many times before.
While there is no super PAC created solely to support Sanders's campaign for president as there is for Clinton, several outside groups have spent large sums of money in favor of the Vermont senator. One of the most prominent is the super PAC of National Nurses United, the nation's largest nurses union, which has endorsed Sanders.
The group often has volunteers at Sanders events and its super PAC has spent close to $1 million on ads and other support for the senator, the New York Times reported in January. In fact, the group had its biggest off-year fundraising effort ever last year. National Nurses United for Patient Protection brought in $2.3 million in 2015, Politico reported, and it gave significant funds to two other unlimited spending groups supporting Sanders.
Another group, Friends of Earth Action, has been airing ads for Sanders in Iowa and New Hampshire, CNN reported last month. Friends of Earth Action is a 501(c)(4) nonprofit organization, which means it has no limit on the dollar amount supporters can give and is not required to disclose its donors, making it the type of group that Sanders frequently criticizes.
Overall, Sanders has raised plenty of money on his own without the outside groups. So far, he has raised $75 million, while Clinton has raised $115.6 million and her super PACs have raised $47.9 million, according to the New York Times money tracker.
Bernie Sanders Campaign Committee Spending | InsideGov
Thursday's debate offered the second chance for Sanders and Clinton to publicly spar after the Vermont senator narrowly lost the Iowa caucuses Monday. The two appeared in a town hall hosted by CNN on Wednesday, in which the Democratic presidential candidates sharply criticized one another despite appearing on stage at separate times.
Sanders had initially said he might not participate in Thursday's MSNBC debate, which was finalized just this week, because he was hoping to get Clinton to agree to a future debate in Brooklyn, New York. However, the two campaigns agreed Wednesday to add four debates to the schedule, CNN Money reported, including Thursday's in Durham, New Hampshire.
Bernie Sanders Presidential Candidate Profile | InsideGov
The two candidates will face each other again in March at a debate in Flint, Michigan, and at two debates to be held in April and May. The additional debates bring the total number of showdowns from six to 10. The expansion came after Sanders and former Gov. Martin O'Malley — who dropped out of the Democratic race on Monday — had called for additional debates for months. Clinton initially opposed adding more debates, but changed her position more recently as Sanders caught up to her in the polls.
Despite his close loss in Iowa, Sanders declared his efforts in the Hawkeye State a victory for his campaign's message, and is expected to do much better in the New Hampshire primary on Tuesday. The senator has been leading Clinton in New Hampshire polls for months, thanks in part to the state's proximity to his home in Vermont, but Clinton has not given up on the Granite State. Thursday's debate was important for both Clinton and Sanders, as it is the last chance they will have to get their message in front of this many viewers before New Hampshire votes next week.
© Copyright IBTimes 2023. All rights reserved.