Best Heavy Metal 2013: 'Louder Than Hell,' A Definitive Oral History, Joins Black Sabbath Album And Metallica Movie As One Of Year's Best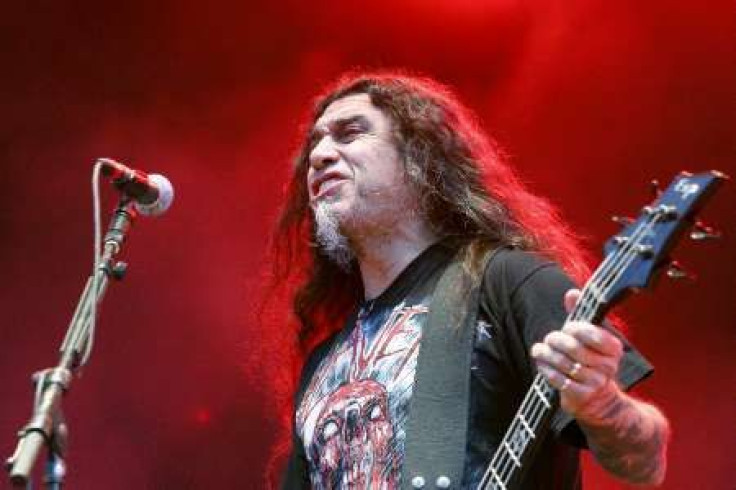 It was good to be a metalhead in 2013. While there were many great metal albums to choose from, the best of the best turned out to be a bunch of extreme, boundary-pushing efforts from groups like Dillinger Escape Plan, Kylesa, Deafhaven and Cathedral. But nestled next to those underground heroes on end-of-year playlists was the band that started it all, the reunited Black Sabbath, which finally got its evil groove back and delivered a doozy with "13," the group's first album to debut at No. 1 on Billboard.
Also debuting higher than ever on the Billboard chart was the iconic gore-grind group Carcass, which delivered its first full-length in 17 years, the scalpel-edged "Surgical Steel." Yet it wasn't just the albums that made loud lovers happy last year. Metal ended up on the big screen as well: Metallica's highly anticipated 3D concert film, "Metallica Through the Never," blended live footage and fantasy sequences, rivaling Led Zeppelin's famous concert flick, "The Song Remains the Same," in the process.
However, one could argue that the most ambitious and most satisfying metal release of 2013 came in a different form: a book, and a big, sprawling, entertaining one at that. Weighing in at 737 pages, "Louder Than Hell: The Definitive Oral History of Metal," by Jon Wiederhorn and Katherine Turmon, is a chronological, encyclopedic history told through 250-plus interviews with, for the most part, the maniacal musicians who've created, performed and reinvented the genre. Considering all the triumphs and tragedies (sadly, some of the artists we hear from -- like Slayer guitarist Jeff Hanneman, Rainbow and Sabbath vocalist Ronnie James Dio, Pantera guitarist Dimebag Darrell and Metallica bassist Cliff Burton -- are no longer with us); the sex, drugs and debauchery; and, of course, the music itself, it's hard to imagine one or even two humans actually completing an oral history of more than 40 years of metal. But Wiederhorn, who has held editor stints at Revolver and Rolling Stone (which selected "Louder Than Hell" as one of its "20 Best Music Books of 2013"), and Turman, producer for Alice Cooper's nightly syndicated radio show, manage to wrestle their beastly subject down with authority, and present a story that is almost impossible to put down.
In his intro, Anthrax's Scott Ian sets the crazy proceedings in motion: "Stories in this book about 40-plus years of metal -- some of which I lived through, others of which are new to me -- give me the same kind of teenage excited-dork feeling I get when I'm onstage." (Wiederhorn, who also wrote the authorized biography "Ministry: The Lost Gospels of Al Jourgensen," is currently working with Ian on the guitarist's memoir, "I'm the Man," due later this year.)
Soon after, we hear from Deep Purple (and later Rainbow and Blackmore's Night) guitarist Ritchie Blackmore as he discusses his use of onstage pyrotechnics to illuminate the molten nature of Purple's fiery proto-metal.
"I thought theatrics were really important to this music. I started incorporating pyro into the show in 1968," he says. And things would only get more dangerous during Purple's fiery performances. "At the California Jam [in 1974], I wanted to do something sensational. People had blown the guitar up. So I said, 'I'll blow the amp up.' I told my roadie, 'Just pile some petrol on the dummy amplifier and throw a match to it when I point to you.' So he did that, and he put too much petrol on there, and, of course, not only did we blow a hole in the stage, one of the cameramen went temporarily deaf. [Drummer] Ian Paice's glasses blew off and half the stage caught fire. It looked great -- like it was well under control – but it wasn't. The police came after me, and I had to jump into a helicopter to be rushed out of the area."
There's fascinating, and surprising, information splattered everywhere, especially regarding instrumentation. Some music fans might not realize it, but Black Sabbath guitarist Tony Iommi, the mighty pope of the power chord, was invited to join progressive rock group Jethro Tull shortly after he co-founded Sabbath. (Unfortunately, Iommi is currently undergoing cancer treatment.)
"I told Ozzy, Bill and Geez, 'Look, I've been asked to join Jethro Tull. What do you think?'" he says in the book. "And they said, 'You should go for it.' So I did. And when I went up to rehearse with Jethro Tull, I took Geezer with me to London because I felt really weird not being with the other guys. I really missed them."
A few moments later in the book, Tull frontman Ian Anderson gives his take: "In his early days, before Black Sabbath was born, we brought Tony into Jethro Tull very briefly because we loved his playing. Tony is what we call the 'prototype of heavy metal.' His guitar playing, the monophonic riffs that he came up, with were something not entirely unique, but a natural evolution from the more loose, blues-based jamming in bands like Cream just a couple years before."
Iommi remained with Sabbath, and the rest is heavy history (imagine if he had joined Tull?). In several parts of the book, we read what Iommi's colorful bandmate Ozzy Osbourne has to say. At one point, the crazed frontman reveals, bluntly, the reason behind all that evil, demonic stuff lurking in Sabbath's music: "We decided to write horror music."
Indeed, Sabbath's music has always been like a scary movie set to a brain-rattling, dungeon-dwelling soundtrack; no wonder it's been so fun to listen to. Not only do we hear from the Ozzman himself, we also get to hear about his early-Sabbath depravity from Sabbath bassist Geezer Butler: "The first really crazy thing I remember Ozzy doing was defecating on top of a Jaguar. We did this gig in Birmingham at a university, and the [promoter] stiffed us. So Ozzy went out and went to the toilet on top of his brand new Jaguar. That was a taste of things to come."
Indeed, the musician-about-musician segments are fascinating. Eddie Van Halen mentions a guitarist who has influenced just about every ax-slinger on the planet, and who should definitely be considered the true godfather of heavy metal ax work: "I saw Led zeppelin back around 1970, and Jimmy Page had his arm up in the air, and he was lifting his fret finger off of the string, and I said, "Wait a minute." And I took my right hand and used it to tap on the frets. I just moved it up and kept going up the neck, creating all these different sounds. It developed from there, and I worked with it until I could do it really fast on songs like 'Eruption,' and it became sort of my thing."
Later in this oral history, another guitar wizard emerges: Dimebag Darrell of Pantera and later of Damage Plan, whose life tragically ended on Dec. 8, 2004, when he was shot to death onstage while performing with DP. Dimebag (real name was Darrell Abbott) was gunned down by an ex-marine who reportedly blamed Darrell and his drummer brother Vinnie Paul for Pantera's breakup. On that horrible night, metal lost a magnificent guitarist and a major creative force.
In "Louder Than Hell," Darrell dishes joyfully about one of his favorite albums, a thrash-metal masterpiece if there ever was one: "Slayer's 'Reign in Blood' was groundbreaking. They did s--t that was unorthodox. They did s--t that was out of the books, but somehow it wasn't out of place. There were two wild-ass crazy guitars, and you're going, 'What key are they in and what kind of lead playing are they doing?' But it's so bad, dude. Nobody can play it because nobody can figure it out."
With "Reign" and several speaker scorchers, Slayer became one of the titans of extreme metal, transforming thrash (so did Metallica and Anthrax) into a viciously dynamic art form. Eventually, we read what Slayer singer/bassist Tom Araya has to say about the controversy surrounding one of the album's songs:
"At time we did 'Reign in Blood,' everyone was all about being politically correct. We got accused of being neo-Nazi because of 'Angel of Death.' If you look at it, the song just tells a story. It doesn't glorify anything. Anyone who thinks we're Nazis isn't paying close attention because I'm originally from Chile, so I'm a minority, and that would have to mean I hate myself."
Slayer became a force to reckon with around the same time Metallica established itself as the savior of the San Francisco Bay Area thrash scene. Before he became Metallica's incredible lead guitarist, Kirk Hammett played in the Bay Area thrash group Exodus. In "Louder Than Hell," he talks about what he and his cronies were in search of in those raw, raucous early days. "We were all looking for the most extreme stuff, and [when I was in Exodus], the most popular music was Mercyful Fate, Venom, Motorhead … Then this band came into town call Metallica. That was the sound everyone was looking for but no one could actually execute until Metallica came along and showed everyone how to do it. There were pockets of bands in L.A. and New York that played heavy metal, but it was Metallica that brought it up to the next level."
(Incidentally, Exodus has announced that it will perform at the first FEAR FestEvil, on Feb. 7 at Regency Ballroom in San Francisco, and that the FEAR FestEvil creator, guitarist Kirk Hammett, has announced that he will not only perform at the festival but also during a special encore with Exodus.)
Eventually, Metallica would become one of the biggest bands in the land, in any genre, with its 1991 eponymously titled fifth studio album, known as "The Black Album"; 30 million copies of the record have been sold worldwide.
It's a terrific album, one in which Metallica presents a more radio-friendly, anthem-heavy style that still rocked with thick, booming power. It wasn't, however, Metallica's crowning achievement; that honor, of course, goes to "Master of Puppets." In one of the many segments that tie together the "oral" parts of the story, the authors themselves discuss "Master," an album in which "the band combined the brutality of thrash, technical dynamics of prog-rock, and epic grandeur of cinematic composers like John Barry and Ennio Morricone with the urgency of hardcore, and did it all in a framework of angry, infectious sing-alongs." Adds Metallica frontman James Hetfield: "We started getting into longer, more orchestrated songs."
But eventually, Metallica would evolve, just as others in the huge cast of characters Wiederhorn and Turmon have assembled would do.
As you might expect, the Satanic elements of metal are given their due in many shocking sections of "Louder Than Hell." While Black Sabbath wrote songs that celebrated the occult and other nasty subject matter, Ozzy, Tony, Geezer and Bill weren't really praying to Beelzbub. But as metal moved in various extreme directions, a brazen underground form known as death metal emerged in the early 1980s in Florida, and prospered mightily for a decade (and it still thrives to some extent). In the book, which also includes input from some knowledgeable non-musicians, Revolver magazine editor Brandon Geist offers his insight:
"The vocals became so inhuman, and that was a big step. It's like, 'I'm no longer going to sing as a person. I'm going to sound like a demon.' Thrash band were pissed and that's why they shouted. Death metal bands were possessed. It was a whole other level of evil."
Meanwhile, after death metal bands like Death, Morbid Angel and Deicide (featuring a frontman with an upside-down cross carved into his forehead) offered their maniacal din in the U.S., grindcore -- a dense, explosive, political, monstrously sung (often in Cookie Monster mode) strain of metal/punk -- emerged in the U.K. Napalm Death, of course, has been the most significant grindcore band to date. While delving into Napalm Death's early phase, the authors explore the pivotal period in which amazing guitarist Bill Steer left the band to form Carcass, the gore-obsessed grindcore/thrash outfit whose lyrics were often straight out of a medical textbook.
"My sister was a nurse, and she had a medical dictionary," Carcass singer/bassist Jeff Walker remembers. "I used to sit there and try to sound articulate and intelligent by using this dictionary as a source of inspiration. Carcass was meant to be a scientific approach to death metal because it was so boring listening to lyrics that would say 'I'm gonna kill you' in fifty different ways. … An English journalist came up with the idea that we all went to medical school then formed a band, and for the longest time people really believed it."
Carcass' gory approach was just one of the many directions heavy metal takes over the years. Near the end of the book, in an afterword, Rob Halford, frontman of the pivotal British band Judas Priest, hits the nail right on the head: "Metal was not born; it evolved from other existing sounds, ideas and technologies. It can therefore never die."
"Louder Than Hell" isn't perfect. Not every major heavy music star is included. Missing from the tome are, for instance, members of influential heavy group Thin Lizzy. And while a groupie admits that she blew both Geddy Lee and Alex Lifeson of Rush (but not the band's drummer, Neil Peart), the three Canadian musicians aren't quoted. Of course, there must be at least a few dudes upset that other rockers didn't make into the book. Hey, get over it. Wiederhorn and Turmon end up showcasing the voice of more than a couple hundred key metal people, and weave together an amazing tale in the process.
It's hardly the first heavy-rock oral history. Before it, there were, for example, Legs McNeil and Gillian McCain's terrific punk-rock tome, "Please Kill Me: The Uncensored Oral History of Punk" and Stephen Davis' raucous "Walk This Way: The Autobigraphy of Aerosmith." Those will remain pivotal text for years to come, and so will "Louder Than Hell."
Matt Pinfield, former host of MTV's "120 Minutes," made a good point when he said: "This is the best oral history I've read since 'Please Kill Me.' 'Louder Than Hell' is the first book that really delivers the brutal truth from the mouths of the artists and key players themselves! I couldn't put it down."
You won't be able to either.
An updated paperback version of "Louder Than Hell" is scheduled for release in April 2014.
© Copyright IBTimes 2023. All rights reserved.
FOLLOW MORE IBT NEWS ON THE BELOW CHANNELS