Best WordPress Form Builder Plugins: Gravity Forms Review, Pricing, Addons & More
This article uses affiliate links, which means if you purchase products through these links, we may earn a commission. Click here to see our
T&C
. For licensing please click
here
.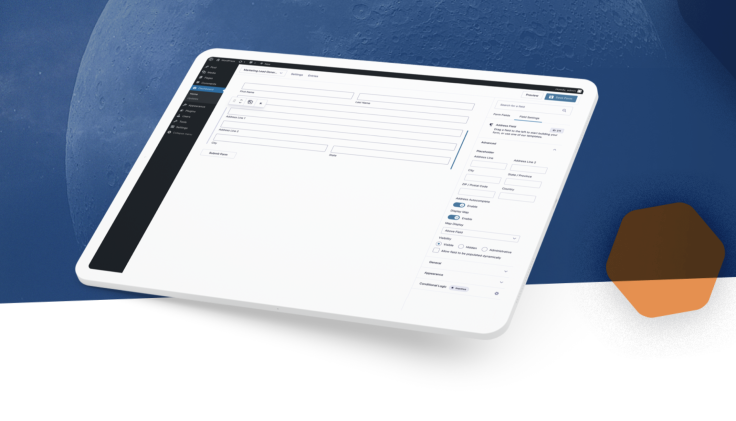 When it comes to capturing leads, looking for feedback, collecting information from site visitors or learning about industry and marketing trends, forms are the gold standard.
Sure, it's one of the oldest methods in the book, but in this case, old is gold. So which form builder plugin is worth your time? Let's find out.
Best WordPress Form Builder
With no shortage of options, the best form builder should be user-friendly, have analytics, mobile-friendly templates, drag-and-drop capability, conditional logic and is easy on the eyes.
But this is where it gets tricky, as not all form builders are equally made. Some are simply far more capable, while some are more user-friendly and affordable.
Luckily, Gravity Forms can provide not only the best of both worlds but so much more. Here's why it's one of the best WordPress form plugins today.
Gravity Forms: Powerful Form Builder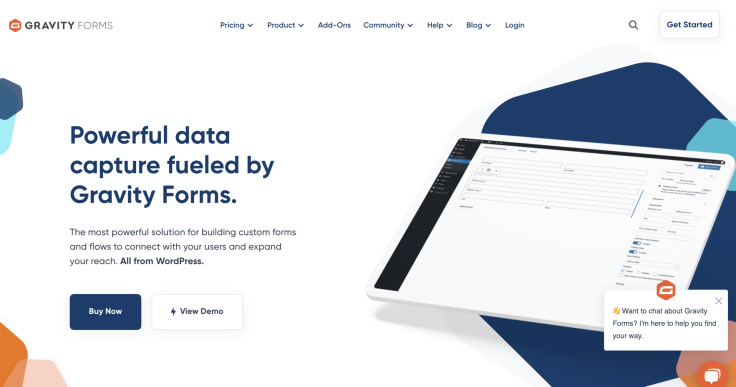 Comprehensive yet easy-to-use, Gravity Forms has long been used and respected by many of the biggest brands in the industry, making it one of the most popular and highly used form-building plugins for WordPress websites.
But if you're a new user, what can it do for you?
Whether you're running a personal blog or a corporate/business website, you need forms to build bridges between you and your audience and this is where Gravity Forms comes in.
Through the feature-rich Gravity Forms, you can create almost any type of form. This includes user surveys, support requests, online orders, polls, file upload forms, quizzes or comprehensive questionnaires. The rich text editor field also lets you make fully formatted WordPress post submissions for convenience.
As for the user experience, you can expect a hassle-free journey, as the plugin adopts some of the best WordPress features. This means two things: using Gravity Forms will feel familiar for WordPress users and beginners will be able to find their way around it easily.
Conditional Logic and Drag-and-Drop Builder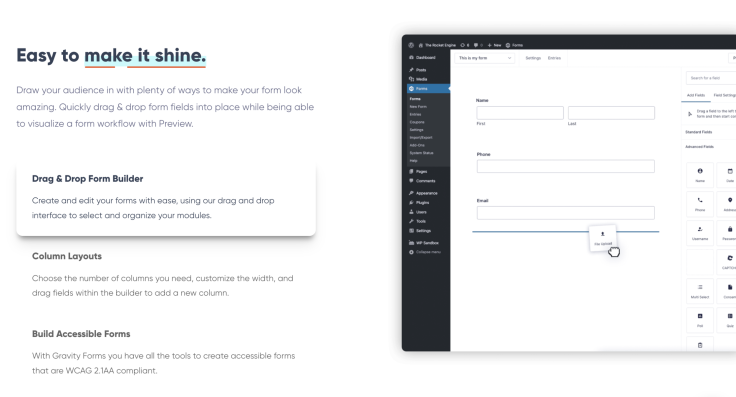 Gravity Forms uses a drag-and-drop builder instead of a form maker, making it so much easier to use. Unlike other form builders, Gravity Forms provides you with sample forms that you can edit and customize.
From there, adding elements and fields is as easy as dragging and dropping wherever you want them to go. It also comes with pre-defined fields for commonly-used forms. There's an advanced fields option where you can choose between different input types and assign labels, values, names, verification checks, etc.
One other great feature is Gravity Forms' Conditional Logic, which enables you to configure your form to show or hide fields, pages, sections, or the submit button based on the input of your users. This makes your form less intimidating for users, making them more likely to input their information instead of clicking away.
Other Features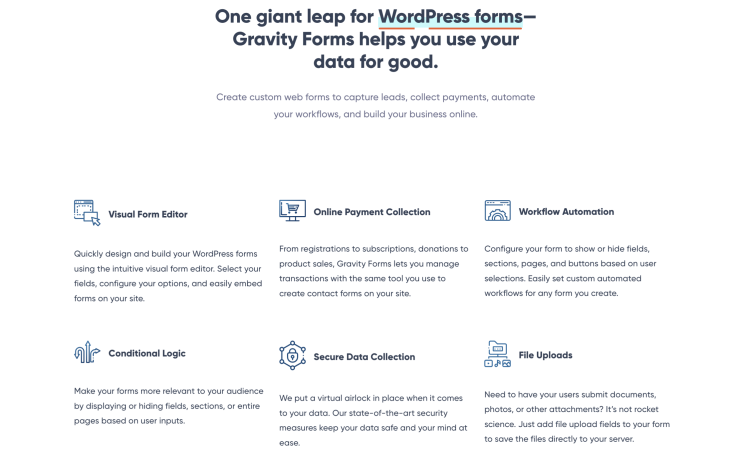 But that's not all that Gravity Forms offers. Here are some of its other features:
30+ form fields – Gravity Forms users can take advantage of the plugin's 30+ form fields to help you make just about any type of form.
Responsive forms – Gravity Forms has wide optimization, which means the form you make will always look good on any device, be it a smartphone, tablet, or desktop.
Email notifications – You can easily set this up so you'll be notified via email whenever a form is completed.
Spam Filter – Gravity Forms also combats spam submissions.
File Uploads – Users can also upload files through your online form.
Calculations – Gravity Forms also lets you perform advanced calculations based on the submitted field values.
Front end forms – If you want users to submit blog posts without providing them any admin access, you can do so via front end forms.
Limit and schedule forms – This lets you limit the number of entries you can receive.
Integrations – Gravity Forms also comes with integrations, so you can connect your web form to any application you'd like to work with.
In-editor guidance – While making a form, Gravity Forms will provide you with in-editor guidance to point you in the right direction.
There are also several add-ons with Gravity Forms. You can learn about them here.
Pricing and Support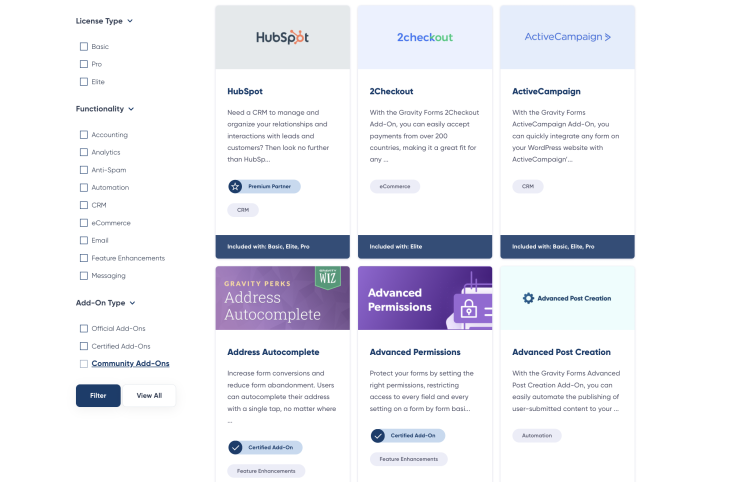 What's great about Gravity Forms is that their prices are affordable and come with plenty of features no matter which plan you choose.
Basic License - $59 per year (1 site, standard support)
Elite License - $259 per year (unlimited sites, priority support)
Pro License - $159 per year (3 sites, standard support)
The elite license comes with all the add-ons, as well as priority support for all your needs. Support is also available via support tickets, Monday through Friday from 9am to 6pm.
There's also a documentation section on their website, as well as user guides and a knowledge base for all commonly asked questions. There's also a free demo.
Conclusion
When it started, Gravity Forms was at the cutting edge of WordPress form builders. While there are now plenty of form builders, it still stands tall as one of the most innovative plugins you can use.
Navigation is easy even for beginners and there are enough features to cover everything no matter which plan you choose, making it one of the best WordPress form builders available today. This way, making a bridge between you and your customer base is easier than ever.
Learn more about Gravity Forms by clicking here.