Betsy DeVos 'To Meet With Men's Rights Groups And Accused Rapists' To Discuss Campus Rape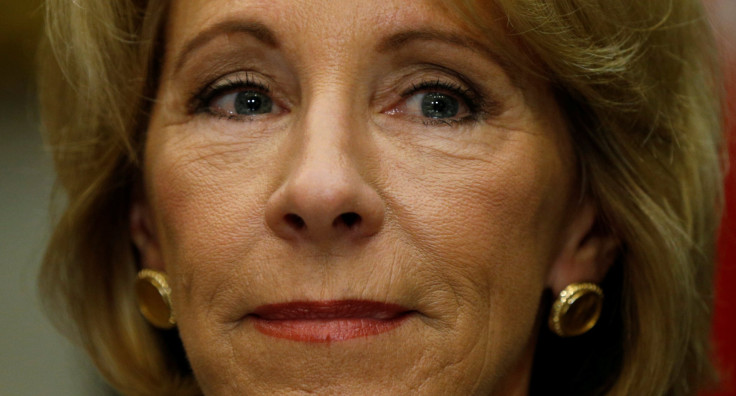 Doubts were raised over Education Secretary Betsy DeVos' commitment to protecting victims of sexual assault on college campuses during her confirmation hearing on Jan. 17 when she failed to answer a series of questions on Title IX, the 1972 law that says that any federally-funded educational program must ensure safety and protection against sexual discrimination.
Concerns of advocates of survivors of sexual abuse were heightened over reports that DeVos will meet men's rights group and accused rapists as a part of her consultations on campus sexual assault Thursday.
The three most troubling of these groups include the National Coalition for Men (NCFM), Stop Abusive and Violent Environments (SAVE), and Families Advocating for Campus Equality (FACE), the Independent reported.
READ: Will Betsy DeVos Enforce Title IX?
Members of these groups have previously blamed and intimidated rape survivors, and there are fears in the wake of the meeting that they may influence the Department of Education's guidelines on campus rape.
SAVE will bring along two men who say they were falsely accused of sexual assault, a SAVE spokesperson told the Daily Beast.
According to their website, SAVE believes that "effective and just solutions" to sexual assault require "consideration of the legitimate needs of all parties, including complainants and the accused".
In a 2013 paper, the organization argued domestic violence laws are "threatening to rework fundamental notions of a civil and just society," and suggested that the Violence Against Women Act may be the "most unconstitutional law in the United States".
State chapters of NCFM, on the other hand, have been previously accused of publishing photos of female accusers on a page titled "false victims," the Independent reported.
NCFM President Harry Crouch says the goal of his group is to dismantle the "men's violence industry." He has previously suggested that, in cases of domestic violence, "often the woman initiates violence herself."
FACE, which was founded by women whose sons were accused of campus sexual assault, is focused on the "ruined futures" of the accused, according to Think Progress.
Jaclyn Friedman, a leading expert on campus sexual violence and the editor of Yes Means Yes: Visions of Female Sexual Power And A World Without Rape, called the NCFM, FACE, and SAVE "hate groups, plain and simple," and said they should not be given an audience with Secretary DeVos, the Daily Beast reported.
Friedman added that asking these groups how the DoE should best address campus rape is "like asking Russia to collaborate with us on ensuring election integrity."
READ: Will Education Secretary's Statement Hinder Trump's Effort To Boost HBCU Funds?
During her confirmation hearings, DeVos was ambiguous about the Obama-era Title IX policies, stating it would be "premature" to commit to the enforcement of those policies at that time.
"I know that there's a lot of conflicting ideas and opinions around that guidance, and if confirmed I would look forward to working with you and your colleagues and understand the range of opinions and understand the issues from the higher education institutions that are charged with resolving these and addressing them," DeVos had said at the hearing.
However, in the months following, she has overseen the rollback of some of those policies on how to investigate allegations of sexual assault on campuses.
Now hosting these groups further hints that the education secretary may be open to revoking the 2011 expanded guidance on Title IX protecting sexual assault survivors.
© Copyright IBTimes 2023. All rights reserved.