Beyonce Wears Fur While On Vegan Diet: Sparks Controversy Over Questionable Attire [PHOTO]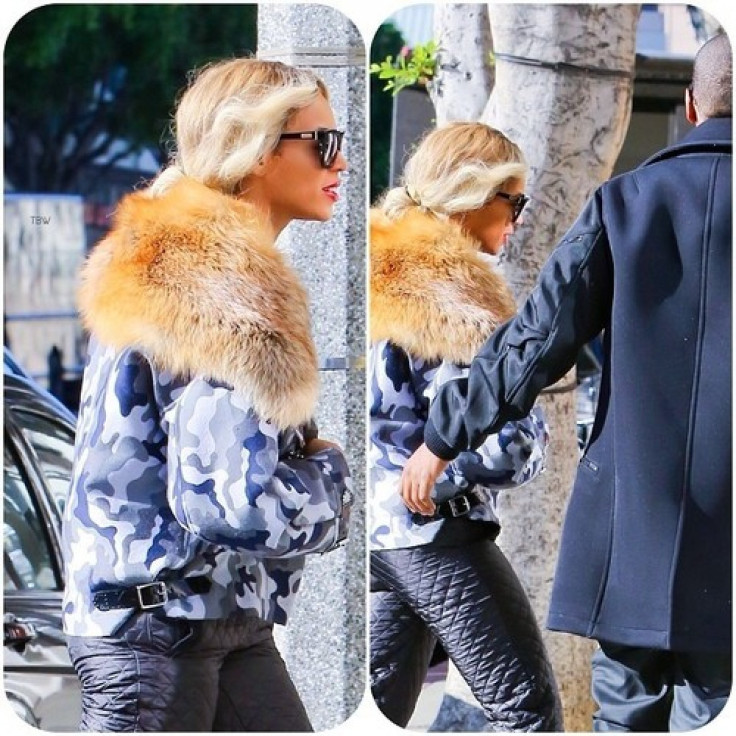 Beyonce is sparking controversy by wearing fur right after it was announced that she and Jay Z were going vegan. The 32-year-old pop star went on a lunch date with her husband in Los Angeles on Thursday, and sported a nearly $4,500 Christopher Kane wool-blend parka with a real fur collar.
Her attire seems questionable, considering vegans don't consume any animal products and engage in a lifestyle that does not cause harm or death to animals.
Earlier this week, Jay Z announced on his official website that he and Beyonce are going on a vegan diet for 22 days. The plant-based diet may have a number of positive effects, including potential weight loss, improved heart health and diabetes prevention or control. The entrepreneur calls it a "22 Days Challenge," explaining on his blog, "Psychologists have said it takes 21 days to make or break a habit. On the 22nd day, you've found the way.
"On December 3rd, one day before my 44th birthday, I will embark on a 22 Days challenge to go completely vegan, or as I prefer to call it, plant-based!! This all began a few months back when a good friend and vegan challenged me to embrace a 'plant-based breakfast' every day. It was surprisingly easier on me than I thought."
Why has he decided to embark on the diet now? "There's something spiritual to me about it being my 44th birthday and the serendipity behind the number of days in this challenge; 22 (2+2=4), coupled with the fact that the challenge ends on Christmas Day…It just feels right!" he said.
Jay Z is calling it a "spiritual and physical cleanse" and said he will update fans on his progress -- and that his wife will join him.
Beyonce can likely help him get through the diet as she's had some dieting experience herself. In 2006, for example, to play Deena Jones in the film "Dreamgirls," she went for the "Master Cleanse," a liquid diet including fresh lime, maple syrup and cayenne pepper, mixed with water, which detoxifies the body. She also ate vegetables during the two weeks that she took part in the cleanse. She reportedly lost 20 pounds.
© Copyright IBTimes 2023. All rights reserved.