Bezos Attacks Biden's Inflation Views On Twitter Again
KEY POINTS
Bezos and U.S. President Biden have been feuding on Twitter over inflation since May
In the latest tweet, Biden asked gas pump-owning companies to lower prices to reflect their costs
Bezos said President Biden's statement was "straight misdirection or a deep misunderstanding of basic market dynamics"
Amazon founder Jeff Bezos has attacked President Joe Biden on Twitter yet again for his views on fighting inflation.
On Saturday, Biden directed a tweet to companies owning gas stations, asking them to bring down fuel prices to reflect their costs. Bezos retweeted the post, calling the statement, "Either straight misdirection or a deep misunderstanding of basic market dynamics."
Bezos, the third-richest person in the world, said, "Inflation is far too important a problem for the White House to keep making statements like this."
The inflation debate between Bezos and Biden has been ongoing since May.
"You want to bring down inflation? Let's make sure the wealthiest corporations pay their fair share," Biden tweeted on May 14.
"The newly-created Disinformation Board should review this tweet, or maybe they need to form a new Non Sequitur Board instead. Raising corp taxes is fine to discuss. Taming inflation is critical to discuss. Mushing them together is just misdirection," Bezos posted on Twitter.
The White House issued a statement about Bezos' tweet saying the response was expected after Biden met with labor organizers including Amazon employees. Bezos pushed back, saying stimulus payments were causing inflations, not unions and wealthy people.
Bezos congratulated Biden and Vice President Kamala Harris after their win in the 2020 election. He shared a photo of the two on his Instagram account, with a congratulatory caption that appeared to be a thinly veiled jab at former President Donald Trump.
Bezos posted: "Unity, empathy and decency are not characteristics of a bygone era. Congratulations President-elect @JoeBiden and Vice President-elect @KamalaHarris. By voting in record numbers, the American people proved again that our democracy is strong."
Trump and Bezos have been at odds since 2015. Trump publicly referred to Bezos' Washington Post as "totally fake" adding that the paper was "just a lobbyist for Amazon."
Trump mocked Bezos several times on Twitter before being banned from the platform. He also coined a new nickname for Bezos, calling him "Jeff Bozo."
In retaliation, Amazon asked the government for permission to depose Trump for his anti-Bezos bias after the company lost a $10 billion cloud-computing contract with the Pentagon.
"Trump's bias actually and irrevocably tainted the procurement process," the document read.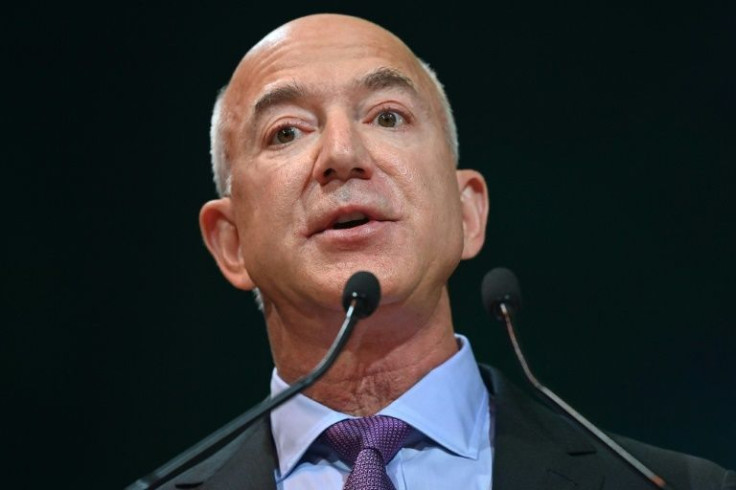 © Copyright IBTimes 2023. All rights reserved.