Biden To Invoke Defense Production Act More Aggressively Than Trump
In yet another sign of significant change in the White House, President Biden is expected to make more forceful use of the Defense Production Act, a federal law that allows a president to require businesses to prioritize production of necessary items during national emergencies.
Former President Trump had been slow to evoke the law to produce hospital equipment, despite pressure from congressional Democrats.
In contrast, the DPA figures prominently in Biden's COVID-19 strategy. The plan, announced Thursday, also fast-tracks vaccine distribution and broadens protections to at-risk communities. Biden had already required masks in federal buildings, airports, and trains.
The strategy is in stark contrast to Trump's efforts to pass COVID-19 management down to the states, said Jeff Zients, Biden's COVID-19 response coordinator.
"For almost a year now, Americans could not look to the federal government for any strategy, let alone a comprehensive approach to respond to COVID," he said. "This is a plan that is driven by science data and public health. It's not driven by politics."
It was unclear when DPA would be formally invoked. Tim Manning, Biden's COVID-19 supply coordinator suggested the tool would be used on an as-needed basis.
"Where we can produce more, we will," he said in a conference call with reporters. "Where we need to use the Defense Production Act to help more be made, we'll do that too."
Evoking the act could speed production of not just N-95 masks and ventilators, but vaccines.
While Trump eventually used DPA to ramp up production, his critics said it was too little too late. This week, Democratic senators urged Biden to take more aggressive action in the face of increasing deaths and hospital supply shortages.
Other bullet points in Biden's wide-ranging plan include "restored trust," effective vaccination distribution, wider mask usage, increased testing, and safely reopened schools. A new COVID-19 Health Equity Task Force will advise how to help disproportionately affected communities.
"The national strategy provides a roadmap to guide America out of the worst public health crisis in a century," the plan says in summary.
Biden will also speed vaccine distribution to states and encourage governors to open new venues to do so. Qualified federal reimbursement to states has increased from 75% to 100%.
The president has set a goal of getting 100 million people vaccinated within the next 100 days.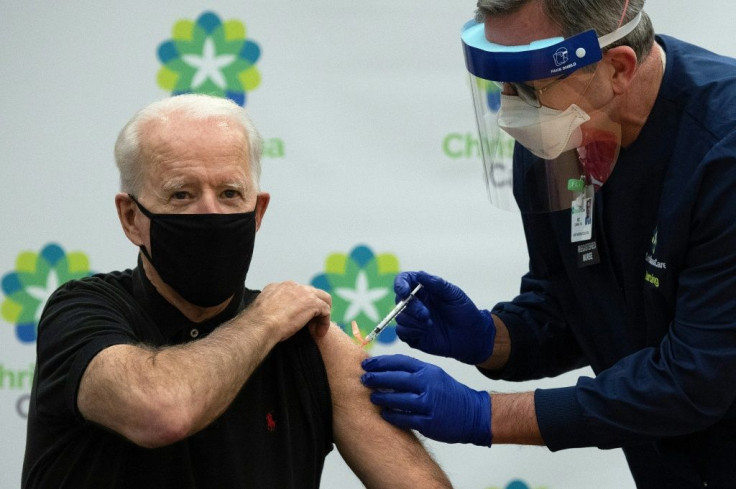 © Copyright IBTimes 2023. All rights reserved.
FOLLOW MORE IBT NEWS ON THE BELOW CHANNELS