Biden On 'Tonight Show:' President Downplays Inflation Concerns, Touts Infrastructure Bill To Jimmy Fallon
President Joe Biden on Friday made his first appearance on late-night television since taking office. In an interview on "The Tonight Show Starring Jimmy Fallon," Biden addressed the concerns of many Americans about inflation and the pandemic.
"Look, people are afraid, people are worried, and people are getting so much inaccurate information to them — I don't mean about me, but about their situation," he told Fallon.
Biden sought to alleviate worries about the economic outlook.
"They're being told that, you know, Armageddon's on the way. The truth is, the economy's grown more than it has any time in close to 60 years. The unemployment rate is down to 4.2% and it is going to lower," he said.
Inflation has been a hot economic topic as prices have seen their biggest jump in decades.
Biden expressed confidence that consumers would see prices decrease. "We do have inflation on things that, in fact, matter to people's lives," he said referring to the rise of gasoline prices.
"It's going to come down. It's going to move. But in the meantime, people are worried," Biden said.
Biden has been encouraged by the recent infrastructure bill, which is expected to fix roads and bridges, expand internet access, and more.
"We're going to replace all the lead pipes in America that are causing people to get sick, get cancer," Biden said. "We're going to make sure you're able to send your three- and four- and five-year-olds to school, which will increase exponentially their chances of succeeding."
Despite falling approval ratings, Fallon commended Biden for "bringing class back to the office."
Some of the disapproval comes from Biden's strict vaccine mandates, which have forced millions to choose between getting the COVID-19 vaccine and remaining employed.
Biden admitted he no longer pays attention to his poor approval rating. "I would pay attention when they're in the mid-60s. But now they're in the 40s. I don't pay attention anymore," he joked.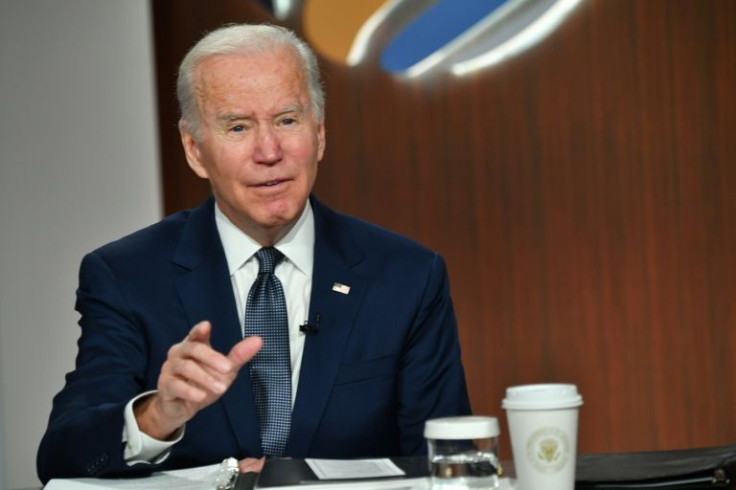 © Copyright IBTimes 2023. All rights reserved.