Big Deadly Snake Found Hiding Under Air Conditioning Unit, Reptile Removed
People living in a gated community in Australia were left in shock when a resident spotted a big deadly snake under an air conditioning unit.
Stuart McKenzie of Sunshine Coast Snake Catchers 24/7 was called to the home in Marcoola, a coastal town in the Sunshine Coast Region, Queensland, after a man saw the reptile disappear under the AC unit.
"After searching the area for a while, I came to terms with having to pull apart this aircon, where we found the Eastern Brown Snake hiding up inside," McKenzie wrote on his Facebook page Sunday. He also shared a video of the rescue mission, saying that the clip is a "little bit sketchy."
"Everyone was very happy and thankful to see this highly venomus snake moved on from the gated community safely," he wrote. The exact size of the eastern brown snake was not revealed, but, it definitely was a big one.
Last month, McKenzie was called to remove a massive snake that was hiding near a home. The snake cornered itself in such a way that a tractor was required to remove it.
McKenzie wrote on his Facebook page that the family was concerned as they had small kids and pets.
"Persistence certainly paid off on this snake call! It took nearly an hour and a half to finally find and catch this stonker of an Eastern Brown snake!" McKenzie wrote. "...So they were happy to bring in heavy machinery to help try and find it so I could safely relocate the snake. It had last been seen going into a massive garden of Bromeliads and the family were happy for the plants to go."
He also shared a video of the relocation process.
Smaller eastern brown snakes eat ectothermic animals, such as lizards, while larger ones tend to consume more warm-blooded prey, according to the Australian Museum.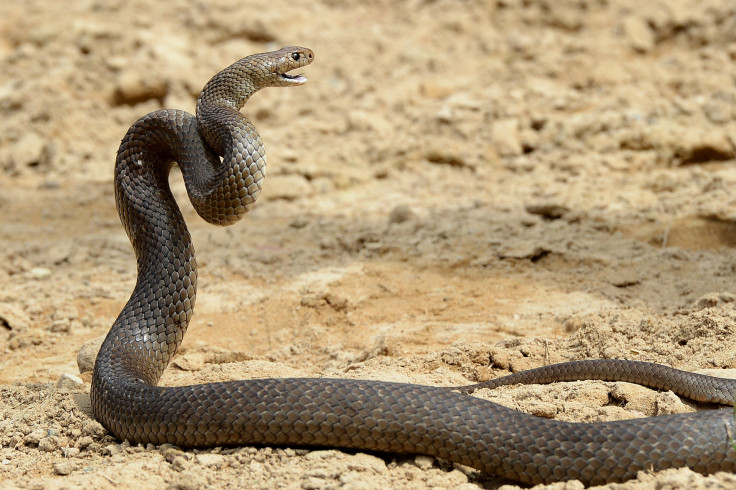 FOLLOW MORE IBT NEWS ON THE BELOW CHANNELS