Big Game Hunter Dies After Being Crushed To Death By Elephant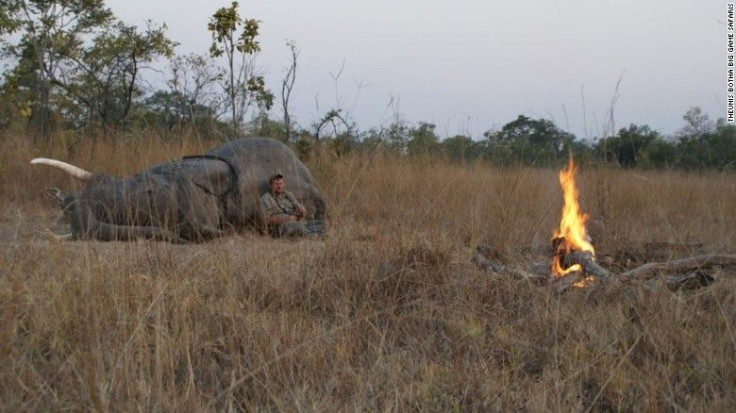 A well-known South African big game hunter was reportedly crushed to death by an elephant on an animal reserve in Zimbabwe, according to reports.
Theunis Botha, 51, was on a 10-day hunting expedition at the Good Luck Farm near Zimbabwe's Hwange National Park when he and a client stumbled upon a herd of breeding elephants, the Associated Press reported Monday.
Read: Are Elephants Endangered? Possible Oldest Pachyderm Murdered By Poachers For Tusk Ivory
Nyasha Simukai, a spokesman for Zimbabwe National Parks, told CNN Monday that the "unfortunate incident" occurred after Botha and his party got in the middle of the herd and were attacked by female elephants.
An unidentified source told South Africa's News24 that the hunters had gone for a walk Friday afternoon before coming across the herd of elephants. The incident reportedly escalated after three of the elephants charged the group, Netwerk24 reported Sunday.
A fourth elephant then caught them off-guard, charging them from the side. One of the hunters in the group fatally shot her after she lifted Botha into the air with her trunk, at which point she collapsed and fell on him.
Read: Elephants Killed For Their Ivory Can Have Justice Thanks To Nuclear Bombs?
Botha's body was taken to Hwange Colliery Hospital, where his wife Carike is expected to identify him. According to the Washington Post, his remains will be transported to South Africa where he will be buried.
According to multiple sources, Botha's death comes on the heels of his friend and fellow hunter Scott Van Zyl. The 44-year-old tracker and a pack of hunting dogs disappeared in mid-April during a separate hunting expedition in Zimbabwe. BBC reported April 20 that DNA tests on the carcass of a crocodile confirmed that it contained his remains.
Botha owned his own big game safari business, which has been in operation since 1983. A description of the business on Botha's website reads:
"Theunis embraced his hearts [sic] passion and engaged in full time big game hound safaris in and around South Africa, adding private ranches in Zimbabwe and Botswana as new destinations in 1991."
According to Netwerk24, Botha is survived by a wife and five children.
© Copyright IBTimes 2023. All rights reserved.