Big Gigantic Talk Camp Bisco 11, Summer 2012 Music Festivals And New Music [EXCLUSIVE INTERVIEW]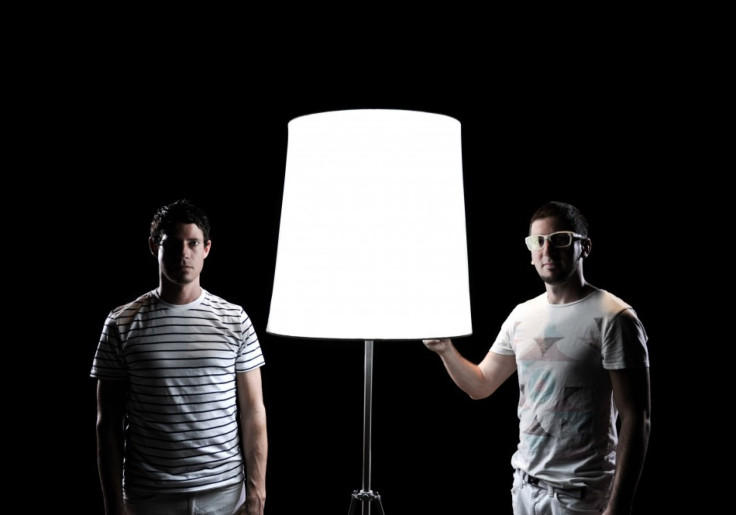 Big Gigantic continued its tour of some of the hottest summer music festival's with a high-energy main-stage performance at this weekend's Camp Bisco 11, an electronic and jam band festival focused around the Disco Biscuits at Indian Lookout Country Club in Mariaville Lake, N.Y., that began in 2000.
The jamtronica group, which combines electronic beats with live saxophone and drums, rocked the Bisco crowd on Saturday with a set that included tracks from its latest release, Nocturnal, as well as some from its 2010 album, A Place Behind the Moon.
Dominic Lalli and Jeremy Salken, the duo that make up Big Gigantic, approached their Bisco set by doing what they do best -- building energy in the crowd and keeping the audience engaged.
Dom is really good at that, Salken, the group's drummer, said. Like even when he's producing a track, he's thinking about the flow of it, how it's gonna start out, where it's gonna peak and where exactly that energy [from the crowd] is gonna come from.
The duo hit a milestone in 2012 with Nocturnal, as it was Big Gigantic's first album to reach No. 2 on the iTunes electronic music chart, right behind M83's reigning Hurry Up, We're Dreaming.
Repping distinct track's such as Beginning Of The End, Stronger and The Uprising, the album is a perfect representation of the group's ability to evoke different styles while staying consistent with its sound.
During its Camp Bisco set, Big Gigantic made it a point to salute dedicated fans with The Uprising. The track is not only the first song on Nocturnal, but, as Lalli puts it; it's the group's ode to the people.
With that track in particular, I wanted to write something that was for the people, saxophonist/producer Lalli said. I picture the uprising as a scene of marching people, which is something that reminds me of the electronica scene.
This one's all about you, Lalli yelled at the Camp Bisco crowd as he and Salken segued into The Uprising.
Big Gigantic, in its third appearance at Camp, is no stranger to Bisco and the Disco Biscuits. Fans were surprised when Lalli was invited to sit in with the Disco Biscuits during its second set of the day on Saturday, as well as earlier in the weekend, with Emancipator.
Lalli and Salken are also two of the six members that make up Gigantic Underground Conspiracy (the Disco Biscuits' Marc Brownstein and Aron Magner, along with guitarist Chris Michetti, paired up with Big Gigantic and Ben Baruch from the Underground Orchestra).
The supergroup performed a late-night set on Saturday at Camp Bisco and will also perform next weekend at Gathering of the Vibes in Connecticut.
Yea, we love the Disco Biscuits guys. They've been really great to us, Salkin said. They kind of brought us in their whole world and gave us awesome [time] slots, and we're just always ready to crush it for them.
Camp Bisco is just one of the many stops that Big Gigantic has made on the summer 2012 festival circuit. Recent performances include sets at Ultra, the Hangout, Bonnaroo and Electric Forest.
And as the band looks forward to its next appearance at the All Good Music Festival & Campout in Throniville, Ohio, the guys of Big Gigantic couldn't be happier to perform in front of more record-setting crowds.
Playing at festivals is definitely different. We're playing for huge crowds, way bigger than we're used to at one of our own shows, Lalli explained. So that's cool, because we're just like 'whoa.' The vibe is definitely awesome.
Summer 2012 also marks the group's first festival season it gets to show off its new stage setup. The two side-by-side open-faced pods house each artist and boast custom video content for the audiences viewing pleasure.
To be honest, our light guy kind of drew up the concept out on a napkin one night, Salken said. We had all been trying to figure out a new set and where we could take it, because we had our own little boxes before, and we wanted to stick with that, but we also wanted to try to do something new and unique. So we were messing around with all of these ideas, and he just drew this thing up one night, and we were like 'yes, this is amazing!'
Looking to the future and where it plans to go next, Big Gigantic will keep the momentum going by returning to the studio in September when the duo's summer tour is finished.
I'm always working on new music, different concepts and remixes, Lalli said. And eventually, I'm gonna map out what I want to do for the next album. So I'm kind of getting all of that stuff together, and then in September I'll really get in the studio, and we'll get close to dropping a new EP or a new release.
When asked how Big Gigantic plans to change things up the next time around, Lalli said it is always thinking of different ways to move the thing forward and find a new sound to all of this.
© Copyright IBTimes 2023. All rights reserved.