Billie Eilish Admits Being Happy Without Having A Boyfriend
Billie Eilish has been one of the rising stars of the music industry and because of her determination, her music career is reaching greater heights. The singer is so busy in her professional life that she is not even interested in finding a boyfriend for herself.
Speaking with Vanity Fair, the 17-year-old musician revealed she is single and there isn't anyone she is interested in pursuing right now because she does not have "enough stamina" to get into a relationship at this point in time.
Eilish noted that she doesn't have a boyfriend and for the "first time" in her life she doesn't feel the need to be with someone. She further stated that she is not "in the mood" to find a boyfriend and is fine with being single. But the songstress later admitted that she is "open" to finding love.
"I am not in the mood, I don't have enough stamina for it right now, and I am totally fine with that. So, who knows? I am open to it," Eilish said.
The "Bad Guy" hitmaker has been one of the few musicians who has been vocal about her struggles with mental health. During the interview, Eilish confessed that the journey has been really hard but she is in a better place now than she has been for a long time.
She shared that she has been trying to maintain her happiness and is happy that she is able to experience it for the first time in recent years.
In July, she opened up about her struggles with depression and how she has dealt with it since she was 13 years old. In an interview with Rolling Stones, the "Ocean Eyes" singer said she suffered from depression when she was forced to quit dancing because of body dysmorphia. She shared that she could not pursue a dance career because she ruptured a growth plate in her hip at age 13.
In related news, Eilish has created history by becoming the youngest female musician to receive Billboard's Woman of the Year award. According to Billboard, she will be receiving the coveted award at the Billboard's Women in Music event on Dec. 12, which means she will be adding one more accolade to her name just six days before turning 18 .
The "Bury A Friend" singer joins the elite list of women like Taylor Swift (2011 and 2014), Lady Gaga (2015), Madonna (2016), Selena Gomez (2017), and Ariana Grande (2018) who have been recipients of the prestigious award.
Additionally, the 17-year-old also made history by becoming the youngest nominee ever to garner nominations in all of the Grammys four major categories.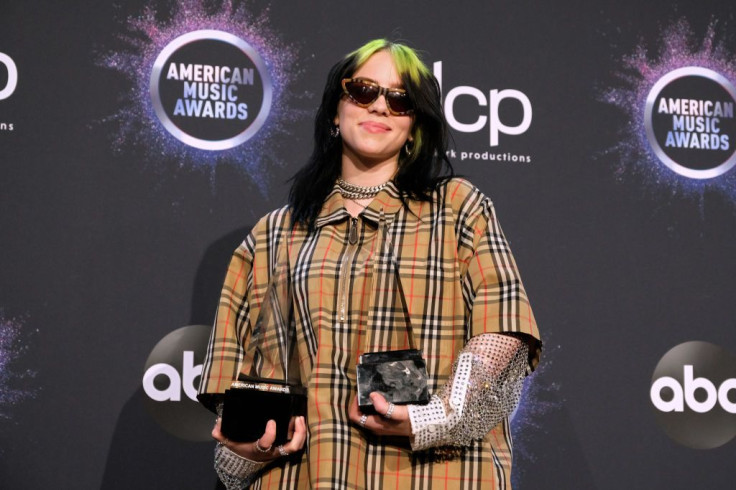 © Copyright IBTimes 2023. All rights reserved.