Billy Bob Thornton Wants To Work With Brad Pitt Despite Angelina Jolie Divorce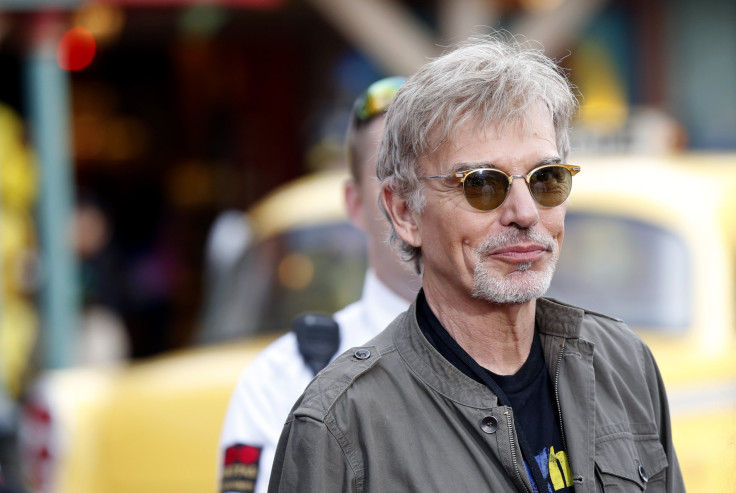 Even though he was once married to Angelina Jolie, Billy Bob Thornton wouldn't have a problem working with her ex-husband Brad Pitt.
During an interview with Playboy for the upcoming issue, the "Bad Santa 2" actor said he would love to work with Pitt, 52, some time and he already has characters in mind for them. "This might surprise people, but I'd love to do a movie with Brad Pitt," said Thornton, 61. "I think we'd be great together. We'd play a couple of Southern guys."
Speaking with Entertainment Tonight, Thornton revealed that he has been in touch with Jolie, 41, since their split and said she seems OK. "She seems, you know, OK to me when I talk to [her]. I don't talk to her that often, though. You know? We're still very good friends. But she's got her world. I've got mine."
The actor also said when people are having issues, he likes to leave them alone unless they seek him out. "When people are going through their trials and tribulations, I try to leave them alone unless they want to talk to me."
Although Thornton and Jolie seem to be on good terms now, the actor recently revealed why their short-lived marriage didn't work out. "I never felt good enough for her," Thornton told GQ. "I'm real uncomfortable around rich and important people," he continued, saying he was never a fan of being an A-list couple.
While Thornton waits for a response from Pitt, he's kept busy with promotion for the upcoming "Bad Santa 2," a sequel to the 2003 film which releases on Nov. 23. He is also currently filming the movie "Hunter Killer," an action thriller directed by Donovan Marsh.
© Copyright IBTimes 2022. All rights reserved.
FOLLOW MORE IBT NEWS ON THE BELOW CHANNELS