'Birdman' Wins SAG Award For Outstanding Cast In A Motion Picture; Naomi Watts Trips Over Emma Stone [VIDEO]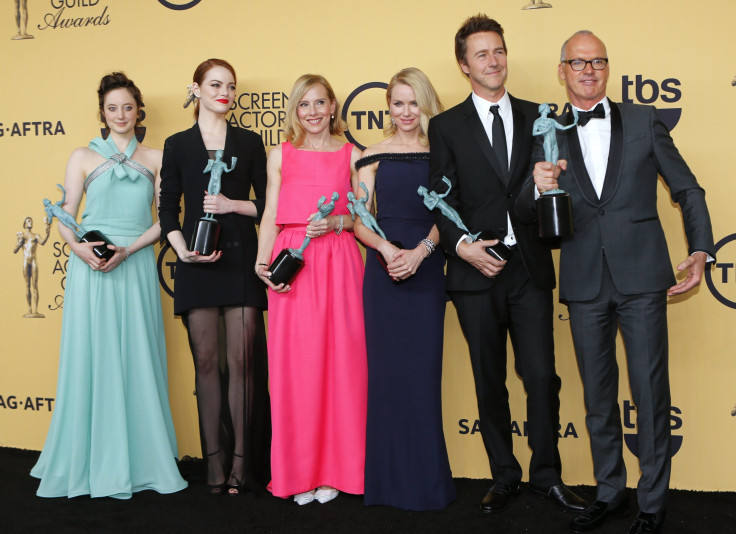 "Birdman" won big at the 2015 Screen Actor Guild Awards Sunday. Although nominated for four awards, the flick only took home one -- but it was the most coveted. "Birdman" beat out "Boyhood," "The Grand Budapest Hotel," "The Imitation Game" and "The Theory of Everything" to win Outstanding Performance by a Cast in a Motion Picture.
The seven-actor ensemble took to the stage to accept the award. Edward Norton passed the mic to Michael Keaton first, explaining to the crowd that he was following the "age over beauty" rule.
"Thank you. This is very, very exciting," Keaton said during his speech. "It's the ultimate team sport what we do for a living."
Keaton added that his co-stars are "tremendous" and that he's "proud to be part of this group."
Naomi Watts tripped on Emma Stone's gown while making her way to the mic. After laughing off the stumble, Watts thanked director Alejandro González Iñárritu. Meanwhile, Zack Galifianakis provoked laughs by mimicking Julianne Moore's earlier acceptance speech for Outstanding Performance By a Female Actor in a Leading Role. "When I was on 'As the World Turns,'" Galifiankis said before stepping back. Stone, Edward Norton and Andrea Riseborough rounded out the acceptance speech, saying filming was an "incredible experience" and a "true privilege."
"Birdman" is up for the Best Picture at the 2015 Academy Awards. The movie will once again have to compete with "The Imitation Game," "Boyhood," "The Theory of Everything" and "The Grand Budapest Hotel." Other Oscar nominees in the category include "Whiplash," "Selma" and "American Sniper."
© Copyright IBTimes 2023. All rights reserved.
FOLLOW MORE IBT NEWS ON THE BELOW CHANNELS