'Black Clover' Chapter 333 Leaks, Spoilers: Flaw Of The World
KEY POINTS
"Black Clover" Chapter 333 is releasing Sunday
The chapter is coming on Manga Plus and Viz
The manga is based on Yuki Tabata's original work
Lucius Zogratis appears before Asta in "Black Clover" Chapter 333. The new chapter is, reportedly, titled "The Saviour and the Flaw of the World."
The chapter starts with a small flashback scene where Lucius is seen looking at his siblings in the Spade Kingdom. He wants to follow the highest-ranking devil named Astaroth of time magic and look for the answer.
The scene changes to Lucius and Julius' inner dialogue. Lucius tells him he has seen the future and knows how to achieve true peace.
He assures Julius he knows the way to maintain peace in this world. He adds the reason he couldn't stop time for Asta is because of the latter's anti-magic abilities.
Lucius thinks anti-magic defies reason. The scene in "Black Clover" Chapter 333 shifts to Asta and Lucius facing each other.
Lucius has stopped time for everyone except Asta and himself. Meanwhile, Asta looks confused as he wonders if he is the Wizard King. But he knows Lucius is not the Wizard King yet he is using his power on a large scale.
In "Black Clover" Chapter 333, Lucius announces he has taken Lucifero in. Asta is getting a weird feeling as he wonders if who he is facing is human or something else.
He is also worried about the Wizard King's wellbeing. Lucius declares he is the savior of the world and that Julius is dead.
Lucius explains Julius had a mission for their ideals and his mission was over. Now, he wants to destroy humanity and rebuild it using the magic of his siblings.
"Black Clover" Chapter 333 concludes with Asta breaking the time-freezing magic spell.
"Young Asta was born with no magic ability in a world where magic is everything. In order to prove his strength and keep a promise with his friend, Asta dreams of becoming the greatest mage in the land, the Wizard King!" read the official synopsis of "Black Clover," as per Manga Plus.
The leaks and spoilers of the new chapter were shared by Reddit user Shirohige99.
"Black Clover" Chapter 333 is scheduled to release this Sunday. Fans can read the chapter online on Manga Plus and Viz. The manga is based on the original story by Yuki Tabata.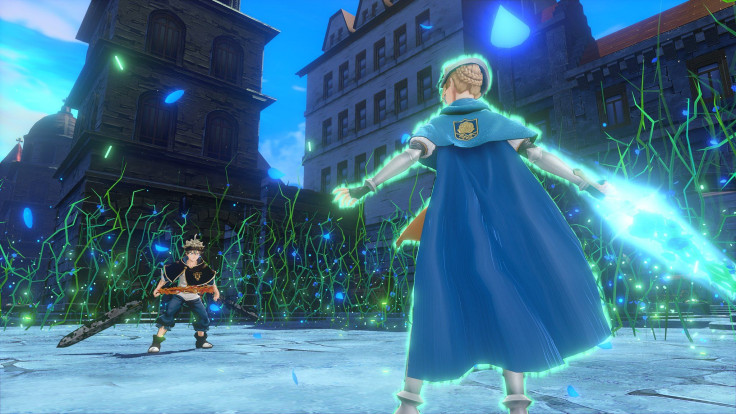 © Copyright IBTimes 2022. All rights reserved.
FOLLOW MORE IBT NEWS ON THE BELOW CHANNELS