Black Lives Matter Minnesota Mall Protest Live Updates: Demonstrators Call For Justice In Jamar Clark Shooting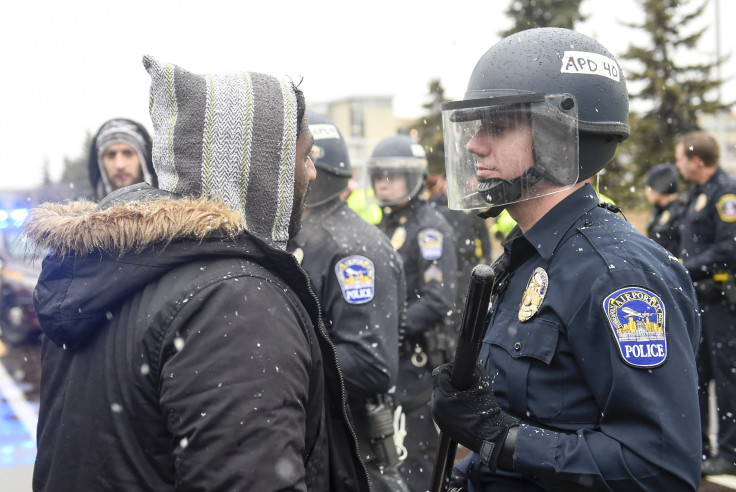 UPDATE: 5 p.m. EST -- Black Lives Matter protesters who had converged on the nation's largest mall and a major airport in Minnesota appeared to have been dispersed by local police and State Patrol officers after a couple of hours of demonstrations that disrupted one of the busiest shopping and travel days of the holiday season. The protests, prompted by the death of Jamar Clark, an unarmed 24-year-old black man fatally shot by police in Minneapolis last month, caused 30-minute delays at security checkpoints at the Minneapolis-St. Paul International Airport, suspension of service on a regional public transit system and temporary closure of stores at the Mall of America.
"We raised the bar," Danny Givens, pastor of Above Every Name Church in St. Paul, Minnesota, said outside of the airport's Terminal 1, according to the Minneapolis Star Tribune. "We let the nation and the world know that black lives matter," he said.
Airport police confirmed to media outlets that three arrests had been made at Terminal 2 of the airport. A small number of departing flights were delayed to allow passengers more time to get to their gates, an official told an Associated Press reporter.
Other arrests were reportedly made at the mall, although authorities had not confirmed a number last Wednesday afternoon. Protesters said they were demanding the release of video in Clark's shooting case, as well as prosecution of the officers involved.
UPDATE: 3:45 p.m. EST -- Police reportedly arrested at least three people in relation to the planned protests at the Mall of America and a major airport in Minnesota. The arrests, unconfirmed by authorities, were among a gathering of Black Lives Matter supporters in Minneapolis, who were protesting the death of Jamar Clark, a 24-year-old black man who was unarmed when he was fatally shot last month by city police.
Less than an hour after what appeared to be hundreds of protesters gathered, Bloomington, Minnesota, police and State Patrol officers pushed protesters outside of the Mall of America, the nation's largest shopping mall, where many had gathered under threat of arrest.
But soon after officers began advancing on protesters, many streamed out of the mall into a nearby public transit terminal and boarded lightrail trains to the airport. At Minneapolis-St. Paul International Airport, dozens of protesters blocked traffic at a passenger drop-off area until police pushed them onto a walkway at the airport.
There were reports that protesters caused a temporary suspension of service on the transit system that serves metropolitan Minneapolis. They also reportedly caused the temporary shutdown of Terminal 2 at the airport and significantly disrupted shopping hours at the mall.
Original story:
Defying a Minnesota judge's warning against a planned demonstration, what appeared to be hundreds of supporters of a Black Lives Matter group in Minneapolis gathered in the Mall of America in Bloomington Wednesday, on what's known as the busiest shopping day of the year. The protest was organized by activists demanding answers and a prosecution in the death of Jamar Clark, a 24-year-old black man who was unarmed when he was fatally shot last month by Minneapolis police.
At the publicized start time, people were seen peacefully gathering under the mall's main rotunda. But mall officials had preemptively asked stores around the rotunda to shut their doors, under a so-called lockdown policy. A warning was broadcast on electronic information kiosks and a Jumbotron-sized screen in the mall stating that protesters would be arrested if they did not disperse. Less than an hour after the protest start time, police officials appeared to be shutting down the mall altogether.
Ahead of the protests, mall officials and Bloomington police did not divulge their plans for security measures. Bloomington Police Deputy Chief Denis Otterness confirmed to the Associated Press that officers were assigned to the mall Wednesday. Minnesota Gov. Mark Dayton, who indicated that he sympathizes with protestors, said 30 Minnesota State Patrol officers were deployed to the mall at the request of the Bloomington police, according to AP.
The Mall of America — the nation's largest shopping mall, which boasts 2.5 million square feet of retail space and sees approximately 42 million visitors annually — was granted a temporary restraining order Monday, barring three activists who apparently planned the protest from entering the mall Wednesday. Lawyers for the mall also asked a judge to order protest leaders to cancel the demonstration via a message on social media, but Judge Karen A. Janisch of Hennepin County, Minnesota, threw out that part of the lawsuit.
"The Court does not have a sufficient basis to issue an injunction as to Black Lives Matters [sic] or to unidentified persons who may be acting as its agents or in active concert with the Black Lives Matters movement," Janisch wrote in her opinion, according to the New York Times. However, the activists Michael McDowell, Miski Noor and Kandace Montgomery can risk arrest and other legal action by taking part in the demonstration, according to Janisch's ruling.
"The court's decision should not be interpreted as authorizing or permitting others to engage in political demonstration at the Mall of America without the express permission of the Mall of America," the judge wrote in the lawsuit. Despite the warning, many supporters said on Twitter that they planned to participate in the protest and organizers said they expected approximately 700 people.
The mall's lawsuit and the court's ruling quickly drew outrage from Black Lives Matter supporters around the country, as the Twitter hashtag "#MOASueMeToo" trended ahead of Wednesday's demonstration. The American Civil Liberties Union of Minnesota has condemned the mall's actions against Black Lives Matter as "overzealous." The lawsuit was "unconstitutionally overbroad and an improper prior restraint on speech," the ACLU branch said in a statement released Monday. "Mall of America, and other corporations, should not be able to dictate what private citizens write on their social media accounts," it added.
Black Lives Matter protesters caused a temporary shutdown at the Mall of America on the Saturday before Christmas in 2014, according to local CBS affiliate WCCO-TV. Thousands of protesters crowded under the mall's rotunda and shouted, "No justice, no shopping," "Hands up, don't shoot," and "While you're on your shopping spree, black people can't breathe."
Those protests were in reaction to the previous summer's fatal police shooting of Michael Brown in Ferguson, Missouri, and Eric Garner's chokehold death in Staten Island, New York, which propelled "Black Lives Matter" to become a household phrase and a part of Washington and presidential politics. Last year, Bloomington police arrested and ticketed about two-dozen protesters for trespassing, failure to disperse or disorderly conduct, according to WCCO-TV.
Organizers of this year's Mall of America protest sought answers in Clark's Nov. 15 police shooting in Minneapolis. Although police have said Clark was actively resisting arrest as police intervened in an assault that he was allegedly involved in, activists say he was not resisting and was lying on the ground handcuffed when he was shot.
In addition to the release of any police video and 911 recordings related to Clark's shooting, activists have demanded the appointment of a special prosecutor in the case and the prosecution of the officers involved. They also want federal terrorism charges against a group of white supremacists who shot at demonstrators last month during a Black Lives Matter Minneapolis protest outside of a city police station.
People Killed by Police by Race in 2015 | Graphiq
© Copyright IBTimes 2023. All rights reserved.