Black Lives Matter Minnesota Christmas Protests: Mall Of America Sues Activists To Stop Planned Demonstration On Season's Busiest Shopping Day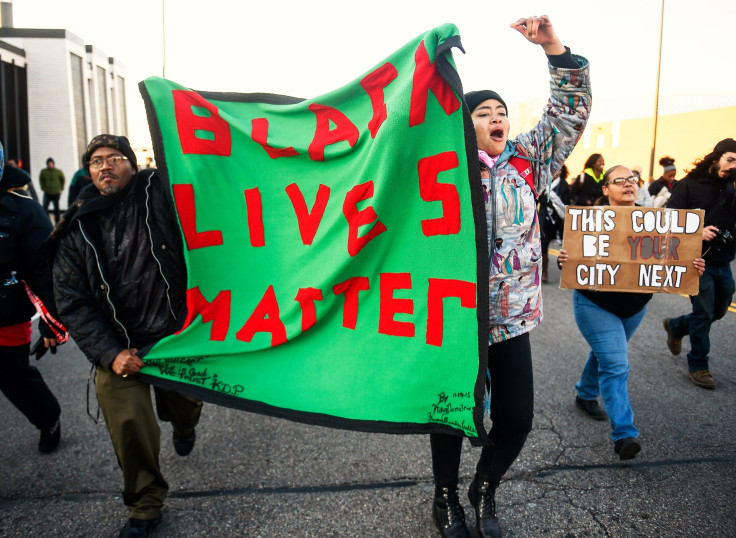 UPDATE: Wednesday, Dec. 23, 8:30 a.m. EST — A Black Lives Matter group in Minneapolis will move forward with a planned protest Wednesday that could disrupt the busiest shopping day of the holiday season at the Mall of America, the nation's largest shopping mall. Officials at the mall in Bloomington, Minnesota, were granted a restraining order Tuesday that bars organizers of the protest from participating in the demonstration, the New York Times reported.
A Minnesota judge said organizers Michael McDowell, Miski Noor and Kandace Montgomery can risk arrest and other legal action by taking part in the demonstration. However, the Mall of America's lawsuit could not include Black Lives Matter, a national social justice movement against police brutality, because the group itself is not capable of being sued, said Judge Karen A. Janisch of Hennepin County, Minnesota.
"The Court does not have a sufficient basis to issue an injunction as to Black Lives Matters [sic] or to unidentified persons who may be acting as its agents or in active concert with the Black Lives Matters movement," Janisch wrote in her opinion, according to the Times.
Minneapolis activists have planned the protest in response to the death of Jamar Clark, 24, who was unarmed when he was fatally shot by a city police officer Nov. 15. The local Black Lives Matter group said they are demanding release of video and 911 recordings related to Clark's shooting, prosecution of the involved officers, and federal hate crimes charges against the white supremacists who shot at protesters last month.
Original story:
A Black Lives Matter group in Minneapolis said Monday it will not be intimidated by a lawsuit filed by the Mall of America against their activists ahead of a planned protest that could disrupt the busiest shopping day of the holiday season in the nation's largest shopping mall. Members of the group, which planned to rally at the mall Wednesday to protest the death of Jamar Clark, a 24-year-old black man shot by Minneapolis police last month, received letters last Friday warning them that they could face arrest and other legal action if they proceeded with the demonstration, the Minneapolis Star Tribune reported.
The Mall of America in Bloomington, Minnesota, which boasts 2.5 million square foot of retail space and sees approximately 42 million visitors annually, sought a temporary restraining order against the activists to prevent Black Lives Matter from protesting. Mall officials also said they want activists to post a message on social media declaring the protest canceled, according to the lawsuit.
In a statement released Monday, Black Lives Matter organizers said they had no plans to halt the demonstration unless police officials meet their demands in the Clark case, which include the public release of video showing the man's shooting. The activists called the mall's actions "an unprecedented attempt at halting a peaceful gathering," according to the Star Tribune.
"If the motion is approved by a judge, activists could face jail time for refusing to make social media posts or send texts [canceling the protest] in accordance with the demands of a private corporation," read the statement from Black Lives Matter Minneapolis. The mall's lawsuit is targeted at four supposed Black Lives Matter leaders and four "John Does," activists said in the statement.
Black Lives Matter protesters caused a temporary shutdown in part of the Mall of America on the Saturday before Christmas in 2014, according to local CBS affiliate WCCO-TV. Hundreds of protesters crowded under the mall's rotunda and shouted, "no justice, no shopping," "hands up, don't shoot," and "while you're on your shopping spree, black people can't breathe."
Those protests were in response to the previous summer's fatal police shooting of Michael Brown in Ferguson, Missouri, and Eric Garner's chokehold death in Staten Island, New York. Bloomington police arrested and ticketed about two dozen people for trespassing, failure to disperse or disorderly conduct, according to WCCO-TV.
Organizers of the Mall of America protest said action on their demands by authorities could prompt them to call off their demonstration over Clark's Nov. 15 shooting. Although police have said Clark was actively resisting arrest as police intervened in an assault that he was allegedly involved in, activists say he was not resisting and was lying on the ground handcuffed when he was shot.
In addition to release of any police video and 911 recordings related to Clark's shooting, activists have demanded appointment of a special prosecutor in the case, and federal terrorism charges against a group of white supremacists who shot at protesters during a Nov. 23 Black Lives Matter Minneapolis demonstration outside of a city police station.
People Killed by Police by Race in 2015 | Graphiq
© Copyright IBTimes 2023. All rights reserved.