Black Lives Matter The Movie? Fox 2000 Making Film That Casts 'Hunger Games' Star Amandla Stenberg As Lead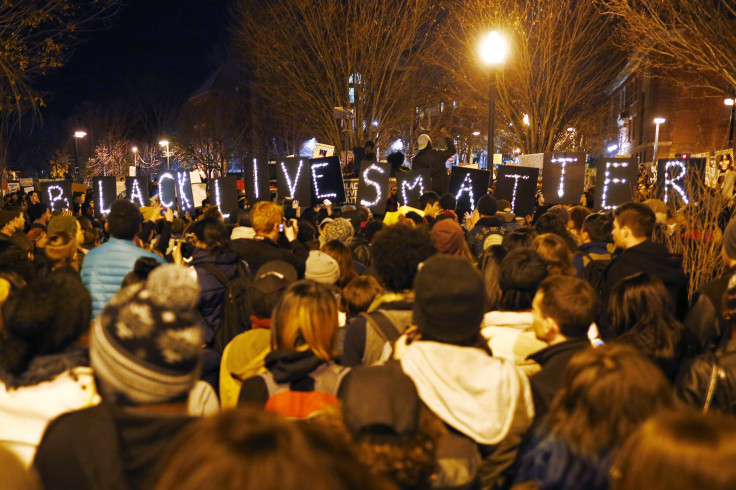 A new film being adapted from upcoming young-adult novel "The Hate U Give" is likely to be the first big-screen depiction of Black Lives Matter, a social justice movement sparked by the police-caused deaths of young black men and women in the United States. Actress Amandla Stenberg, 17, of "Hunger Games" fame, has been cast in the lead role, according to several media reports.
"The Hate U Give" was written by Angela Thomas and inspired by the 2009 death of Oscar Grant, an unarmed black man in Oakland, California, and the subsequent social justice movement. It is set to publish next year under the Balzer & Bray/Harper Collins publishing house, according to Goodreads, Inc. Thomas, who was reportedly unsure if there was a market for fiction about social activism, found Hollywood clamoring for the rights to adapt the novel into a full-length feature.
After a bidding war, Fox 2000 won the rights to Thomas' book. George Tillman, Jr., known for the films "Notorious" and "The Longest Ride," is set to direct the project. The story centers on 16-year-old Starr Carter, an impoverished girl who attends a suburban prep school. Starr is the sole witness to a police officer shooting of her best friend, Khalil, an black male who was unarmed during a confrontation with the officer.
Producers Marty Bowen and Wyck Godfrey of the Temple Hill company, which produced the 2015 big screen hit "The Fault in Our Stars," are also set to work on the movie. The casting choice of Stenberg, who in recent months has been outspoken on issues of race and justice, is likely to be serendipitous for her fans.
The first installment of the "Hunger Games" trilogy saw Stenberg, a biracial actress with brown skin, cast as the beloved character Rue. But reactions to Stenberg went viral in 2012, as some Hunger Games book fans used the "N-word" on social media to express their disappointment that the film's producers did not chose a white actress to play Rue.
© Copyright IBTimes 2023. All rights reserved.