'Black Mass' Isn't A Gangster's Paradise With Johnny Depp And Benedict Cumberbatch, It's A Bore [REVIEW]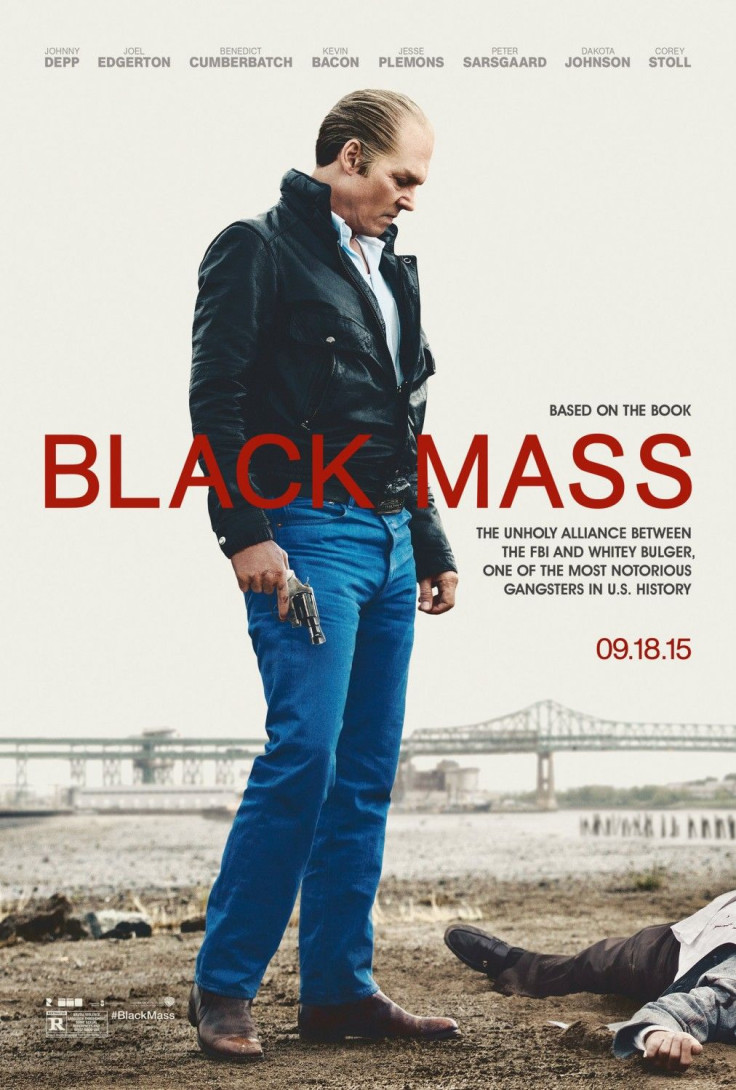 It had all the makings of a great gangster movie: based on a true story, loaded with violence and maybe even a little sympathy for the devil behind the gun. Yet, Johnny Depp's shot at the story of notorious Boston gangster James "Whitey" Bulger is silenced by the misfire of "Black Mass." It's one unfortunate scene after another.
"Black Mass" is told in flashback from various former associates of the Winter Hill Gang. The movie starts with Bulger as a small-time crook operating out of an Irish pub in South Boston. It crawls through the various events in his life, like the death of his son and mother. Other times in "Black Mass," the timeline is blurred about exactly when the murders and dinners with the FBI took place. Perhaps the storytellers forgot those details as well.
The filmmakers could have played with the narrative to incorporate the various loose ends and conflicting reports of Bulger's case -- there are enough books and testimonies to mine should "Black Mass" have wanted to get creative. Instead, the plot points are read aloud like a laundry list of chores that need to get done in chronological order. Very little time is given to Bulger to develop as a character because there's FBI business and murders to get through first. And sadly it's at Johnny Depp's expense.
Bless him, Depp aims for the Oscar fences to give his creepiest performance to date. Aided by the most unnatural make-up, stringy wig and cartoonishly blue contact lenses, Depp tones down the Jack Sparrow shtick for a controlled performance. He's no stranger to the genre either, having portrayed gangster John Dillinger in Michael Mann's "Public Enemies" and the namesake lead in "Donnie Brasco." It's good to see Depp back to form. Shame about the movie he's in, though.
It's unfortunate that "Black Mass" stagnates so easily. The Boston crime world has been such a fertile ground for Martin Scorsese's "The Departed" and Ben Affleck's "The Town." But the movie never captures the sense of the city's close-knit community without the help of a voice-over and tries to convince the audiences that a bustling metropolis never has more than a few stragglers on sidewalks. The parade scene looks scant, and when the FBI goes in for the mafia bust in the North End director Scott Cooper tries to add flashes of light to mimic photographer's bulbs that looked as cheap and fake as the contacts on Depp's eyes.
Boston never moves out of its rained out, desaturated state. "Black Mass" looks to pay tribute to the look of the original Boston gangster movie, "The Friends of Eddie Coyle," but brings none of its depth to the table. Where Scorsese subtly builds Catholic guilt and casual moments of loyalty into his gangster movies, everything in "Black Mass" is played for the literal like staging scenes in a church or Whitey murdering his friends without so much as an argument. Worse yet is the dreaded feeling that Bulger still has a decade left in his career before the credits roll.
And that's after sitting through some of the worst marble-mouthed imitations of a Boston accent. They are atrocious, an argument for giving local talent a shot at more screen time if only to spare us from the onslaught of tortured dialogue. Benedict Cumberbatch appears miscast, as he can't muster a "Bahston" accent without looking pained, and his character is often referred to as someone who should be about 15 years older. Cumberbatch, Dakota Johnson and Adam Scott struggle to keep their accents consistent throughout the movie, and they aren't the only ones.
While Depp may be interesting to watch, the rest of "Black Mass" is a series of missteps. It was the wrong story for the wrong director. Someone with more finesse might have shaped this cops-and-robbers montage into a compelling movie about a ruthless killer. Instead, "Black Mass" is a meandering exposé covering everything we already knew about Whitey Bulger.
Take the hint. Leave the Boston accents.
"Black Mass" opens in theaters Sept. 18.
FOR FREE to continue reading
✔️ Unlock the full content of International Business Times UK for free
offer available for a limited time only
✔️ Easily manage your Newsletters subscriptions and save your favourite articles
✔️ No payment method required
Already have an account?
Log in
© Copyright IBTimes 2023. All rights reserved.