'Black Panther' Movie Spoilers: Lupita Nyong'o Teases T'Challa's Love Interest
While action is always central to a Marvel movie, every hero usually has a romantic storyline as well. "Black Panther" will focus on how T'Challa handles taking over the throne, but he'll also have a special lady in his life, played by Lupita Nyong'o. However, it doesn't sound like her character Nakia is a damsel in the 2018 film.
In the July 21/28 double issue of Entertainment Weekly, a "Black Panther" movie preview reveals that the couple's main issue will be a relatable one: balancing work with their personal lives. "In her journey in this film, she has to really choose between her passion for her calling and her passion for her king," Nyong'o said.
Her calling is being a member of the Dora Milaje, the covert force of women warriors who protect Wakanda. Protecting T'Challa's kingdom, however, doesn't mean spending tons of time with him. She goes undercover and travels the world to make sure Wakanda's secrets don't get out.
READ: Everything We Know About "Black Panther" So Far
"Nakia is a war dog. She is basically an undercover spy for Wakanda. Her job is to go out into the world and report back on what's going on," Nyong'o explained.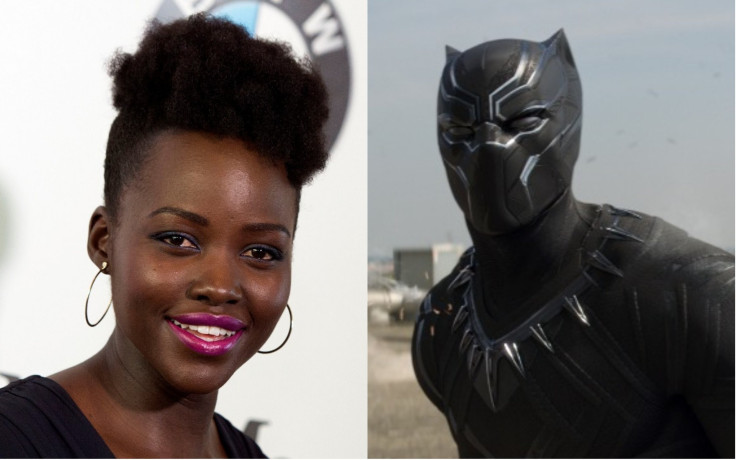 When Ulysses Klaue (Andy Serkis) and Eric Killmonger (Michael B. Jordan) team up to take down T'Challa (Klaue wants Vibranium and Killmonger wants the throne), Nakia will get to spend a little more time with her man. However, they'll be focused more on work than romance.
"[There is] a very super lux high-end underground casino in South Korea where there is a great scene where Lupita, Danai [Gurira], and Chad will walk in dressed to the nines," Marvel Studios President Kevin Feige teased. "Klaue is there and it's a big action scene. It's important that this all feels big, glossy, and entertaining at the same time."
With big action scenes come cool weapons. Nakia fights with large rings. "We call them her ring blades," executive producer Nate Moore told EW. "The ones Lupita carries while in the green outfit are based on traditional African weaponry. However, she does get a hi-tech upgrade later in the film, compliments of Shuri [T'Challa's sister, played by Letitia Wright]."
READ: "Avengers: Infinity War" Will Feature These "Spider-Man" Stars
Comic book fans will notice that Nakia is different from the source material. "She is a departure from what she was in the comic book," Nyong'o says.
In the Marvel comics, Nakia was not T'Challa's girlfriend, but instead she was more of a stalker. She was one of the "wives in training," but T'Challa only wanted the Dora Milaje to be his bodyguards. Nakia was obsessed with Black Panther and intensely jealous of his girlfriend Monica Lynne. Nakia even tried to murder her, but T'Challa saved his love. After she was banished from Wakanda, Killmonger took her under his wing and she became the villain known as Malice. It looks like the movies are going with a less insane version of the character — at least for now.
Don't expect romance to play a huge part in the movie. Filmmakers say their influences were the James Bond films and "The Godfather," which definitely hints that action and family drama will be the focus. "Black Panther" starts up shortly after "Captain America: Civil War," which introduced T'Challa and showed his father's death. The movie will deal with how T'Challa handles taking over the throne.
"Black Panther," directed by Ryan Coogler, hits theaters Feb. 16, 2018.
© Copyright IBTimes 2023. All rights reserved.