BlackBerry Accounts For Only 5 Percent of U.S. Smartphone Sales: Rim CEO Promises Sweeping Changes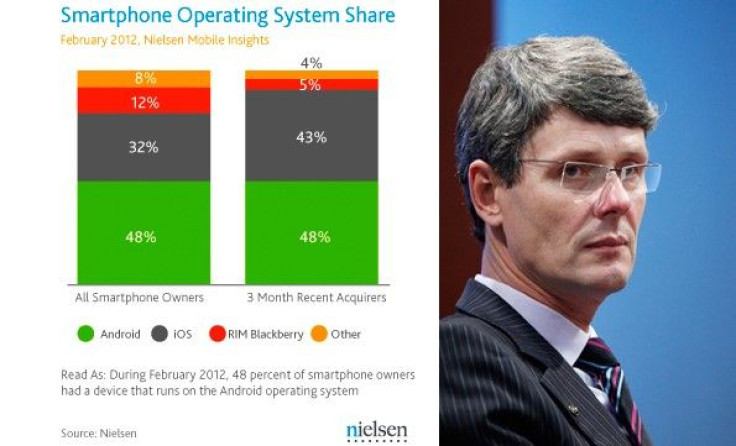 The rise of Apple and Google in the smartphone market has caused others to fall, notably RIM. The former powerhouse among business users has continued to lose market share, now accounting for five percent of U.S. smartphone sales.
In a Nielsen blog post, it was revealed that 49.7 percent of U.S. mobile subscribers own smartphones: a 36 percent increase over last year.
This growth is driven by increasing smartphone adoption, as more than two-thirds of those who acquired a new mobile device in the last three months chose a smartphone over a feature phone, Nielsen says.
Since October 2010 to January 2012, the percentage of feature phones owned has declined from 71 percent to 52 percent, while smartphones have climbed from 29 percent to 48 percent over the same time period.
Nearly a third of (32.1%) of smartphone users have an Apple iPhone, and BlackBerry owners represented another 11.6% of the smartphone market, Nielsen added. It was also revealed that, over the last three months, 48 percent of adopters who were surveyed in February chose an Android device while 43 percent bought an iPhone. That's 91 percent of users who didn't buy a BlackBerry device.
RIM's new CEO Thorston Heins said there will be significant changes made across the company.
It is now very clear to me that substantial change is what RIM needs, he said during a conference call with analysts.
On the subject of whether there would be a sale, he said it wasn't a priority.
The decline in BlackBerry shipments suggests that RIM, at best, is treading water until it releases its next-generation of BlackBerry smartphones, Reuters reports. However, the company sold 500,000 BlackBerry Playbook devices as it discounted the product to fuel sales.
Strong iPhone 4S sales have also resulted in Apple gaining ground on Android and Google, though Apple is gaining from former BlackBerry users and not those on Android.
Despite Heins saying that changes will be made at Research in Motion, analysts remain skeptical over whether he can deliver.
Ultimately, RIM is taking half measures, baby-stepping their way to reorganization and they're not moving fast enough, said Charter Equity Research analyst, Ed Snyder. He also said complete changes are needed in the culture and management of the company.
Jim Rowan has left RIM as chief operating officer, while co-CEO Jim Balsillie has stepped down from the company's board of directors.
(reported by Jonathan Charles, edited by Surojit Chatterjee)
MUST READ - April Fools Pranks: Top 10 Apps to Play Pranks on Your Friends (Photos)
MUST READ - Tim Cook Beats Steve Jobs in Popularity Among Apple Employees: Why?
MUST READ - Angry Birds Space: Worth Downloading?
MUST READ - Nokia Lumia 900 For Free? Yes, Says AT&T (But You Better Hurry)
© Copyright IBTimes 2023. All rights reserved.