Blue Bell Recall 2016: Full List Of Ice Cream Products Affected, How To Get A Refund Over Listeria Concerns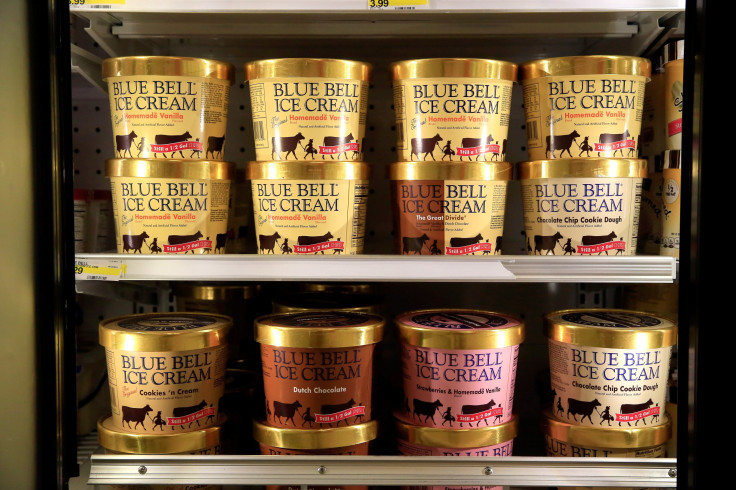 Blue Bell Ice Cream is voluntarily recalling three of its products distributed in 10 states over health concerns that stem from one of its manufacturing plants. The products affected are all variations of the chocolate chip cookie dough flavor and could be tainted with a type of bacteria that causes serious infections in people with weakened immune systems.
Young children and the elderly are especially susceptible to the Listeria monocytogenes bacteria, Blue Bell said Wednesday in a press release shortly after the recall was announced nationally. There could also be pregnancy complications if the affected products are consumed, as well as fever, headache and nausea, among other symptoms.
The products affected were produced in its Sylacauga, Alabama, plant. Blue Bell was sure to point out that the chocolate chip cookie dough used in the products came from Aspen Hills, Inc., a company which it called a "third party supplier." The recall began Tuesday before being widely announced Wednesday, according to the date on Aspen Hills' original press release attached to the one Blue Bell disseminated.
This is Blue Bell's second such recall of its ice cream products in less than two years. The company in March of last year recalled eight of its products from its Brenham, Texas, plant over Listeria concerns.
The full list of Blue Bell ice cream products affected in this year's recall are as follows:
Blue Bell Chocolate Chip Cookie Dough half gallons, code date 082618226
Blue Bell Cookie Two Step half gallons code dates 080418222, 081818224
Blue Bell Chocolate Chip Cookie Dough pints code dates 081518242, 082418242
Those products were distributed in Alabama, Florida, Georgia, Kentucky, Louisiana, Mississippi, North Carolina, South Carolina, Tennessee, and Virginia.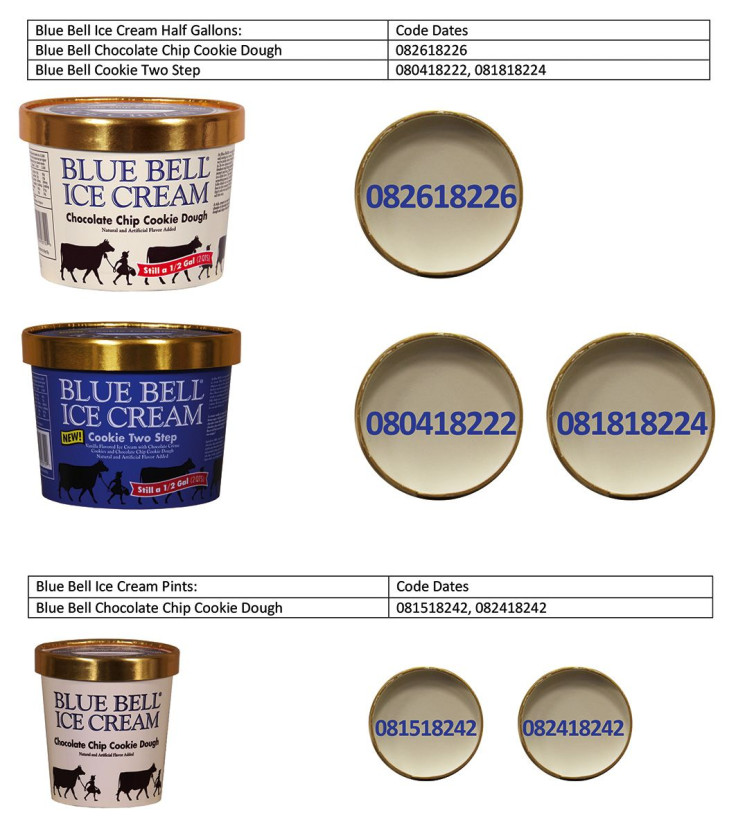 The company, which stressed that there were no immediate reports of any sicknesses, was encouraging consumers who purchased any of the above products to seek a full refund by returning them to the store where they were originally purchased. Customers can also call 979-836-7977 weekdays from 8 a.m. to 5 p.m. CST.
Blue Bell Creameries has been dogged by listeria health concerns since at least 2013, according to a federal investigation that found the company continually failed to address the issue.
© Copyright IBTimes 2023. All rights reserved.