Bluesound POWERNODE HiFi Amp Review: Entertainment Powerhouse
This article uses affiliate links, which means if you purchase products through these links, we may earn a commission. Click here to see our
T&C
.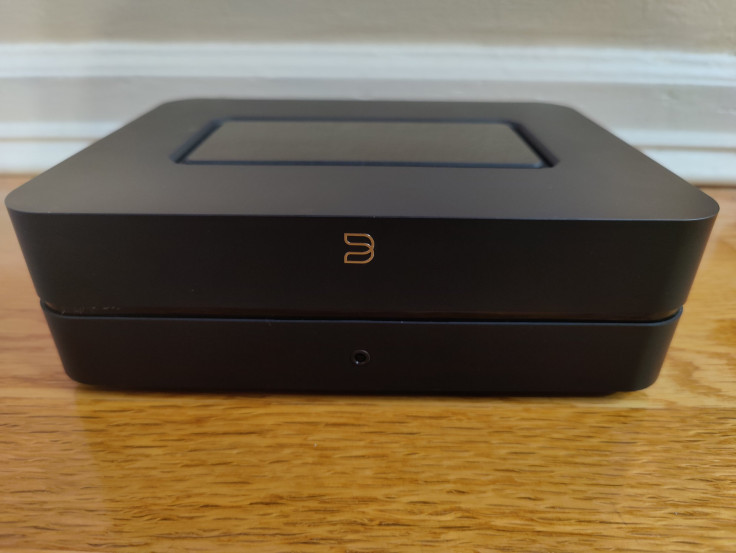 Who Is The Bluesound POWERNODE HiFi Amp For?
The Bluesound POWERNODE serves as the center for entertainment, working with TVs, game consoles, streaming audio and more
Any Bluetooth headset can connect to the POWERNODE, allowing users to use wireless headphones to watch TV or play games
The POWERNODE plays very nicely with Bluesound's Bluetooth speakers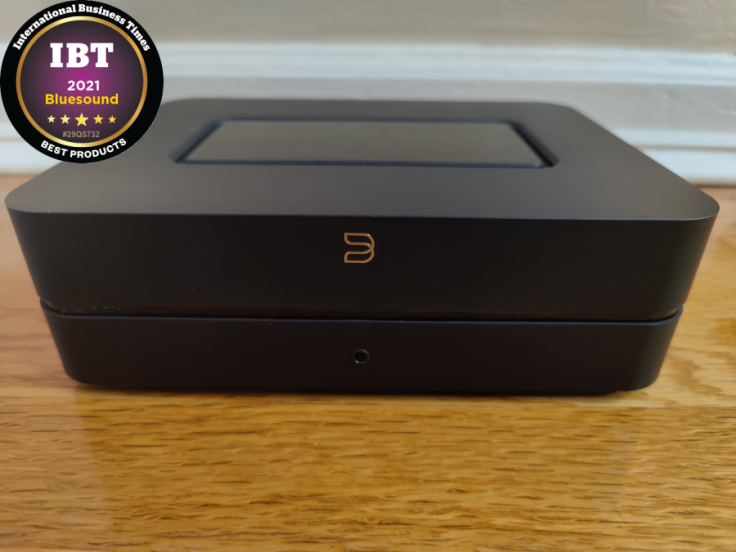 Here at International Business Times we've reviewed countless ways to listen to audio. From headphones to earbuds to speakers, if it plays audio, we've checked it out. However, we haven't really dived into the devices that send the music to the headphones and speakers all that much. Today's review is for the Bluesound POWERNODE, a HiFi amplifier that not only works with HDMI sources like TVs and game consoles, but is also packed with its own streaming technology. This is truly the centerpiece for a modern home theater setup.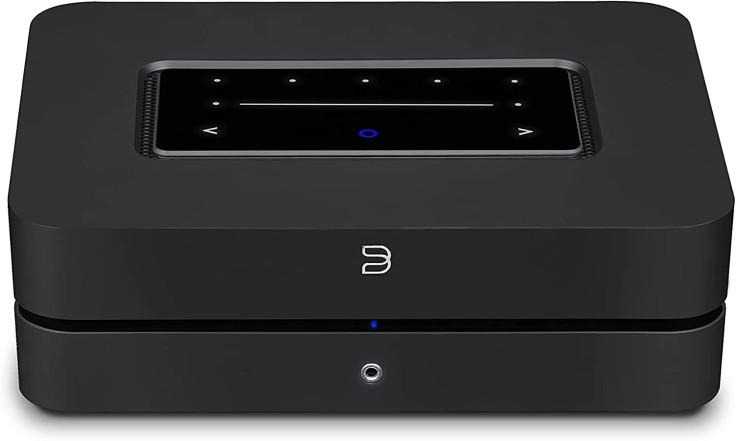 What is the POWERNODE?
Most of the products I have reviewed are fairly straightforward. The Bluesound POWERNODE, on the other hand, takes a little explaining to understand what it actually does. Think of the POWERNODE like the audio center of an at-home entertainment experience. This device takes audio from one source and plays it back through connected speakers.
The POWERNODE can work with just about any device thanks to its HDMI connection, optical audio port, 3.5mm headphone jack, a USB port, and Bluetooth and WiFi connectivity. Users can treat the POWERNODE like an advanced soundbar for their television at one moment, then as a stereo to stream music from Spotify, Tidal or another service the next.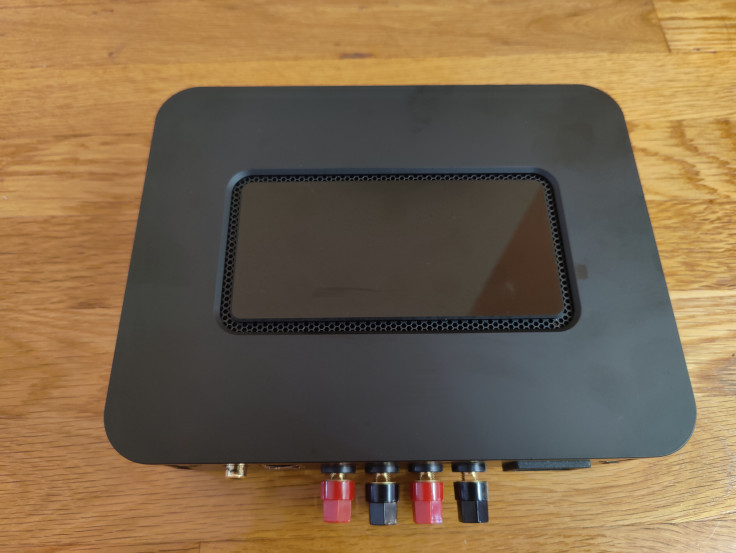 Of course, with all of this audio information going to the POWERNODE, it needs to come out somewhere. The POWERNODE has connections on the back to wire up two passive speakers, and another port for a dedicated subwoofer. Those who prefer a more wireless experience have a much more limited number of options. The POWERNODE will only work wirelessly with Bluesound-branded speakers. Bluesound speakers can be paired together in cool ways, but that's for a separate review.
As a HiFi amplifier, the POWERNODE supports pretty much every audio filetype, including FLAC and MQA. The POWERNODE also plays nicely with Apple AirPlay for those with Apple products.
App Controlled Everything
Now that we know what the POWERNODE is, and what it is capable of doing, let's actually talk about the user experience. The POWERNODE is almost entirely controlled via Bluesound's BluOS app. This app is used to get the POWERNODE connected to the internet, can be used to switch between different playback modes and can even be used to send audio to the POWERNODE for playback.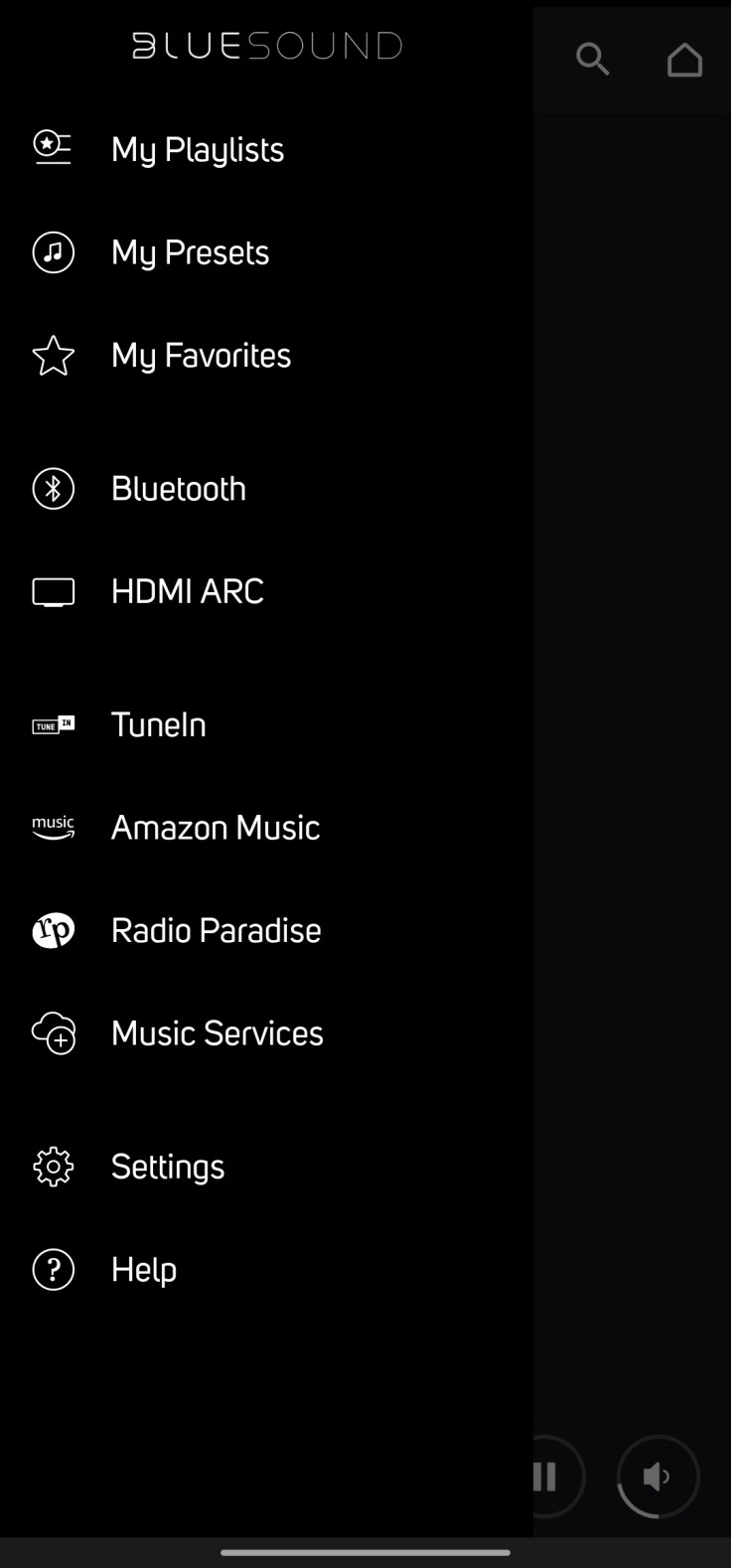 The BluOS app is not as required once the POWERNODE has been set up. After getting the POWERNODE connected to the internet, it can be used like any other Bluetooth speaker. Simply connect to it via a phone, laptop or something similar and play audio like any other device. The one thing the app is required for is switching the POWERNODE between modes. If the POWERNODE is being used with Bluetooth, the app is required to tell it to go back to using its HDMI cable as a source.
One really interesting feature that the POWERNODE app has is that the app can connect any pair of Bluetooth headphones with the POWERNODE. If the POWERNODE is attached to a TV or other source with HDMI, this allows users to listen via Bluetooth. That means gamers who plug the POWERNODE into their TV can use the amp to listen to games with any Bluetooth headset. Of course, gamers can't use microphones or things like that for in-game chat with this configuration.
I will say that I think the BluOS app is a little too filled with features, which may sound kind of odd. However, there are plenty of additions that feel more like clutter than anything beneficial. For example, there are two different radio modes in BluOS alone. There are also ways to link streaming services. This does work as a way to make BluOS a single hub for entertainment, but the linked services offer very limited use through BluOS. It makes more sense to just pull up the service separately and use the POWERNODE via Bluetooth like any other speaker.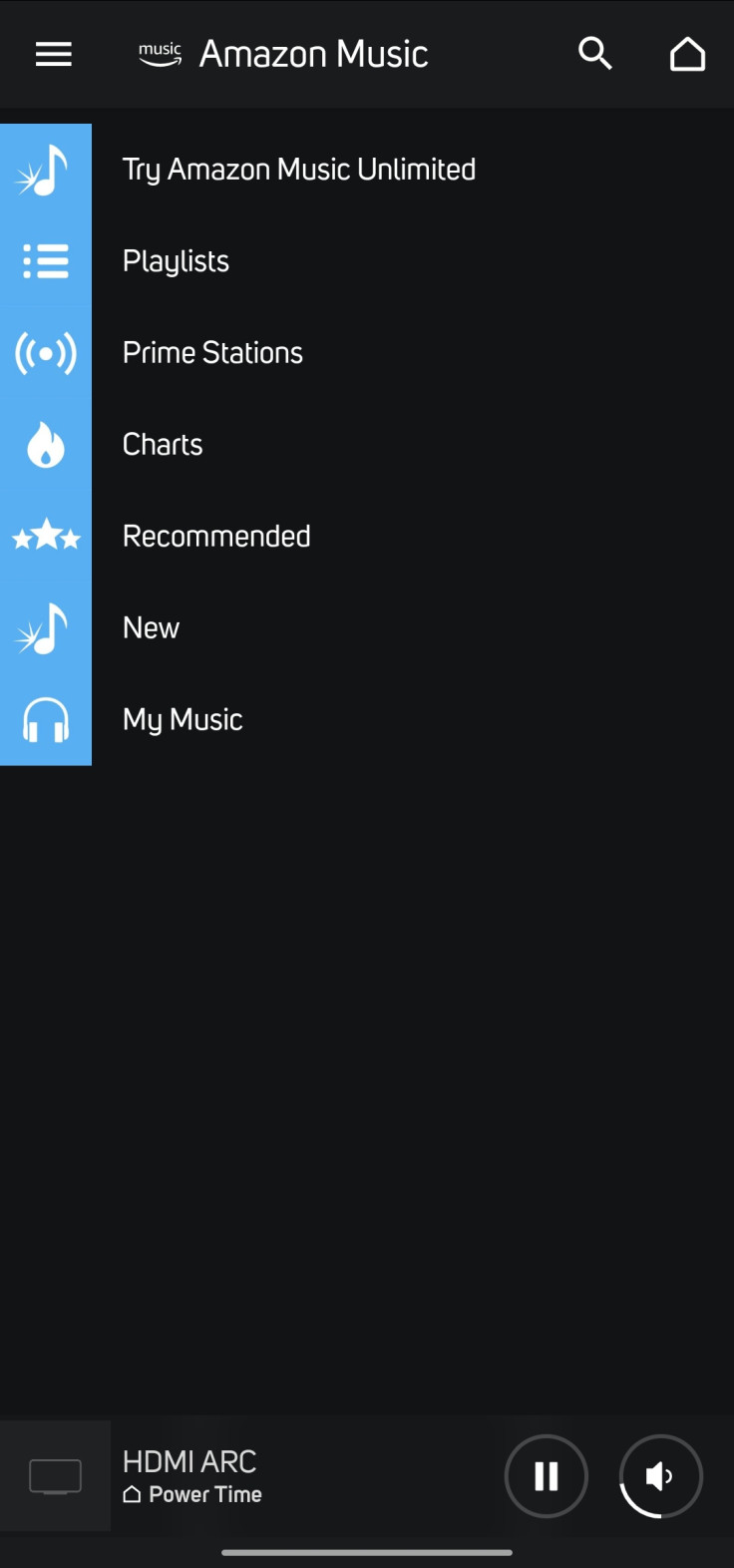 Additionally, the BluOS app very much requires a WiFi connection to stay linked to the POWERNODE. If WiFi cuts out, or a device with the app isn't on the same network as the POWERNODE, the BluOS app has no way to communicate to the POWERNODE.
POWERNODE Controls
While the BluOS app handles just about everything, the POWERNODE does have a small selection of touch controls built into it. The control panel is right on top of the device, and has proximity sensors so it'll come to life when someone walks near.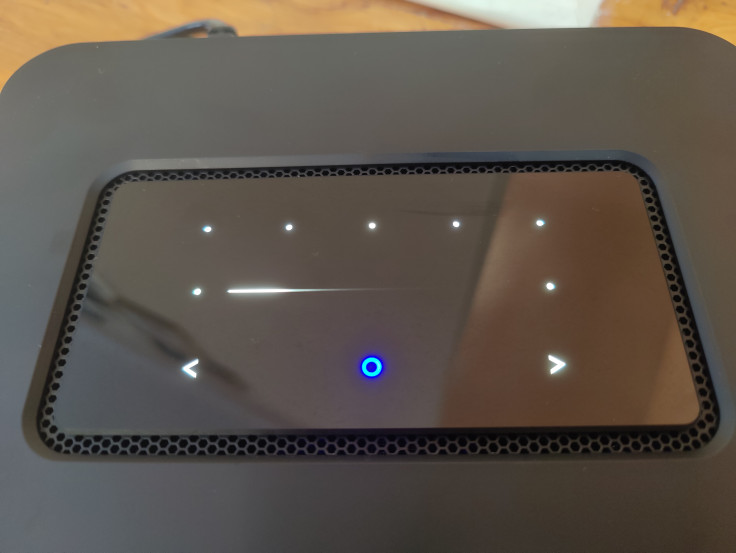 The controls on the POWERNODE are limited to making volume adjustments, picking from a number of presets and controlling playback. These presets can be created in the BluOS app, and can range from picking a favorite radio station to stream, to accessing a playlist from either the BluOS app or another service, to playing a mix of songs from a favorite artist. Once a preset has been created, it can be quickly selected from the dots on the POWERNODE's display. That said, the dots aren't labeled in any way, so it can get a little confusing once multiple presets have been created.
As far as controlling playback, the POWERNODE is limited to a play/pause button and an option to skip between tracks. Everything else requires using the BluOS app.
Wired Or Wireless
The POWERNODE is capable of transmitting audio wirelessly to Bluesound speakers and only to Bluesound speakers. For our review, we used wired passive PSB speakers. We'll be looking past the wireless capabilities of the POWERNODE in this review as we couldn't test them out for ourselves.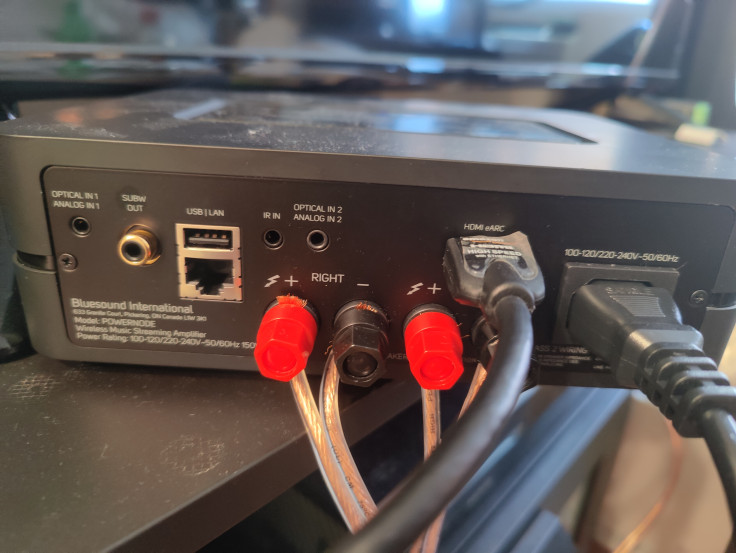 For wired speakers, users will need some good old-fashioned speaker wire to get the speakers connected to the POWERNODE. This took a little bit of effort, mostly because I had to go borrow my friend's wire strippers. However, once the speakers have been connected, the POWERNODE has been plugged in, and the BluOS app has been used to connect the POWERNODE to the internet, the whole system is ready to go.
HDMI ARC
Every now and then when doing reviews, I learn something new about technology. For this review, I learned all about HDMI ARC. Pretty much every TV made in the last 10 years has at least one HDMI port that has ARC, which stands for audio return channel. Basically, a TV can send all audio signals out of the HDMI ARC port and to a connected device like the POWERNODE or a soundbar, even if the source is coming from a game console or cable box that is using a different HDMI port.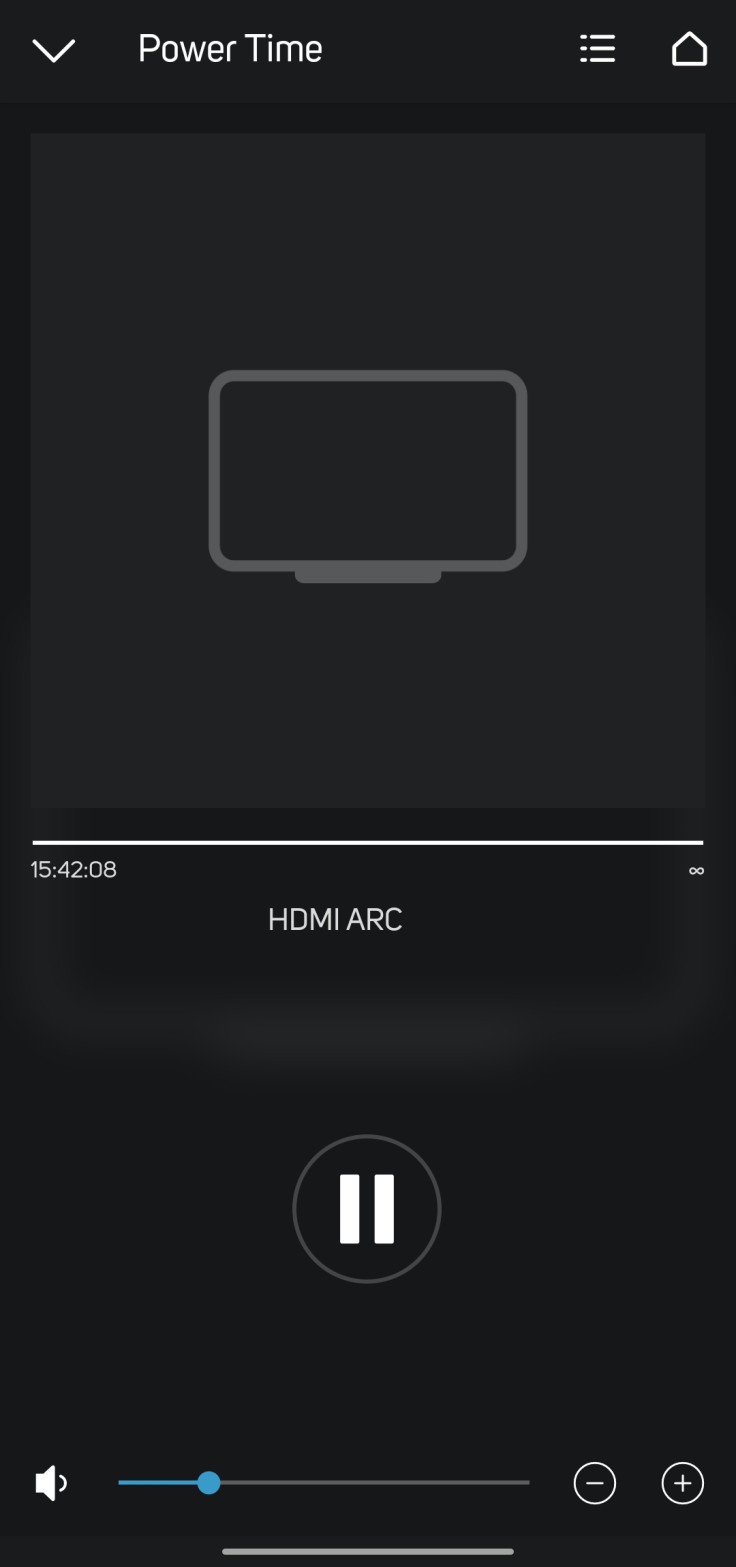 This ARC tech is the reason why the POWERNODE works when hooked up to a TV via an HDMI cable. I also have a projector that has an HDMI ARC port, which allows me to connect the POWERNODE there as well. I will say that I did have a bit of a struggle getting the POWERNODE working with my TV, but that was more because of my TV's settings than the POWERNODE. When hooking the POWERNODE up to my projector, everything worked instantly.
What's awesome about the POWERNODE when hooked up via HDMI cable is that it can then be controlled by a standard TV remote. Once I had the amp hooked up to my Insignia TV, the volume buttons on the remote worked to control the POWERNODE's volume without requiring any additional setup or pairing. That's pretty nice.
Audio Powerhouse
We've discussed what the POWERNODE is, how to set it up and how to use it, so now the big question: How does it sound when hooked up to some speakers? In short, everything sounds so much more dynamic, lively and full. That said, it should be noted that a large factor in how the POWERNODE sounds is entirely dependent on the quality of speakers that have been attached to the amp. The world's most high-quality audio stream will still sound like trash if played through some junky speakers. Thankfully, for this review I have been using the amazing PSB Imagine XB bookshelf speakers.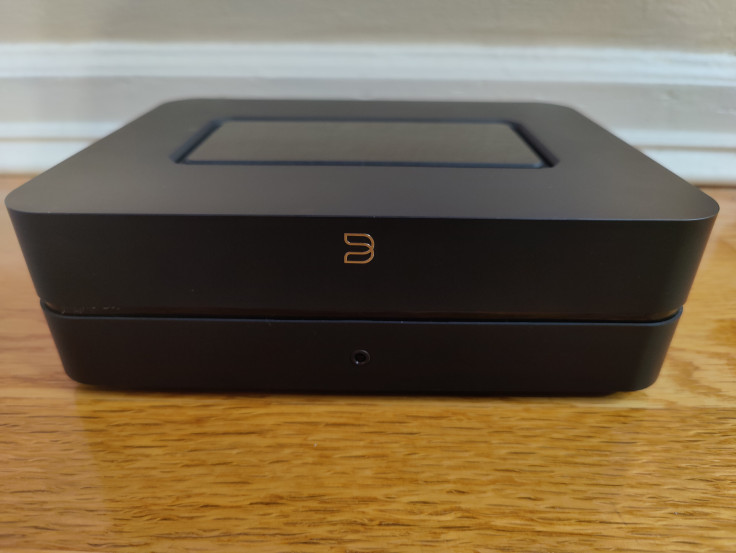 Everything I watched or played when using the POWERNODE sounded incredible. This ranged from low-key shows like Parks and Recreation to much more bombastic entertainment like the latest Spider-Man movies. Watching a movie on a projector connected to the POWERNODE made it feel like I was in a full-sized movie theater, despite the fact that I was laying on my couch.
One big takeaway from using the POWERNODE is just how much bass is lost when watching TV through the built-in speakers. Even basic shows like 30 Rock have a much wider audio range than I had previously thought, and I would not have known that without hooking my TV up to a POWERNODE device.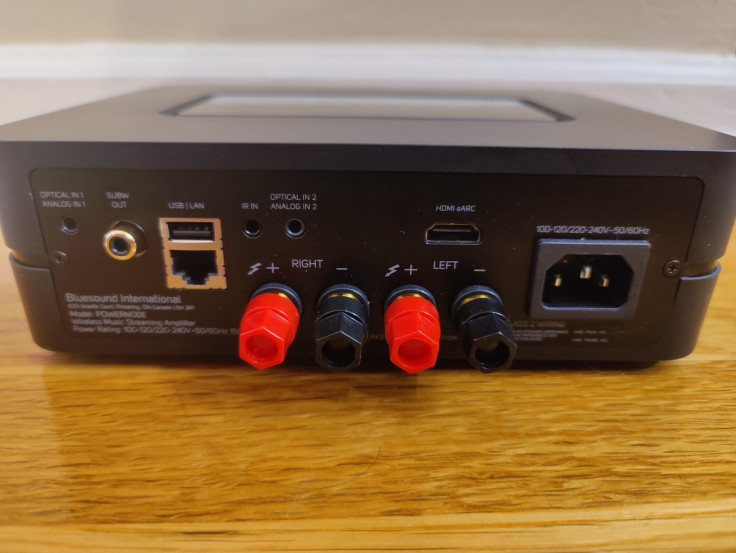 The POWERNODE also makes audio very loud, which makes sense for something called an amplifier. Those in apartments with nearby neighbors may need to rethink speaker placement and volume levels before getting angry knocks on their doors. I don't think I ever brought the volume level up above 25 percent, as anything more was too loud.
Final Thoughts
The Bluesound POWERNODE is a device that can be used as the base to build an at-home theater around. It's a fantastic device for streaming any kind of audio and can work with televisions and projectors. Even better, it doesn't require anything beyond the initial setup to be able to support all of these different mediums. In fact, the POWERNODE can be completely used without the BluOS app at all after setup is complete.
The POWERNODE is definitely on the expensive side, especially considering it also requires additional speakers to even be useful. Incorporating the POWERNODE into a home setup is likely going to cost well over $1000 once speakers have been included, as the POWERNODE itself costs a fairly staggering $900. The power does match the price in this case.
© Copyright IBTimes 2023. All rights reserved.