Bob Dylan Quotes: 21 Famous Lyrics, Sayings To Celebrate 2016 Nobel Prize Winning Musician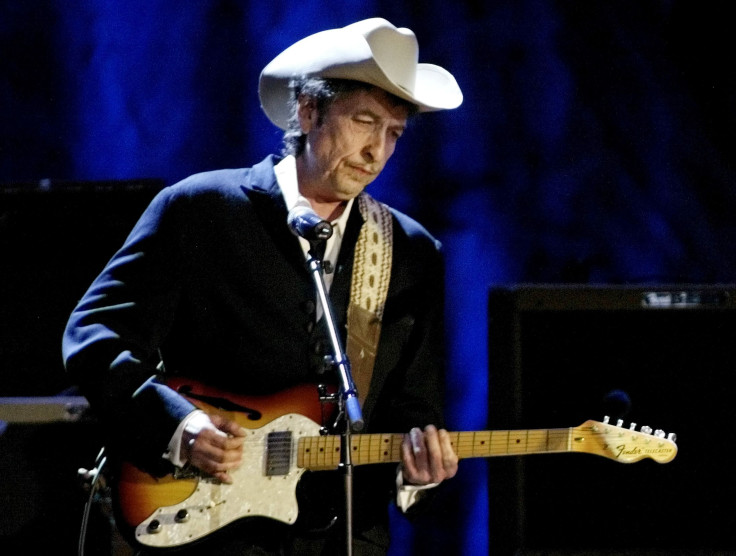 Bob Dylan, an icon of American music and an artist with a singular poetic voice, was awarded the Nobel Prize in Literature Thursday.
The 75-year-old has left an indelible mark on music — famous for folk and rock songs filled to the brim with creative language, every nook and cranny of every lyric carefully considered. As the Swedish Nobel academy put it, he "created new poetic expressions within the great American song tradition."
The Minnesota native moved to Greenwich Village in New York City the early '60s, dove into the folk scene and helped redefine the art landscape with albums like "Blood on the Tracks," "Blonde on Blonde" and "Highway 61 Revisited." And over the past five decades or so, if there is something creative to do, Dylan has done it.
"Dylan has recorded a large number of albums revolving around topics like the social conditions of man, religion, politics and love," wrote the academy in a biographical note of the artist. "The lyrics have continuously been published in new editions, under the title Lyrics. As an artist, he is strikingly versatile; he has been active as painter, actor and scriptwriter."
Listed below are 21 quotes — either spoken or sung —from the first American to win the Nobel Prize in Literature since author Toni Morrison in 1993. The quotes were collected from Good Reads, Entrepreneur, Time and Brainy Quote.
1. "I define nothing … I take each thing as it is, without prior rules about what it should be."
2. "Behind every beautiful thing, there's some kind of pain."
3. "Don't criticize what you can't understand."
4. "If I wasn't Bob Dylan, I'd probably think that Bob Dylan has a lot of answers myself."
5. "The future for me is already a thing of the past — You were my first love and you will be my last."
6. "All I can be is me — whoever that is."
7. "Money doesn't talk, it swears."
8. "Some people feel the rain, others just get wet."
9. "What's money? A man is a success if he gets up in the morning and goes to bed at night and in between does what he wants to do."
10. "When you feel in your gut what you are and then dynamically pursue it — don't back down and don't give up — then you're going to mystify a lot of folks."
11. "Life is more or less a lie, but then again, that's exactly the way we want it to be."
12. "Act the way you'd like to be and soon you'll be the way you'd like to act."
13. "I think women rule the world and that no man has ever done anything that a woman either hasn't allowed him to do or encouraged him to do."
14. "When you've got nothing, you've got nothing to lose."
15. "If you try to be anyone but yourself, you will fail; if you are not true to your own heart, you will fail. Then again, there's no success like failure."
16. "People seldom do what they believe in. They do what is convenient, then repent."
17. "Inspiration is hard to come by. You have to take it when you find it."
18. "He not busy being born is busy dying."
19. "You don't need a weatherman to know which way the wind blows."
20. "Gonna change my way of thinking, make my self a different set of rules. Gonna put my good foot forward and stop being influenced by fools."
21. "And I'll stand on the ocean until I start sinking."
FOR FREE to continue reading
✔️ Unlock the full content of International Business Times UK for free
offer available for a limited time only
✔️ Easily manage your Newsletters subscriptions and save your favourite articles
✔️ No payment method required
Already have an account? Log in
© Copyright IBTimes 2023. All rights reserved.