Bobbi Kristina Brown's Funeral Interrupted By Leolah Brown's Outburst; Claims Whitney Houston Will Haunt Family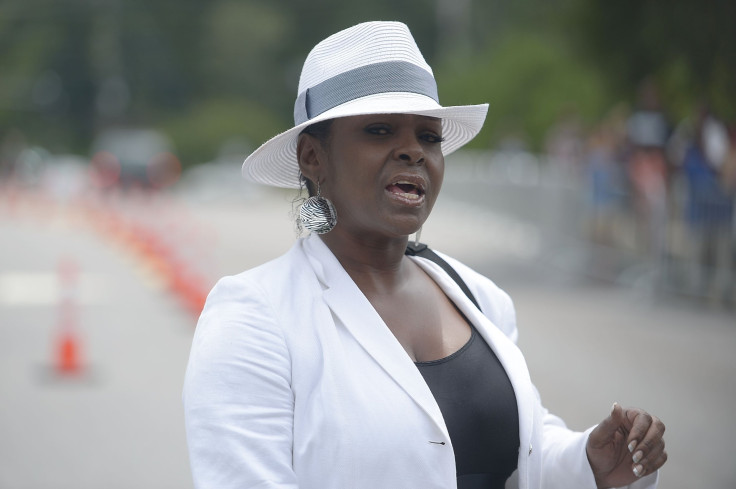 Bobbi Kristina Brown's funeral wasn't exactly peaceful. Leolah Brown allegedly began yelling during the service and was kicked out.
Leolah, Bobbi Kristina's aunt, interrupted the funeral service at the St. James United Methodist Church in Alpharetta, Georgia, to yell at Pat Houston, Bobbi Kristina's legal co-guardian. "Pat, you know you are wrong for this!" Leolah supposedly yelled during the private service, according to People.
Leolah was allegedly escorted out by security, TMZ reported. Family friend Tyler Perry followed to help calm her down, but not before Leolah got a chance to talk to the paparazzi and reporters waiting outside. She brought up Bobbi Kristina's late mother, Whitney Houston.
"Whitney will haunt Pat Houston from the grave. She will haunt her. Pat, it's not over. It has just begun. It has just begun," Leolah, Bobby Brown's sister, told several media outlets, including Entertainment Tonight. "I say that because I have information, I have evidence, I have knowledge of who Pat really is, and she is not any relation whatsoever to Krissi. She's not even a Houston, she's a Garland. But Pat Houston has -- this is going to be a long, drawn-out thing. Trust me. It's not over."
According to Leolah, she left the service after Pat attempted to say a few words about Bobbi Kristina. "It went wonderful until Pat started speaking, and I didn't like that, so I left," she explained. "I just told her that Whitney was going to haunt her from the grave."
Watch Leolah's statements below:
This isn't the first time that Leolah has made accusations about Pat. After Bobbi Kristina was found unresponsive in a bathtub in January, Leolah started publicly blaming Pat. "I believe that she has a lot to do with it. Whether it be her actual hand, I can't say that right now," Leolah told TMZ in March. "But I hold her accountable for what happened to my niece, Bobbi Kristina, because of what knowledge I have of her."
In June, Leolah claimed that Pat just wanted the 22-year-old's money. As previously reported, Whitney Houston's estate would be divided among her mother, Cissy Houston, and her brothers, Michael Houston and Gary Garland, Pat's husband.
"If Pat knew the God that I know, instead of trying to inherit my niece's money for her personal gain, she would mind her own business and go find A JOB for herself without continuously working so hard to destroy my niece, beg her for money and get angry when she cannot get it! She would stop using the Houston name for her personal agenda," Leolah wrote in a long Facebook post.
More recently, Leolah wanted to stop fans from contributing to Pat's charity, the Marion P. Foundation, to which the family asked supporters to donate in lieu of flowers at the funeral. "This is nothing more than another scheme of Pat Houston, to try to get money put into her account for her personal gain," she wrote in a Facebook post Wednesday. "There is much evil hidden behind this foundation."
After being unresponsive since Jan. 31, Bobbi Kristina died July 26 at the Peachtree Christian Hospice in Duluth, Georgia. Although her funeral was in Georgia, she'll be buried in New Jersey, next to her mother.
© Copyright IBTimes 2023. All rights reserved.