Bobby Jindal To President Obama: Don't Talk About Climate Change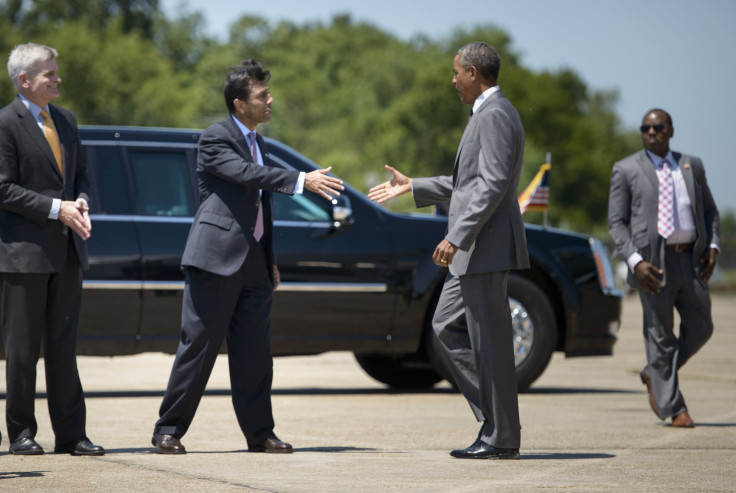 WASHINGTON -- Louisiana Gov. Bobby Jindal, who is currently running for president, sent a letter to President Barack Obama calling on him not to talk about climate change during a speech in New Orleans on Thursday marking the 10th anniversary of Hurricane Katrina. The White House has said Obama plans to talk about economic growth in the city since the storm, and it is likely climate change will be a topic in his speech.
"It is therefore with disappointment that I read of the White House's plans to make this visit part of a tour for your climate change agenda," Jindal wrote to the president, according to a copy of the letter his office posted to his official website. "Although I understand that your emphasis in New Orleans will -- rightly -- be on economic development, the temptation to stray into climate change politics should be resisted."
Obama is scheduled to deliver a speech in New Orleans on Thursday at 4:55 p.m. EDT. His office, in previewing the speech to some outlets, has emphasized the economic message.
"We acknowledge this loss, this pain, not to harp on what happened -- but to memorialize it. We do this not in order to dwell on the past, but in order to keep moving forward. Because this is a city that slowly, unmistakably, together, is moving forward. Because the project of rebuilding here wasn't simply to restore the city as it had been," Obama will say, according to prepared remarks shared with Roll Call. "It was to build a city as it should be -- a city where everyone, no matter who they are or what they look like or how much money they've got -- has an opportunity to make it."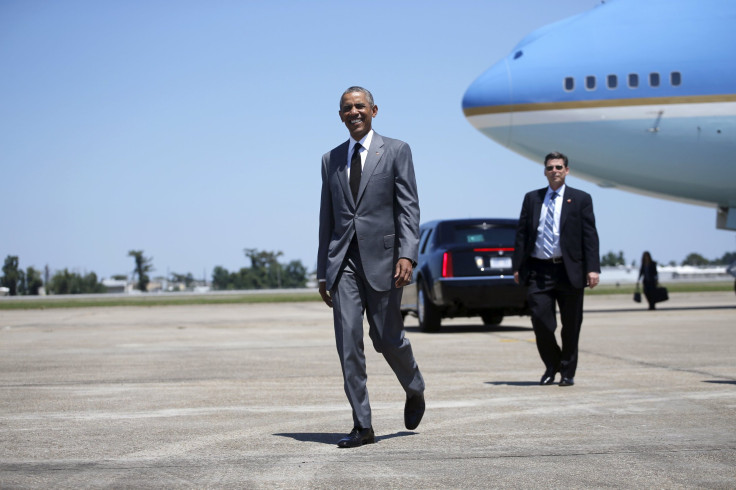 The speech will mark the anniversary of the storm, which made landfall on Aug. 29, 2005. The subsequent failure of several levees caused widespread flooding in the city of New Orleans. Thousands of people were trapped in the city as the rescue effort stalled, while many sat stranded on their roofs or in the Superdome football stadium. In the storm and aftermath, 1,833 people died.
From the beginning, the discussion about Katrina and the response to the storm has been full of political discussions. From criticism of then-President George W. Bush, to calls for addressing climate change and coastal erosion, barely a day has gone by since then that there hasn't been a political debate. If he were to address climate change, Obama wouldn't be the first to argue that rising temperatures in the world's oceans made the storm worse. Hurricanes gain strength in the Gulf of Mexico when the surface temperature is elevated, a number of scientists have argued .
Jindal's letter comes at a time when he's floundering in the presidential campaign. He has struggled to get any support, failing to break beyond 1 percent in any of the national polls. A national fight with the president over climate change could be the kind of attention Jindal is seeking to turn into presidential support.
Rep. Bobby Jindal (LA) - Profile | InsideGov
Jindal told Obama that making the case would be inappropriate. "While you and others may be of the opinion that we can legislate away hurricanes with higher taxes, business regulations and EPA power grabs, that is not a view shared by many Louisianans," Jindal wrote to Obama. "I would ask you to respect this important time of remembrance by not inserting the divisive political agenda of liberal environmental activism."
In writing to Obama, Jindal highlighted the progress Louisiana has made since the storm. "A lecture on climate change would do nothing to improve upon what we are already doing," Jindal wrote. "Quite the opposite; it would distract from the losses we have suffered, diminish the restoration efforts we have made, and overshadow the miracle that has been the Louisiana comeback."
© Copyright IBTimes 2023. All rights reserved.
FOLLOW MORE IBT NEWS ON THE BELOW CHANNELS