'Bold And The Beautiful' Spoilers: Brooke Confides In Ridge About Bill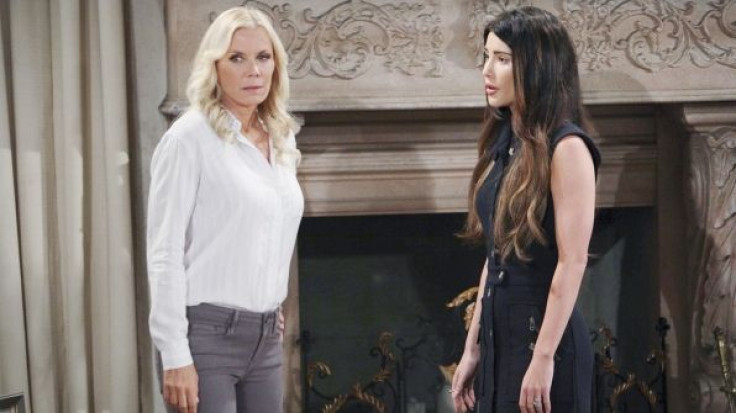 She was horrified to learn that her husband had committed an unforgivable crime, and has since left him, unsure if she wants to stay in the marriage. Now, as she ponders over what to do, Brooke will find herself once again receiving comfort from the other man she's always loved on the Tuesday, Sept. 19 episode of "The Bold and the Beautiful."
Bill (Don Diamont) finally came clean to Brooke (Katherine Kelly Lang) about why he stepped down from Spencer Publications, telling her that Liam (Scott Clifton) was taken over the company because he blackmailed him. He then told her Liam had done so on the CBS soap because Bill had ordered the fire at Spectra, and in anger, he punched his son in the face. Devastated and enraged over what he had done without her knowledge, Brooke fled their home in tears.
Now, she is at Forrester, and Ridge (Thorsten Kaye) has noticed that she's crying and deeply upset. As he tries to soothe and comfort her, she will confide in him about what Bill has done, and how she's unsure if she should remain married to him because of the betrayal his crimes make her feel.
"He did something. Something horrible," she cries in a preview clip.
So far, Brooke, Liam and Steffy (Jacqueline MacInnes Wood) are the only ones who know the truth about what Bill did, and the chain of events that led to his not only stepping down from his company, but allowing Liam to take over, have confused many. They've also upset his other son. Wyatt (Darin Brooks), who was enraged when he realized he'd been passed over for the gig, one he felt he was a shoo-in for.
Now, he will confront Liam to try and figure out how he convinced their father to go along with whatever plan he put into place that got him his new and powerful position.
"How did you get dad to agree to all of this?" He asks in the clip.
However, Liam likely won't share the whole story with his brother, preferring to keep the truth to himself for a little longer. His reluctance to share will only make Wyatt more angry however, and he will likely start to dig on his own to see why he was passed over.
In addition to the scandal of Bill stepping down, there has been some about how this whole situation has changed the relationship he and Liam shared before as well. Desperate to make things right between them, Steffy tried to promote peace and compromise, but was stunned when Liam told her he wasn't interested in either of those things when it came to his dad. Now, when she returns to Bill to tell him, she will realize something else has gone wrong, and will demand he tell her so she can make sure she helps him.
"If you want me to help you, you have to tell me what's going on," she says.
"The Bold and the Beautiful" airs weekdays at 1:30 p.m. EDT on CBS.
© Copyright IBTimes 2023. All rights reserved.