'Bold And The Beautiful' Spoilers: Brooke Demands Answers From Bill
She's determined to prove her husband's innocence and knows the only way to get it is to convince Bill to take back his assertions that Ridge was the one who tried to shoot him. Now, after paying him another visit in his hospital room, Brooke will continue trying to get through to her ex on the Friday, March 30 episode of "The Bold and the Beautiful."
Brooke (Katherine Kelly Lang) is positive that Bill (Don Diamont) only named Ridge (Thorsten Kaye) as his shooter because of their long-standing relationship as mortal enemies. The situation between them has only grown more contemptuous over the years on the CBS soap, especially as they battled over her. After he woke up from his coma, Bill named Ridge as the one who tried to kill him, resulting in the other man's arrest. Though he had good reason to suspect Ridge, Brooke believes her husband has been made into a convenient scapegoat—forcing Bill to defend himself by maintaining he wouldn't have just targeted Ridge if he didn't feel he had proof.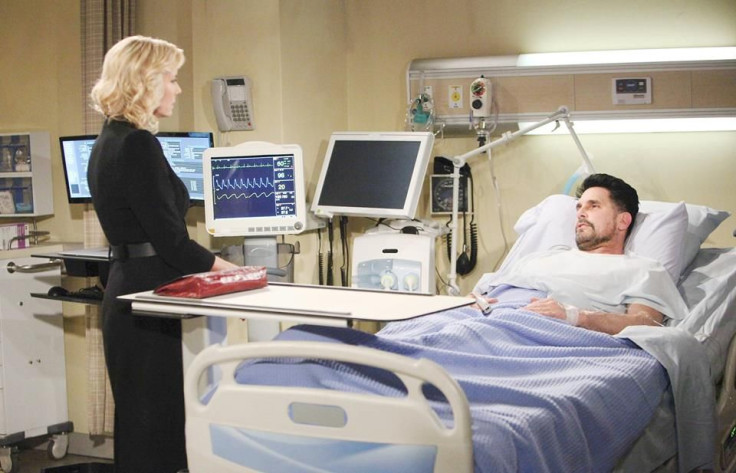 "I would never put an innocent man in jail, no matter what the circumstances," he says to Brooke in a preview clip for the episode.
Still, she will be convinced that Ridge is being unfairly targeted and will taunt Bill by the fact that he was shot in the back, and therefore couldn't have seen who shot him—meaning he can't be certain, no matter much he maintains he is.
"Look me in the eye and tell me you saw Ridge do it," she says.
Meanwhile, Brooke's daughter, Hope (Annika Noelle), may have learned the truth about the shooting after going to pay Liam (Scott Clifton) a visit. After intense flashes of memory, Liam is now convinced he was the one who shot his father, and he confessed to Hope. However, she will insist he's wrong, telling him that she believes there's no way he could be guilty of such a crime.
"You did not shoot him, Liam," she says in the clip. "You did not shoot your father."
"The Bold and the Beautiful" airs weekdays at 1:30 p.m. EST on CBS.
© Copyright IBTimes 2023. All rights reserved.