'Bold And The Beautiful' Spoilers: Is Ridge To Blame For Bill's Situation?
Bill is in the hospital and clinging to life following a fall from his balcony during a fight with Ridge and Thorne. Now, as he fights for his life, the Forrester brothers will be forced to defend themselves and their actions on the Wednesday, Oct. 24 episode of "The Bold and the Beautiful."
Thorne (Ingo Rademacher) and Ridge (Thorsten Kaye) went over to Bill's (Don Diamont) to confront him after learning how he had been kissing Brooke (Katherine Kelly Lang). It didn't take long on the CBS soap for the confrontation to turn violent, and during the struggle, Thorne was knocked aside, and Ridge and Bill headed outside. Suddenly, Ridge came back in the house, and Bill didn't--with Thorne finding him motionless on the ground below, clearly having gone over the balcony.
Now, Bill is in the hospital, and Thorne and Ridge are on edge about what has happened, especially after Brooke and Katie (Heather Tom) came and demanded answers.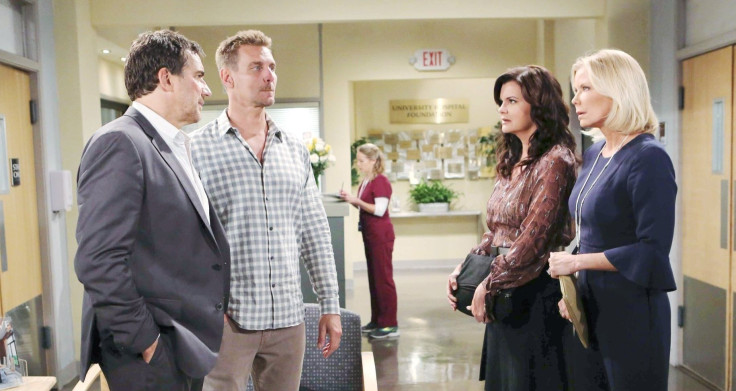 B&B spoilers reveal that "Ridge and Thorne defend themselves to their wives," which means the men will be in the hot seat as the two women who were both previously married to Bill continue to question what led to the altercation, and why it went as far as it did.
Brooke and Katie are outraged by the situation because they can't believe how far this has gone, even though the tension between the men has been simmering for some time. They will also be concerned because of what they also learned prior to the fight, in regards to Kati's recent custody battle with Bill.
They already were enraged when they learned how Ridge fixed the ruling against Bill and were trying to find ways to make it up to Will's (Finnegan George) father without revealing the truth. Knowing that Ridge now took things as far as he has—and that he has no regrets, will only make them angrier and more upset as a result.
However, they won't be the only ones Ridge and Thorne will have to answer too. It won't be long before a criminal investigation is opened—and there may be no hope for either of them when that happens.
"The Bold and the Beautiful" airs weekdays at 1:30 p.m. EDT on CBS.
© Copyright IBTimes 2023. All rights reserved.