'Bold And The Beautiful' Spoilers: Will Zoe Convince Florence To Tell The Truth?
She's been suspicious ever since her father's sudden decision to return to London and has now discovered the papers that prove the woman living in his apartment is the same one who allowed Steffy to adopt her baby. Now, as Zoe gets closer to the truth, Florence will begin to panic on the Tuesday, Feb. 12 episode of "The Bold and the Beautiful."
After Reese (Wayne Brady) left town, Zoe (Kiara Barnes) was stunned to find Florence (Katrina Bowden) living in his apartment on the CBS soap. As she continued investigating to see what the two were hiding, she came across the adoption papers for Steffy's (Jacqueline MacInnes wood) baby, Phoebe, which declared that Florence was the baby's mother. She didn't believe the other woman could possibly have been the child's mother, and also wondered why her father's role in the adoption was kept secret. She has since been told that Reese didn't want to put her in any sort of strange position at work, but she likely won't buy the story she's being told.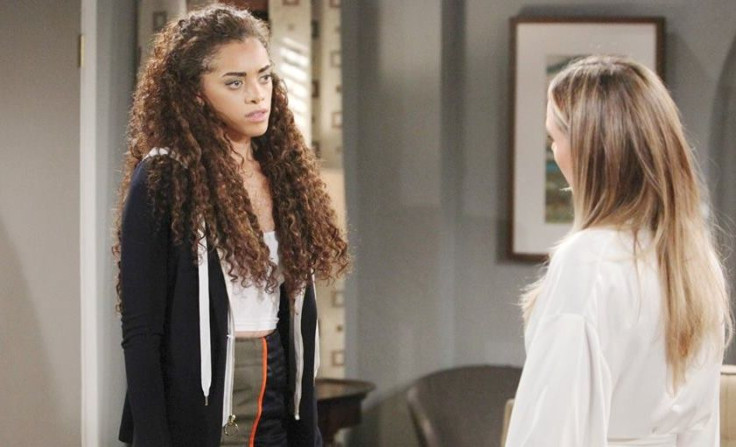 Now, after she leaves, Florence will realize Zoe is unlikely to stay away and stop searching for answers, and as a result, she will begin to panic.
"Concerned that Zoe knows she's lying, Florence tries to reach Reese," spoilers reveal.
The need to keep Zoe from figuring out the truth is especially great for Florence and Reese both because the adoption wasn't legal. Not only was Florence not Phoebe's mother, but the baby they gave Steffy was actually Hope's (Annika Noelle), and she was left thinking that her daughter, Beth, had died during childbirth. If the truth gets out, it will unravel everything and put the two at risk for some serious jail time.
However, a preview clip for the week's episodes (see above) suggests that Florence is very much right to worry, as Zoe will be figuring out that the adoption isn't legal—and will soon demand answers.
"The Bold and the Beautiful" airs weekdays on CBS at 1:30 p.m. EST.
© Copyright IBTimes 2023. All rights reserved.