'Boruto: Naruto Next Generations' Episode 250 Promo, Spoilers, Release Date
KEY POINTS
Ikada returns and meets Seiren
"Boruto: Naruto Next Generations" Episode 250 is airing Sunday
The episode will be out on Apple TV, Hulu and Crunchyroll

Ikada learns that Seiren has sustained a grievous injury and he returns home in "Boruto: Naruto Next Generations" Episode 250. The upcoming episode is titled "The Blood of the Funato."
The official promo trailer of Episode 250 shows Ikada returning home after a long time. He is shown nursing Seiren.
The promo of "Boruto: Naruto Next Generations" Episode 250 shows Kobuna, Funamushi's son, arriving at the location. Kobuna respects his father and his allies who have been fighting against Boruto and the others.
One of the scenes in the promo shows Kobuna confronting Ikada. It is likely that he wants to know why Ikada is avoiding the ongoing battle.
"Boruto and his friends manage to triumph over Funamushi, but they aren't able to savor the victory. Everyone is having a difficult time believing Denki and Iwabe are still alive days after being captured," read the official synopsis of "Boruto: Naruto Next Generations" Episode 249, according to Crunchyroll.
"Meanwhile, Boruto discovers a hidden side of Funamushi when he is targeted by people who looked up to the pirate, as revenge begets more revenge. Boruto has always continued to push forward until now, but this causes him to question the point of fighting," it continued.
The cast of the anime includes Yuuko Sanpei as Boruto Uzumaki, Noriaki Sugiyama as Sasuke Uchiha, Kokoro Kikuchi as Sarada Uchiha, Ryuuichi Kijima as Mitsuki, Junko Takeuchi as Naruto Uzumaki, Chiharu Sawashiro as Hiruga, Hidenori Takahashi as Konohamaru Sarutobi, Shoutarou Morikubo as Shikamaru Nara, Kunihiro Kawamoto as Omoi, Nana Mizuki as Hinata Hyuuga, Tetsuya Kakihara as Deepa, Yūichi Nakamura as Koji Kashin, Yūma Uchida as Kawaki, Houko Kuwashima as Delta, Kenta Miyake as Boro, Akio Ohtsuka as Amado, Junta Terashima as Code and Kenjiro Tsuda as Jigen.
The current opening theme song of "Boruto: Naruto Next Generations" anime is titled "GOLD" and is performed by FLOW. The ending theme song, titled "Twilight Fuzz," is by THIS IS JAPAN.
"Boruto: Naruto Next Generations" Episode 250 is scheduled to air Sunday. The episodes are available on Crunchyroll, Apple TV and Hulu. The new installments are streaming in Japanese with English subtitles.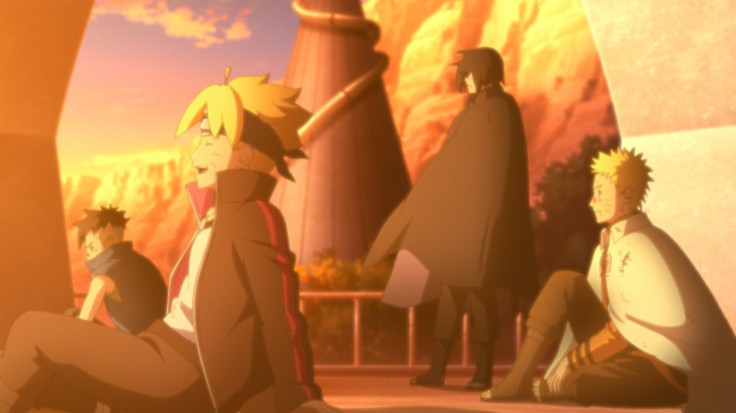 © Copyright IBTimes 2023. All rights reserved.