'Boruto: Naruto Next Generations' New Episode Title Hints At Kawaki Revealing His True Identity
KEY POINTS
Kawaki might be forced to let go of his cover
"Boruto: Naruto Next Generations" episodes release weekly
The episodes are out on Apple TV, Crunchyroll and Hulu
The provisional titles of upcoming "Boruto: Naruto Next Generations" episodes are out and they suggest the ongoing Himawari-Kawaki Ninja Academy arc is ready to change gears.
From kidnapping to targeting the school festival to Kawaki revealing his identity, it is all happening. A Twitter user named Abdul Zoldyck shared the titles.
"Boruto: Naruto Next Generations" Episode 266 -- "Himawari Kidnapping Incident" and the episode is releasing on Sept. 11.
"Boruto: Naruto Next Generations" Episode 267 -- "Kawaki, Reveals His Identity!?" coming out on Sept. 18
"Boruto: Naruto Next Generations" Episode 268 -- "The Targeted School Festival" is releasing on Sept. 25.
The titles suggest that at some point during his mission, Kawaki will be forced to unveil his true identity. With Himawari's abduction on the cards, it is likely Kawaki will leave no stone unturned to protect her from harmful elements.
Meanwhile, the academy is also gearing up for its annual school festival and it will be a prime target for evil elements.
The last episode, titled "Bloom, Hana! The Teacher's Gifts," showcased Boruto, Sarada, and Mitsuki arriving at the academy to give a special lecture. The freshmen were instructed to attend this lecture and the homeroom teacher, Hana, was also asked to address the students.
Unlike, Boruto and his friends, who can use flashy techniques and had serious mission experiences, Hana was only comfortable using conservative jutsu.
Hana felt she was inadequate as a teacher and was depressed.
The cast of the anime includes Yuuko Sanpei as Boruto Uzumaki, Yūma Uchida as Kawaki, Yusuke Shirai as Ikada Funato, Noriaki Sugiyama as Sasuke Uchiha, Kokoro Kikuchi as Sarada Uchiha, Ryuuichi Kijima as Mitsuki, Junko Takeuchi as Naruto Uzumaki, Chiharu Sawashiro as Hiruga, Hidenori Takahashi as Konohamaru Sarutobi, Shoutarou Morikubo as Shikamaru Nara, Kunihiro Kawamoto as Omoi, Saori Hayami as Himawari Uzumaki, Kazuhiko Inoue as Kakashi and Nana Mizuki as Hinata Uzumaki.
It also includes Ryoko Shiraishi as Cho-Cho Akimichi, Inori Minase as Kae Yukiwari, Atsushi Abe as Inojin Yamanaka, Yūichi Nakamura as Koji Kashin, Houko Kuwashima as Delta, Kenta Miyake as Boro, Akio Ohtsuka as Amado, Junta Terashima as Code and Kenjiro Tsuda as Jigen.
"Boruto: Naruto Next Generations" episodes air weekly. The episodes are streaming on Apple TV, Hulu and Crunchyroll.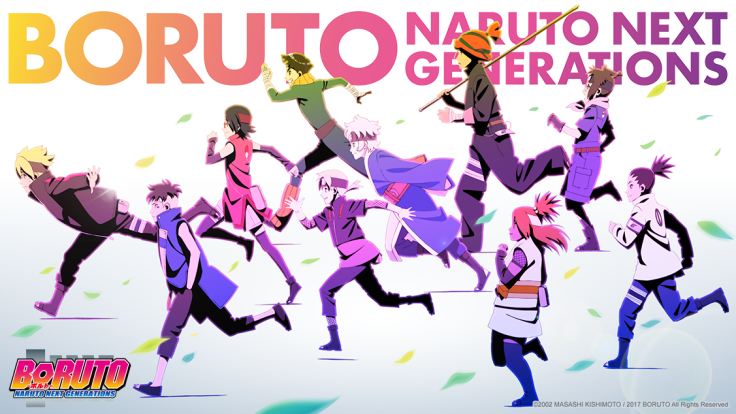 © Copyright IBTimes 2023. All rights reserved.