Boycott Florida Tourism: 'Stand Your Ground' Law Makes Travel Unsafe, Petition Warns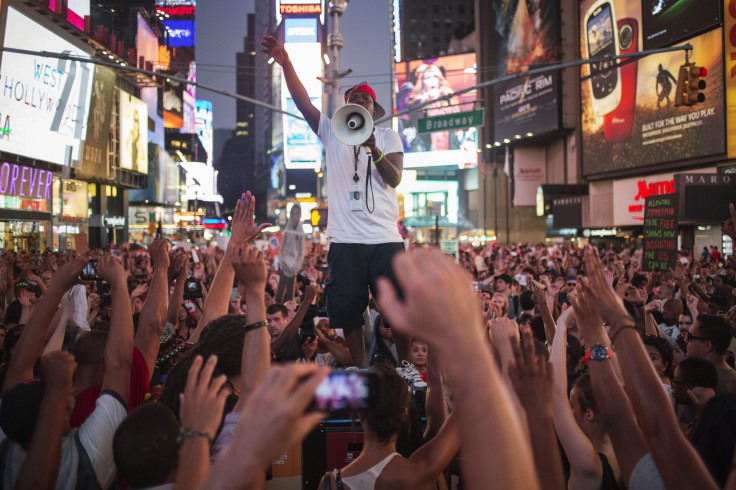 The fallout from the acquittal of George Zimmerman in the 2012 killing of 17-year-old Trayvon Martin continues to reverberate across the United States, and activists have a new target: Florida tourism.
A MoveOn.org petition urging Americans to squeeze Florida's vital tourism industry until the state repeals its "stand your ground" law has racked up more than 7,000 signatures in two days. Its creator says the petition will be delivered to the Florida State House, the Florida State Senate and Gov. Rick Scott in the coming days.
"Florida is not a safe place to take your family for vacation as long as Florida law permits a citizen to shoot or kill you for merely looking suspicious, and to do it with impunity," creator Chris Bergman wrote. "Boycott Florida tourism until this dangerous law is overturned. If the murder of Trayvon Martin isn't enough to get lawmakers' attention, maybe a loss in revenue to the state will be."
Bergman set an initial goal of 2,000 signatures, but as numbers swelled, he changed it to 7,500. Many who signed the petition left comments like this one from Danelle O'Neill of Delafield, Wis.: "I have spent thousands of dollars vacationing in Florida but will not go again until the law is changed."
Other commenters expressed hope that pressure from Florida's tourism board, Disney and others would put enough pressure on lawmakers to repeal the state's controversial self-defense laws.
A six-woman jury found Zimmerman not guilty Saturday of all charges related to Martin's February 2012 death in a gated community in Sanford. The neighborhood watch volunteer initially claimed "stand your ground" to justify the unarmed teen's murder. Although the defense team did not expressly use it in trail, the highly publicized case put the 2005 law in the spotlight.
It states that a person can legally defend his or her self with deadly force against someone else if there is "reasonable fear of imminent peril of death or great bodily harm."
In addition to the MoveOn.org petition, activists have created several Facebook pages like Boycott Florida (nearly 1,500 likes) and Boycott Florida Economy (more than 1,500 likes), while the Twitter hashtag #BoycottFlorida has seen a flurry of tweets. Anger spilled over to Visit Florida's Facebook page as well, where activists hijacked the comments sections under photos of pristine beaches and pink flamingos, sparking a heated debate.
"Yea, because these flamingos had everything to do with the Zimmerman trial," one commenter quipped. "Shut the hell up about it, and stop putting the blame on an entire state."
"The fact that you show more concern for birds than the murder of an unarmed teenager is proof enough that those of us planning vacations should avoid Florida," another responded.
Some in the travel industry, too, have called for a boycott. Andrew Burmon, associate travel editor at the Huffington Post, argued in an editorial last year that "travelers can save the next Trayvon Martin by avoiding Florida."
"As long as Florida depends on tourists' money -- to the tune of roughly 9.3 percent of GDP and a million jobs -- the state's government has a motivation to protect citizens of Oregon, Illinois and, for that matter, Brazil, Germany and Japan," he wrote. "A simple reminder of that fact might go a long way pushing politicians to eliminate a law that demonstrably endangers the safety of everyone in the Sunshine State."
Musician Stevie Wonder chimed in Sunday, throwing his support behind the cause. "I decided today that until the 'stand your ground' law is abolished in Florida, I will never perform there again," he said during a concert in Quebec City. "As a matter of fact, wherever I find that law exists, I will not perform in that state or in that part of the world.
"The truth is that -- for those of you who've lost in the battle for justice, wherever that fits in any part of the world -- we can't bring them back. What we can do is we can let our voices be heard. And we can vote in our various countries throughout the world for change and equality for everybody. That's what I know we can do."
While experts say the boycott could help influence politicians, others expect that it will have little direct impact on Florida's vital tourism industry. "I honestly don't think so," Abe Pizam, dean of the University of Central Florida's Rosen College of Hospitality Management, told the Orlando Sentinel. "Most people are familiar with what's going on, and they wouldn't blame an entire state for what happened in a very isolated case."
Pizam cited the controversial 2010 anti-immigration law in Arizona, noting that the state experienced a "tiny drop" in the immediate aftermath, but that numbers quickly recovered. What happens next in Florida, and whether the state reacts to the noise, remains to be seen.
© Copyright IBTimes 2023. All rights reserved.