Brad Pitt 'Seriously Lonely' As Angelina Jolie's Humanitarian Work Affects Their Marriage: Report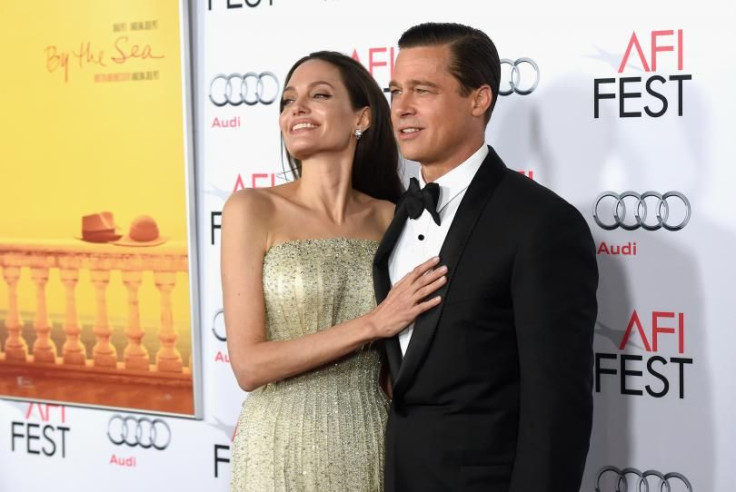 Angelina Jolie and Brad Pitt's marital problems continue to make headlines and this time a report by the National Enquirer said that "divorce is on the horizon" for the two. The reason behind their troubles is Jolie's humanitarian work, the report said.
The magazine said that Jolie and Pitt are "no longer a couple" and "they're leading separate lives." The National Enquirer's source cited Jolie's "globe-trotting and endless crusading for the world's downtrodden as the duo's biggest problem."
"Angie's is taking humanitarian work very seriously, and has traveled to Lebanon, Greece, and Washington, D.C., in the past few months," the source told the magazine, adding that Pitt is now "seriously lonely."
The report also said that Jolie felt "humiliated" when, last month, Pitt waved the starting flag Le Mans auto race in France while she watched the "Hamilton" show in New York with son Knox. Following this, Jolie has planned to "double" her humanitarian efforts and her relationship with Pitt has "really spiraled out of control."
However, Gossip Cop reported that claims about Jolie and Pitt's marital troubles were bogus. It has also previously reported that none of those allegations were remotely true.
Recently, the rumor-debunking website also dismissed a report by Life & Style magazine that said the 41-year-old actress was rumored to have a sudden realization about how "far apart" she and Pitt have grown as a couple after she saw photos of him waving the starting flag at the Le Mans auto race in France last month. Following this, she was determined to have "crisis talks" at their Chateau Miraval estate to "save their marriage."
Over the last several months, Pitt and Jolie's marriage has gained attention because of their rumored divorce. Some reports also claimed that Jolie and Pitt have been fighting with each other over their careers. The two are reportedly currently renting an apartment in London while Pitt films "Allied."
© Copyright IBTimes 2023. All rights reserved.