Brad Pitt Spoiling Kids With Gifts? Reality Behind Actor One-Upping Angelina Jolie
Even after Brad Pitt and Angelina Jolie reportedly settled the custody battle for their six children last month, false rumors about their family continue to make the rounds. The latest involved the suggestion that the actor was spoiling his kids with too many expensive gifts in order to garner favor with them – a claim that was debunked.
The rumor was fabricated by OK! Magazine, with an article titled "Brad's A Fun Dad!" Although the article acknowledged that Pitt and Jolie had settled their custodial dispute over their kids, it went on to suggest that the actor was trying hard to prove to his children he was the cooler parent. And the path he had supposedly chosen was to ply Shiloh, Pax, Zahara, Maddox, Vivienne and Knox with gifts.
"He's [Pitt's] gotten them gifts like new iPhones and infrared goggles," an anonymous insider told the publication.
The unnamed source claimed Pitt had not only stopped at buying gifts. He had actually gone ahead and renovated his Los Angeles house, adding a rock-climbing gym and a water park to the already existing skate park for his kids.
"He knows this flies in the face of the modesty he's tried to teach them, but Brad has no plans to stop," the questionable tipster said. "The kids are responding to it – even the tough ones, like Maddox and Pax. He hopes this will solidify his place as a cool dad and encourage all six of them to spend more time with him."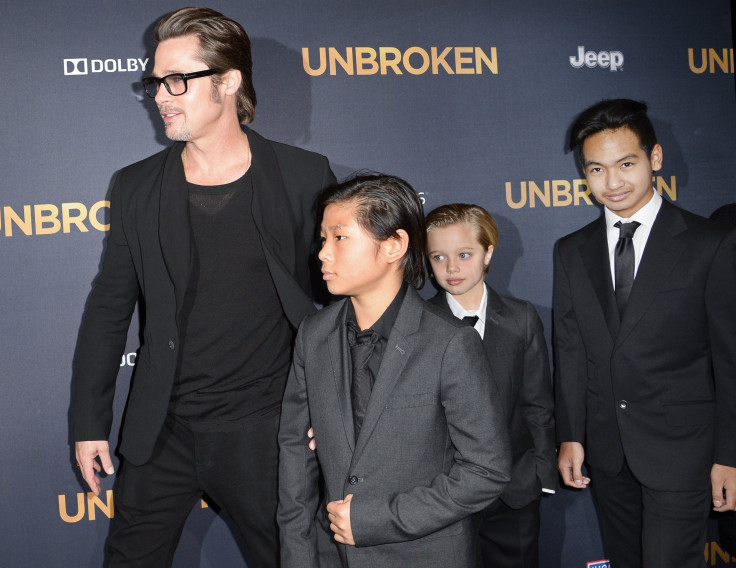 However, Gossip Cop reached out to the actor's rep who confirmed the story had no semblance of truth in it and that Pitt was not competing to gain an upper hand in the co-parenting situation. In fact, the skate park was constructed in 2014, when the couple were still together and living under the same roof. Since then, there has been no indication that the "Troy" actor has added a new gym and water park to his home.
Although no details about the alleged custody agreement were made public by either side of the party, sources told the Blast that Pitt missed out on the 50/50 arrangement he had been looking for. As per the agreement, however, he will get to spend considerably more time with his kids.
"A custody arrangement was agreed two weeks ago, and has been signed by both parties and the judge," Jolie's lawyer, Samantha Bley DeJean, told Entertainment Tonight in a statement last month. "The agreement, which is based on the recommendations of the child custody evaluator, eliminates the need for a trial. The filing and details of the agreement are confidential to protect the best interests of the children."
© Copyright IBTimes 2023. All rights reserved.