Braunwyn Windham-Burke's Daughter Bella Says Her 'Fake' Wedding To Girlfriend Jennifer Spinner 'Is Stupid'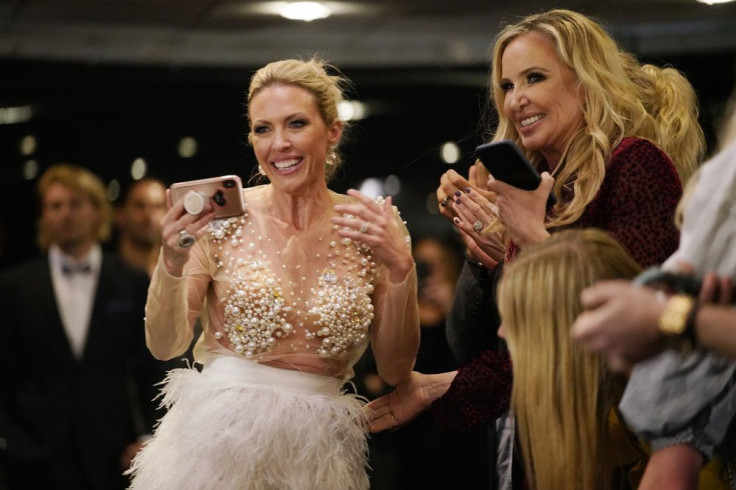 KEY POINTS
Bella Burke told her mom Braunwyn Windham-Burke to focus on finalizing her divorce first
Windham-Burke's kids urged her and Spinner to wait before they tie the knot
Spinner assured the kids that there was no rush and she wanted them to participate in their wedding
Braunwyn Windham-Burke's kids reacted to her "fake" wedding in Las Vegas.
The former "Real Housewives of Orange County" star, 45, exchanged vows with her girlfriend Jennifer Spinner, 38, a month ago. The ceremony was not official because Windham-Burke is still married to her husband, Sean Burke.
In an interview with Page Six from her home in Orange County, California, Windham-Burke's eldest daughter, Bella, minced no words when asked about her thoughts on her mom's Las Vegas wedding.
"The Vegas wedding is stupid," she said. "I can't cuss, but it was really frickin' stupid."
Bella said those words while sitting next to her mom, Spinner and three younger kids. Bella suggested that her mom should focus on finalizing her divorce first.
"Like, you're not even divorced," she continued. "Deal with your first marriage first."
Windham-Burke intends to finalize her divorce from Burke as she filed for divorce in October 2022 to officially end their 22 years of marriage, two years after coming out as a lesbian. According to Page Six, a legal dissolution is incumbent on agreements reached over custody and spousal support.
Windham-Burke and Burke share six children — Bella, Rowan, 20, Jacob, 17, 9-year-old twins Caden and Curren, Koa, 8, and Hazel, 5.
Once her first marriage is over, Windham-Burke and Spinner plan to make their union official, despite her kids urging her to halt their marriage.
"Wait a long time. I don't know why you'd want to rush into another marriage after a 20-year marriage? It's so stupid," Bella said. Caden agreed, suggesting, "Wait a thousand years!"
Koa is also hopeful they would delay their marriage despite her close relationship with Spinner, who has proudly assumed a "stepmom"-like role in their family.
"Right when you get divorced, you get married?" she asked. "No. Maybe wait, like, a little."
"Alright, well I guess it's going to be a long engagement!" Windham-Burke quipped.
Spinner was on board with the kids' suggestion, assuring them there was "no hurry" to wed. She also told the kids she wanted them to be part of the wedding once the date is set.
"Whenever we do get really married, you guys will have to be in the wedding," Spinner told Windham-Burke's children. "So we'll have to wait for the appropriate time."
In September 2021, Windham-Burke spoke about her co-parenting arrangement with her ex and shared that they had no plans to get a divorce. Windham-Burke and Burke have remained good friends following their split after she admitted that she's gay.
"It's great. I mean, we really are nailing the co-parenting thing. We are best friends. We've been together for 26 years. He understands that this has been a dream of mine forever, so he's supportive!" she told Us Weekly about her ex.
"I don't think we're going to get divorced, honestly. I truly don't think we're going to. We get along great, we have an open marriage — it's working for us. We're happy."
Meanwhile, Windham-Burke previously said that Bella struggled with her parents dating other people because she grew up with them around. She reportedly found it "hard" seeing her mom and dad moving on from their marriage regardless of who they were dating because "she grew up with a certain family and, you know, that's close to her heart."

© Copyright IBTimes 2023. All rights reserved.