Brazil Nightclub Fire Kills 232 Attendees In Complete Panic, Leaves 117 Hospitalized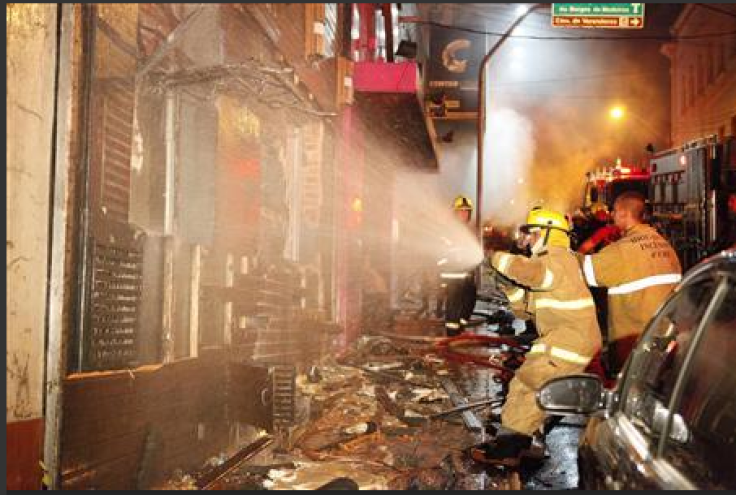 A fire that surged through a Brazilian nightclub early Sunday morning has killed 232 people, according to the Associated Press. The incident is said to be the world's deadliest nightclub fire in more than a decade.
A flare or firework lit by one of the band members performing at the club in Santa Maria may have caused the fire, which started at 2 a.m. Reports also indicate that 117 people are currently being treated at hospitals. The nightclub Kiss, which was holding an event for a local university, was filled with smoke as partygoers fled the scene. Most of the attendees were students at the Federal University of Santa Maria, according to the AP.
"There was so much smoke and fire, it was complete panic and it took a long time for people to get out, there were so many dead," survivor Luana Silva told the Globo TV Network.
Silva said firefighters and ambulances arrived on the scene promptly, but the flames spread too quickly inside the club.
Another survivor, Michele Periera, described the scene to the Folha de Sao Paulo newspaper: "The band that was onstage began to use flares, and, suddenly, they stopped the show and pointed them upward. At that point the ceiling caught fire. It was really weak but in a matter of seconds it spread."
A security guard at the club, whom newspaper Diario de Santa Maria identified as Rodrigo Moura, said the nightclub was at its maximum capacity of between 1,000 and 2,000 people, and partygoers were shoving each other in the panic to escape.
Most of the dead suffocated inside the club, Dr. Paulo Alfonso Beltrame told the AP.
"Large amounts of toxic smoke quickly filled the room and I would say that at least 90 percent of victims died of asphyxiation," he said via telephone. "The toxic smoke made people lose their sense of direction so they were unable to find their way to the exit. Apparently they confused the bathroom door with the exit door."
It's also unclear if there were any emergency exits. One survivor told G1 that the front door was the only known exit.
Brazilian President Dilma Rousseff flew back from a summit in Santiago, Chile, because of the disaster.
"We are together necessarily," Rousseff said. "We are going to make it through this tragedy."
© Copyright IBTimes 2023. All rights reserved.
FOLLOW MORE IBT NEWS ON THE BELOW CHANNELS