'Breaking Dawn' to Suck Major Blood from Box Offices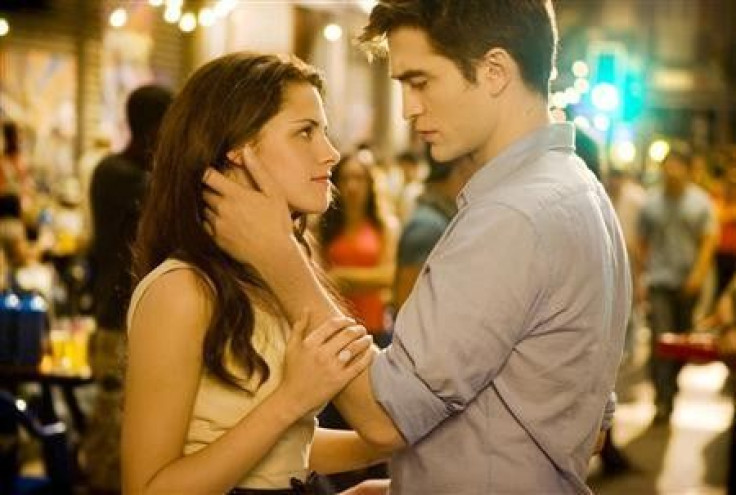 The latest movie in the Twilight vampire romance series could take in about $140 million on its opening weekend in North America, box office watchers said, despite some blood-curdlingly bad reviews.
Twilight: Breaking Dawn - Part 1 was widely criticized for bland, wooden acting and an implausible plot, scoring just 23 percent favorable reviews on aggregator website Rotten Tomatoes. Todd McCarthy of The Hollywood Reporter said the film was bloated and anemic.
Yet movies like the Twilight series with their legions of diehard fans are somewhat critic-proof, and the film already has sold out more than 3,500 shows in Canada and the United States on the Fandango.com ticketing website ahead of the movie's opening at midnight on Friday
Much like Bella's baby in 'Breaking Dawn', the demand for tickets is strong and fast-growing, said Fandango editor-in-chief Chuck Walton.
We expect the movie to continually sell out tonight, while theater owners post additional late-night showtimes to meet the fans' demand to watch Bella and Edward's highly anticipated union, Walton said.
Box office analysts say the fourth film in the franchise will likely become only the second movie this year to bring in more than $100 million on its opening weekend.
Paul Dergarabedian of Hollywood.com expects Breaking Dawn to debut at about $140 million in its first three days, similar to New Moon two years ago.
Harry Potter and the Deathly Hallows - Part 2 -- the final movie in the boy wizard franchise -- pulled in some $169 million in July on its opening weekend -- the biggest debut haul of 2011.
Independent movie studio Summit Entertainment, which produces and distributes the Twilight movies, however sought to play down any comparisons with the Harry Potter finale, noting that Twilight has a predominantly young female audience whereas Harry Potter fans are more evenly spread across all viewing groups.
Breaking Dawn sees young lovers Bella Swan (Kristen Stewart) and Edward Cullen (Robert Pattinson) finally wed before a vampire pregnancy threatens to destroy their bliss.
The New York Times gave one of the few positive reviews. Manohla Dargis called it the latest and best of the movies about a girl, her vampire and their impossible, ridiculously appealing -- yes, I surrendered -- love story.
Dargis added that Bella is played with increasing confidence by Kristen Stewart.
But Entertainment Weekly's Lisa Schwarzbaum said Twilight fans deserve something better to love, while James Verniere at the Boston Herald said Breaking Dawn was a slight improvement on the previous films but not remotely scary.
The Hollywood Reporter's McCarthy said the movie feels as bloated and anemic as Bella becomes during her pregnancy.
The film is like a crab cake with three or four bits of crab surrounded by loads of bland stuffing, but many can't tell the difference or don't care, which will largely be true for its captive audience, he added.
© Copyright Thomson Reuters 2023. All rights reserved.