Brett Kavanaugh's Yearbook References: What Are 'Devil's Triangle,' 'Boofed,' 'FFFFFFFourth Of July'?
Washington attorney Seth Berenzweig recently acquired the 1983 high school yearbook of Supreme Court nominee Brett Kavanaugh that included a number of phrases, which some believe referred to sexual acts, drugs and alcoholism.
Three main questionable phrases stood out from Kavanaugh's Georgetown Preparatory School's yearbook — "FFFFFFFourth of July," "Devil's Triangle," and "Have you boofed yet?"
Regarding the first term, porn star Stormy Daniels' lawyer Michael Avenatti, tweeted: "Brett Kavanaugh must also be asked about this entry in his yearbook: 'FFFFFFFourth of July.' We believe that this stands for: Find them, French them, Feel them, Finger them, F--k them, Forget them. As well as the term 'Devil's Triangle.' Perhaps Sen. Grassley can ask him. #Basta."
It is important to mention that none of the three phrases are included in officially recognized dictionaries such as Oxford, Merriam Webster or Cambridge and are colloquial terms that have crept up in urban vocabulary, which differs from one person to the other, hence there is no way to know what Kavanaugh might have meant by them.
According to Urban Dictionary, the term "FFFF" often is an acronym for "Find 'em, Feel 'em, F--k 'em & Forget 'em."
Although Avenatti mentioned the second term, he did not elaborate on it. The Urban Dictionary paints a graphic image while defining the term "Devil's Triangle" which refers to the sexual act commonly known as "threesome." In two alternative scenarios presented by the site, the act can either include two men and a woman or two women and a man.
As for the phrase "Have you boofed yet?" The New Yorker reported that high school boys usually refer to the term when talking about the "practice of anally ingesting alcohol or drugs." According to Urban Dictionary, "boofed" might also refer to getting high from smoking weed.
Also, according to a New York Times article, the phrase "Renate Alumnius" in his yearbook referred to Renate Schroeder Dolphin, a woman who vouched for Kavanaugh's character in a letter to Senate after he was accused by Christine Blasey Ford of sexual assault. The phrase reportedly was a demeaning term used to refer to Dolphin as a sexual conquest.
Apart from these phrases, there were also a host of other references about a probable culture of parties and alcoholism in Kavanaugh's yearbook.
"Keg City Club (Treasurer) — 100 Kegs or Bust," said one such phrase, although Patrick Coyle, a spokesman for the Maryland high school, told the New York Daily News that "no such" entity as "Keg City Club" has "ever existed at Georgetown Prep."
Other references like "What a night; Georgetown vs. Lousiville — Who Won That Game Anyway?" and "Orioles vs. Red Sox — Who Won, Anyway?" were also reminiscent of a person's obscurity of memory, following a night of heavy drinking and partying, according to reports.
Avenatti, who has talked about coming forward with a mysterious client who has damaging information about Kavanaugh, alleged in an email to Mike Davis, the chief counsel for nominations for the Senate Judiciary Committee, that he had significant evidence" of 1980s parties in Washington, D.C., during which Kavanaugh would "participate in the targeting of women with alcohol/drugs in order to allow a 'train' of men to subsequently gang rape them."
However, he has given no hint what the "evidence" might be. He did, however, tell Politico on Monday that his unnamed client was willing to go public with the information within the next 48 hours via an on-camera interview.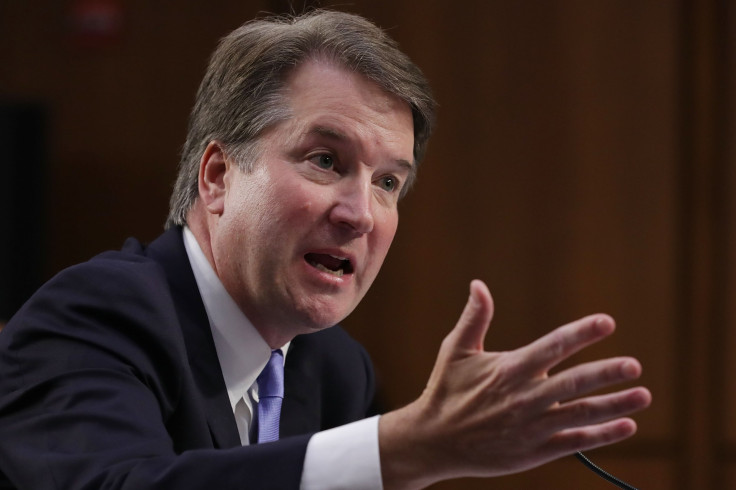 © Copyright IBTimes 2023. All rights reserved.